Romsey Details
Add modern elegance to your bedroom design with our Romsey king-size bed. It's made to last, using only 100% solid oak throughout. Even the slats are solid oak, providing the perfect supportive surface for your mattress year after year. The bed boasts all of the signature design details of the Romsey range, including flat-fronted head and footboards with subtle cut detailing, and cheerful rounded corners. The simple style feels fresh and bright, and the natural protective finish brings warmth to the timbers and helps to bring out the grain patterns. Complete your Romsey bedroom with other high quality matching pieces from the range, all with delivery options straight to your bedroom.
For a smooth delivery, this bed has been designed to have some home assembly. Full instructions for setting up are provided.
All of our mattresses have been designed to fit and complement our range of solid hardwood king-size bed frames, browse the full range here.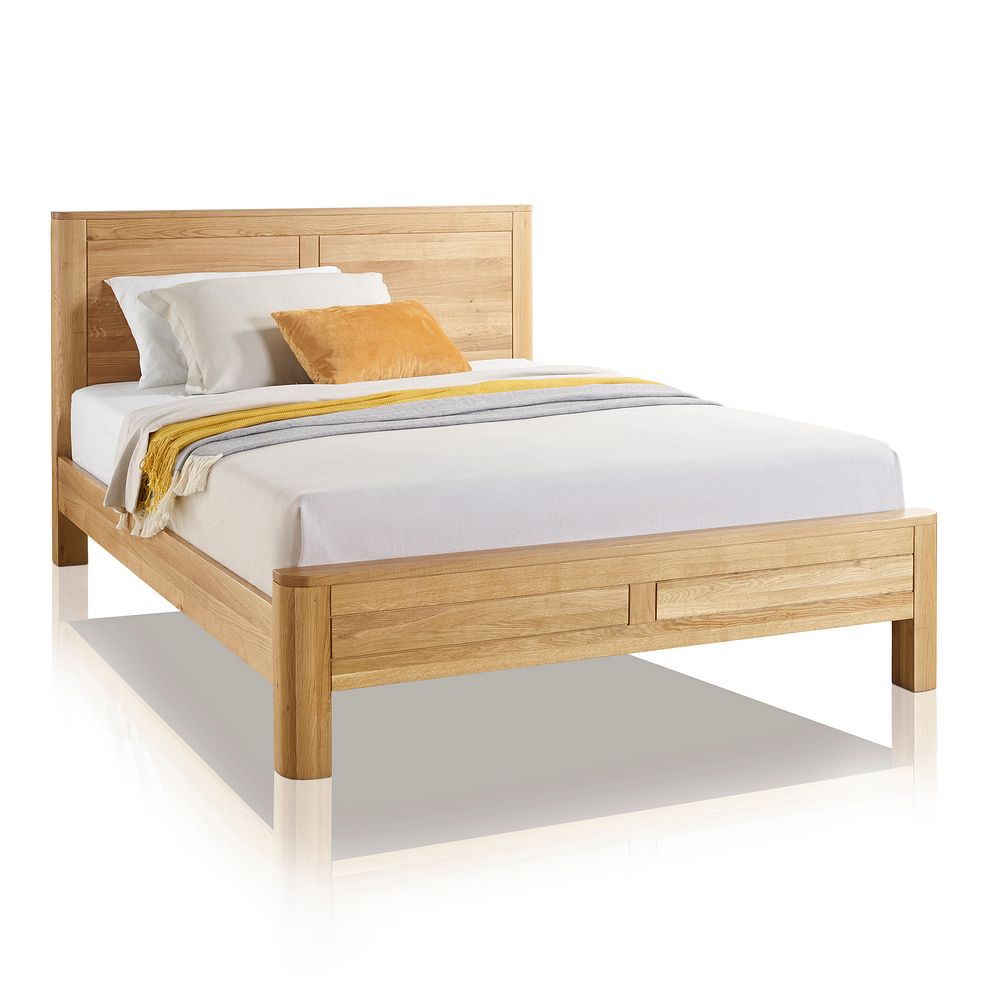 Dimensions & Assembly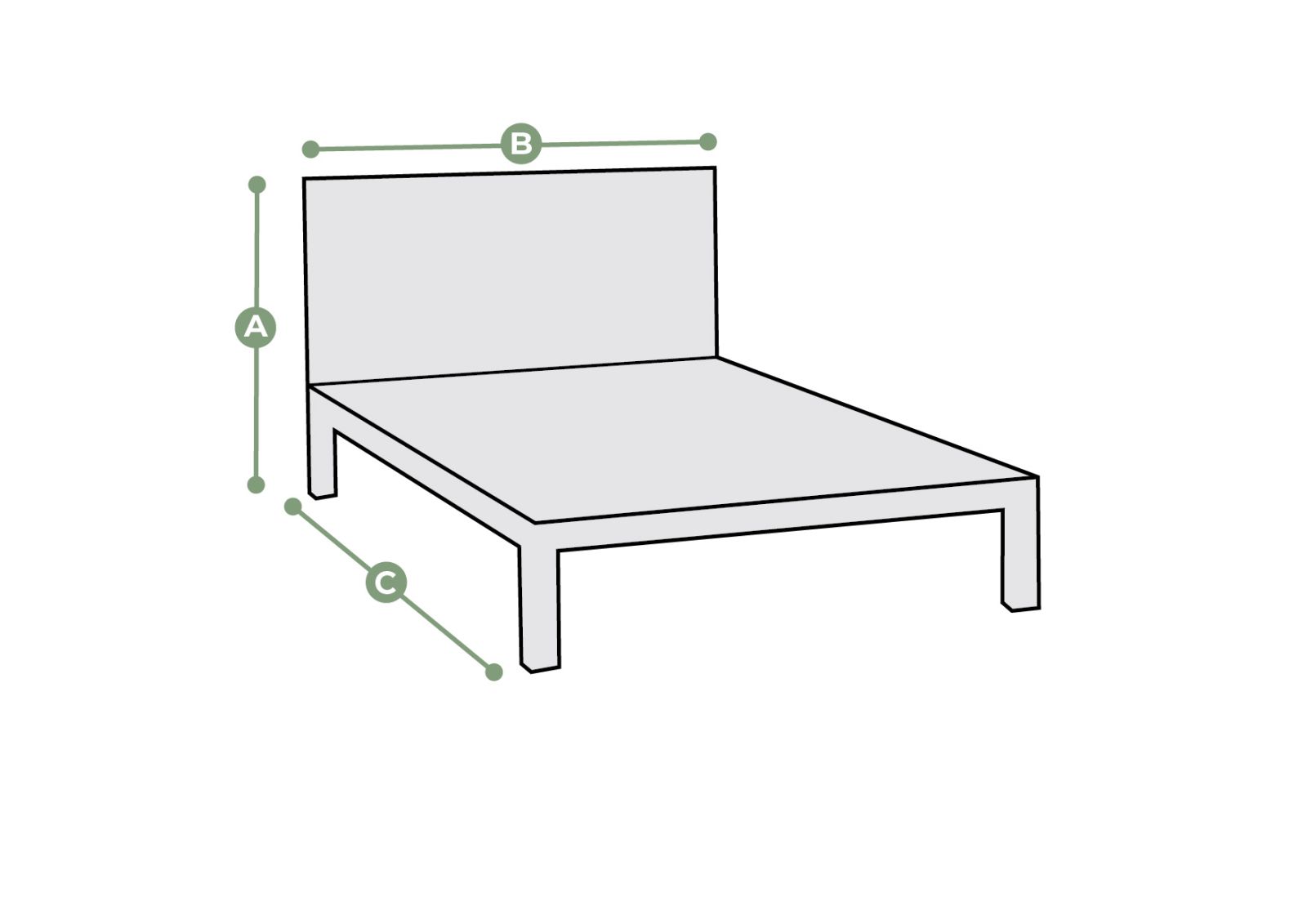 | | | | |
| --- | --- | --- | --- |
| Dimension | | CM | Inches |
| A | Height | 105 | 41.34 |
| B | Width | 157 | 61.81 |
| C | Length | 220 | 86.61 |
Product Code
RMS014
Product Title

Romsey Natural Solid Oak 5ft King-Size Bed

Packaged dimensions
1 x (H23.5 x W166 x D113cm)
1 x (H22.5 x W213.5 x D30cm)

Weight
82kg
Number of parts
2
Will It Fit?
Choosing the right piece of furniture for your home is a big decision. Not only does it need to look good and do the job it was made to do, but it also needs to fit.
To fit with your interior style, to fit with your home needs, and most importantly, to fit with the dimensions of your room. If the piece of furniture is near a doorway, which way does the door open? Is the item going to be restricting the route in and out of the room? Is there a radiator on the wall, or a windowsill jutting out that you need to factor in when measuring the item's height?
Check what you can fit comfortably within your room by looking at the furniture measurements. You can find them in the Dimensions & Assembly section. Note them down and get busy with your tape measure.
The final important measurement to mention, is to ensure your new piece of furniture can fit through your front door when it gets delivered! Most items arrive assembled and boxed. The packaged item dimensions can also be found in the Packaging & Assembly section. Download our Will It Fit PDF, and follow our guide to a smooth furniture delivery.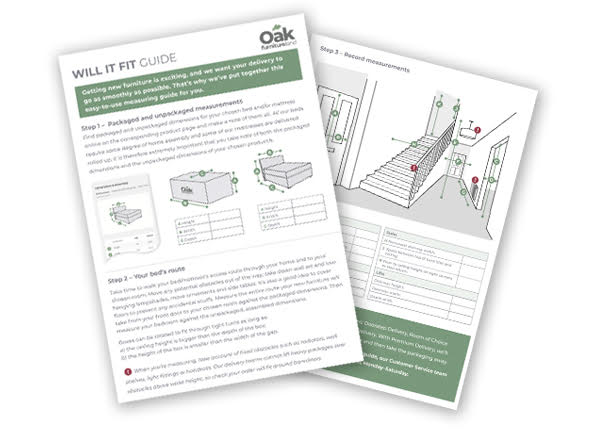 Reviews
4.5 stars out of 79 reviews
Avg.
We are really pleased with our bed it's really comfortable. Thank you
Karen Durrant - 26 September 2023
It's a lovely bed, and looks even better in reality.
Janet Taggart - 29 August 2023
Looks stunning It's sturdy and well made
Ruth - 28 July 2023
Looks really good, well made and put together, very sturdy. Only thing for us is the mattress fits inside the frame and not level with it so makes tucking sheets in a bit tricky. Otherwise excellent. Can't yet comment on durability.
Danny - 05 July 2023
Very impressive and steady bed, got it with a mattress, happy with the purchase!
MARYIA - 28 June 2023
Visited several furniture shops before coming to the conclusion that the Romsey Natural Solid Oak 5ft King-Size Bed was the one we liked most and, importantly, felt solid. Having slept in it for several weeks I am delighted with our choice. It looks great in the bedroom, is well made and comfortable.
Mr Gordon Iremonger - 16 June 2023
Quality wooden frame with a classic well known mattress. Very comfortable Delivery guys brilliant.
Christophe Yorke - 03 May 2023
The bed frame is very well made and was easy to make up. It looks nice and provides a good support for the mattress (bought separately), so it feels very comfortable. The quantity of non-recyclable polystyrene packaging you used is disgraceful, and I felt embarrassed having to take so much waste to the recycliing centre. One improvement I could suggest, is to have a height adjustment so a deeper mattress can fit lower down - the new bed is somewhat inconvenient as it's higher off the ground.
Gary Stephenson - 11 April 2023
I love my new bed, looks nice and very solid. Thank you
Anna - 03 April 2023


Very good
Scott Frazer - 26 March 2023
Very good quality bed, really happy with it.
Bryan Bateman - 25 March 2023
Stylish, robust and comfortable. Plenty of room to move around without disturbing each other.
Alison Adams - 13 March 2023
Easy to assemble and solid, excellent finish, very pleased
James - 05 February 2023
Great quality solid heavy product. I hadn't realised that there was a difference between flat slats and sprung slats. I think it would be better if the slats were sprung to make the mattress more comfortable. It could help for the salesperson to have pointed that out. Otherwise happy with the product.
Customer - 10 January 2023
We love it!
s smith - 21 November 2022
It is lovely good quality and nice looking bed just a little bit to low in height near the ground not easy to stand up for me because I have osteoporosis in both my knees even without having osteoporosis it is very low legs of the bed could of been a bit higher.
Sonja Bertels - 19 November 2022
Really solid bed shame about the headboard really flimsy if it wasn't so big to I would have returned it
Gail - 21 October 2022
Stylish, extremely modern and brilliant quality.
Norma Hill - 15 October 2022
Lovely bed. Paid for the premium delivery service which was well worth it as we got several large items. Delivered to first floor flat with no fuss . All assembled for us and left in place . Excellent service.
CollectPlus Customer - 11 September 2022
Well Packaged. Easy assemble. sturdy construction
Don Garrod - 26 August 2022
Good quality happy with the bed service excellent. My compliments to the lady who assisted us , very helpful
Farid Barsoum - 02 August 2022
Very pleased
Mrs Christine Hunt - 24 June 2022
Brilliant exceeded expectations
Christopher Richardson - 20 June 2022
Nice furniture, but appalling company to deal with. Order placed 01/10/2021 - finally completed 30/05/2022. Originally due on 21/01/2022 but having heard nothing 3 days before that, I called, waited over an hour, to be told that the delivery had been cancelled and my stock had been re-allocated! I wrote to the Chairman - and didn't even receive an acknowledgement. NO telephone numbers or email addresses are available except for the Call Centre, who MAY respond in 14 days...... Absolutely the WORST company I have ever dealt with - but the furniture is nice.
customer - 31 May 2022
The quality and style is excellent. Very good customer service and after sales too. Delivery was also spot on..
Andrew Johnstone - 31 May 2022
Well pleased
Valerie Stevenson - 30 April 2022
It looks even better than when we see it and wanted it in the show room .
Jason Nicholson - 30 April 2022
Once paid you can never get hold of customer services... Also delivered late no courtesy call only an email. It is nice though
C - 24 April 2022
Fantastic quality and value for money it was delivered on the day agreed
John Hind - 24 April 2022
Everything first class
Robert Fraser - 12 April 2022
I love the product but I would just like to say the Oakland furniture after care is none existent we have paid for a bed and on the head board had a split in the wood and trying to get in touch with the customer service has been absolute nightmare I have rang them and emailed on a number of times we are all busy people it's there job to speak to there customers so will see what happens this week if nothing happens bed and wardrobe can go back and I will want my money refunded
Julia C - 09 April 2022
This is the 3rd bed I've bought from Oak Furnitureland. Great quality and looks fabulous.
Sarah Gregory - 16 November 2021
Very good product
Lauryna Zukiene - 28 September 2021
Great looking bed. Had it for nearly two months now and it's absolutely fine. Love it.
FT - 27 September 2021
The man kept me informed as to their progress when delivering the items and were very pleasant and polite. High recommend buying from oak furniture store. I bought the products by phone and the whole process was pleasurable thank you to all concerned.
Kiki Rademaker - 04 September 2021
We love this bed frame. It's solid and well made and looks great in our bedroom. The customer service in store was excellent- helpful but not pushy. The bed was well packaged and arrived exactly when expected. The delivery men were polite and helpful.
Sara Sawers - 31 August 2021
Gorgeous bed, very well made. Even the slats and central legs in the middle of the base are all made of hardwood. The nuts and bolts are good quality and were separated into numbered bags to make construction easier, everything lined up perfectly. Very impressive. And it looks great.
Jane Stevenson - 13 August 2021
Very happy with the product. Easy to assemble and feels very solid.
Yvonne McBeth - 18 July 2021
Great bed. Absolutely solid wood. It came with a bonus of 2 paid sick days off work from literally breaking my toe the first time I got out of it. My own fault of course. I'm clumsy. I was feeling complacent after just getting laid.
Stephen day - 20 June 2021
Product doesn't look quite as good as it does on the Oak Furniture Land website. Could be finished better and the way that it is bolted and screwed together could be stronger. No use is made of tenon and mortise joints to lock the frame together.
Bill Ruttledge - 15 June 2021
Loved it... great looking and very well made. Thanks
Phil Burner - 01 May 2021
Silent. Solid. No creaks at all. Some corners of the legs at the bottom of the frame are cut square. Should be rounded off, very sharp for bare feet.
Jay - 30 April 2021
Great bed, very well made, solid. Good quality. Ordered online, very easy and cashmere earlier than expected. Bonus
Charlotte Thompson - 27 April 2021
Beautifully made .... beautiful to look at and beautiful to sleep on ... bought it in the sale too so price was perfect.
jean - 04 April 2021

Love this bed....
Bmth - 31 March 2021
I chose this bed as it was one of the rare kingsize wooden beds that don't have a wide frame outside width (inner is standard 150cm if course), enabling us to fit it & bedside tables in our room. Really stylish, I particularly like the rounded off corners at the foot of the bed
Alys Littler - 30 March 2021
Good quality bed and delivery was on time fit together very well
Elizabeth Scarre - 27 March 2021
I would totally recommend this bed frame, it's strong and sturdy. The design is sleek and goes with my fitted cupboards in my new homes bedroom.
Sneeha Fernandes - 01 March 2021
Very good quality and solid bed
Eran Klein - 27 February 2021
Very happy with this new bed... old mattress feels like new !!!
Clive Harrison - 17 February 2021
Perfect 👌
Nicki Bale - 14 February 2021
We had a pine bed before so this was a replacement, lovely quality, beautiful finish easy to build up, easy to follow instructions, good idea of wider slats under mattress, only problem slat screws, some of them broke whilst being screwed in so I used old bed screws. If it hadn't been for that problem I would of given 5 stars, Well done amidst covid to, also delivery was carried out with no problems. Sorry I had my last bed for 20years so it'll be a while before I order again. Many thanks Derek.
Derek Pratt - 11 February 2021
Disappointed we had to wait longer than promised for delivery, but guess that is due to the current unusual times. Very pleased with the product
Christopher John Gardner - 07 February 2021
Love my new romsey bed , now order the bedroom furniture to go with it
MRS Adele Charnley - 07 February 2021
Great bed, very well made and it was very easy to construct (took half an hour). Delivery was good and on time. Overall a happy experience.
James - 06 February 2021
Lovely product.. very happy :)
Lisa Sleep - 30 January 2021
Beautiful solid oak bed frame lovely wood grain too
Mo - 21 January 2021
Very solid wood, well packed and looks very stylish in bedroom
Alison Turner - 16 January 2021
Extremely pleased with the bed very sturdy and well made it was very well packaged
MIKE Tawton - 13 December 2020
Great products, but dont expect them unpacked or taken upstairs unless its a small easy item. For the price you would expect a full service.
customer - 13 December 2020
Love the bed. Only comment is that it took a professional 54 minutes to erect not 15 mins that you have in instructions.
Customer - 14 November 2020
Brilliant!
Andrew Thomas - 11 October 2020
We are very pleased with our lovely new bed. It is very well made and it was easy to assemble.
Catherine Jolly - 25 September 2020
Had an excellent experience at the New Malden store which is sadly now closed Staff were friendly, helpful, and professional Bed was delivered on the original day/date agreed.Delivery men efficient,and bed superbly packaged with comprehensive,easy to follow instructions Totally delighted with my bed and would on my experience unreservedly recommend Oak Furniture
Travel buddy - 21 September 2020
We are very pleased with the service we had at the store and with the quality of the furniture
Suzanne Rowlands - 18 August 2020
Fantastic solid oak bed, great value for money and easy to put together. We love it and would recommend it to w
Helen O'Sullivan - 16 August 2020
Excellent quality
Jeffrey Bateson-Winn - 16 August 2020
good strong bed , lovely colour, very easy to assemble .would recommend this product.
Ashley Smith - 03 August 2020
A good solid well made bed, easy to put together, shame it wasn't made in the UK.
Satisfied customer - 25 July 2020
Delivery on the day promised and came earlier in the day, bed is stunning, absolutely solid and well built, would definitely recommend 😃
Mr warren rivers - 24 July 2020
This bed is total quality.It is made of solid wood....even the slats, and is of a very practical style.The sizing in the description is very accurate and so fitted perfectly in our room.
Sue Punshon - 20 July 2020
Excellent quality, so easy to fit together.
Wendy - 28 March 2020
The bed looks great and was really easy to assemble. The quality on the whole is OK but seems flimsy in areas particularly the headboard.
Louise - 06 December 2019
Read more reviews