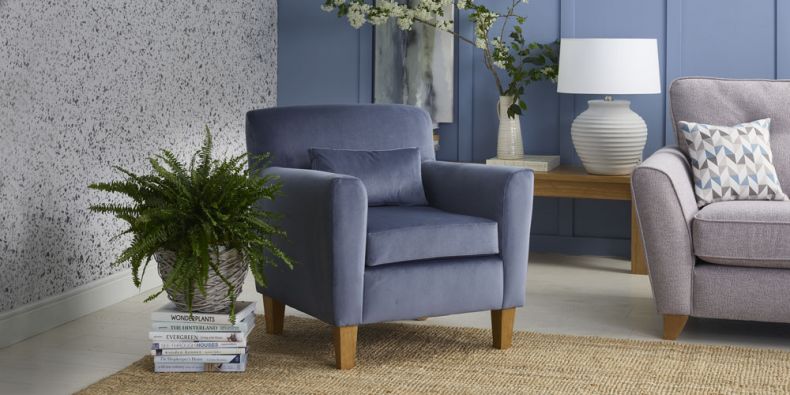 Armchairs

GUARANTEED
Christmas delivery*
ENDS SUNDAY!
Single seat comfort.
Always properly made.
FROM £400
Armchairs are ideal for encouraging much-needed 'me' time. One seat and one seat only means you can spread out and enjoy it all to yourself. A place to get stuck into a good book, take a nap, or kick back in front of a film, a comfy armchair will serve as your number-one lounging spot for many years to come.
All our armchairs have been designed to match other sofas from our range so you can achieve a coordinated look. Choose from an array of coloured fabrics and 100% real leather styles, as well as electric and manual recliner options. Don't forget to team it with a matching footstool.
High-quality materials
All our armchairs have been built with exceptional quality in mind. Solid hardwood frames give extensive support to the sprung seats and each of the joints have been screwed, glued, and pinned to strengthen them.
Beautifully bouncy foam and fibre seat cushions lend that indulgent 'sink-in' feeling when you lean back and relax. Special foam technology also means they will retain their plump appearance over time.
Wingback and swivel chairs
Besides traditional and modern armchairs, we also have a variety of wingback and swivel chairs to choose from. Our swivel chairs have clean lines, and cross-shaped chrome base. They're ideal for a cosy nook in your home and have fibre and foam back and seat cushions. For those looking for a swivel chair, we heartily recommend the