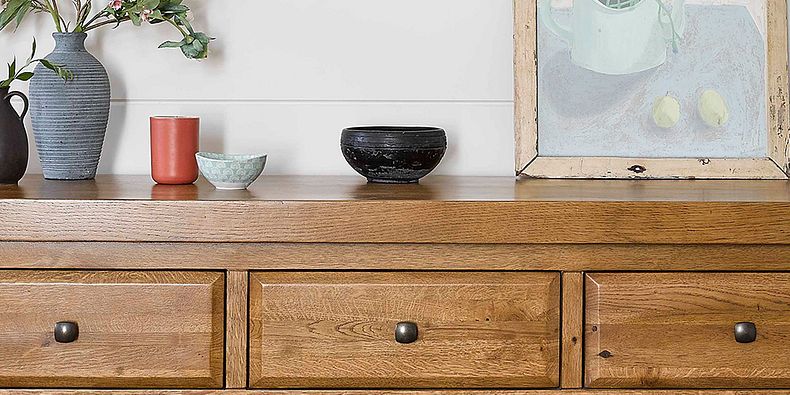 Classic Furniture
Classic looks for today's real home
Classic furniture and sofas are timeless. They're properly made from quality materials and designed to provide longevity and unfaltering comfort. Browse on through to see just how much choice we offer for every room of the home.
Classic bedroom furniture
In the bedroom, classic furniture is the building blocks of this room's design. What makes a room classic is the coming together of familiar designs and styles that have an everlasting homely and tasteful feel. Classic looks sit on a spectrum and there is traditional furniture and shapes in abundance, no matter your personal preference. Sometimes you'll find ornamental touches and others plain, with subtle shaping.
Classic wood furniture
Our wooden bed frames give one of the home's most important pieces a traditional feel as they are strong, sturdy and built to last with high quality materials. Rustic oak and painted hardwood bed frames are the classic option and keeping matching furniture from the same range - across pieces like bedside tables and chests of drawers in particular - keep that classic cohesive feel.
Opting for traditional furniture doesn't mean you need to shy away from modernity - there are loads of clever ways you can mix contemporary and classic styles. Lots of traditional and classic furniture styles have been given modern reboots, so there are plenty of ways to make your bedroom classic while still retaining a contemporary sensibility. While rustic and painted beds are the classic option, natural oak or mango and hardwood leave room for a mid-century modern update or ultra-contemporary twist.
Classic living room furniture & sofas
For furniture to be classified as classic, pieces exhibit details that make the design: rustic finishes to give a sense of built-in comfort, traditional panelling on drawers and cupboard doors and fit-for-purpose matching furniture. This can be incorporated all over a living room to create an impressive interior scheme.
Traditional pieces like side tables, coffee tables and TV units act as key functional points that social furniture is positioned around. If you have the luxury of space in your living room, you may wish to accentuate your home with other classic furniture options, such as bookcases, console tables and sideboards.
Classic sofas and armchairs
Classic sofas that fit beautifully with 100% solid hardwood ranges have elegant town and country styles, perfect for cosying up in a social, familial space. These comfy couches are covered in soft, sinkable fabric and will sit at the heart of your home for years to come without you having to worry that certain shapes, materials or colours will go out of style. You'll find classic fabric, too as well as recliners also upholstered in leather for an all-over luxury feeling and glamorous edge.
A classic sofa is your traditional living room centerpiece - decorate and design your room around this focal point. Having taken design cues from classic looks, traditional sofas can be identified by a number of different features: scroll arms, sprung backs, densely filled cushions, studding, raised legs and deep seats. These elements are elegant and always put comfort and quality at the forefront of the design.
Your classic sofa - whether made with homely fabric or plush leather - can be beautifully accompanied by other complementary pieces like classic armchairs and footstools. Accessorise further with cosy cushions and throws - you can update these regularly to refresh your look or usher in a new season. That's the beauty of classic furniture!
For more on traditional sofas, read on.
Classic dining room
While it may be easy to assume traditional furniture is out of style, it's actually the opposite: it's timeless. Bringing together the old and the new, elements like softened edges, decorative skirts and painted finishes round off modern takes on the traditional dining room styles - farmhouse, country cottage, rustic, manor: the list goes on.
Classic dining chairs
Many of our dining chairs subscribe to traditional design elements such as beautifully upholstered seats and cross-back support, while offering the orthopedic benefits that modern furniture is renowned for.
Classic dining table
There are plenty of hybrid classic-modern furniture for you to choose from. Opt for the spaciousness of a classic dining table, but choose one with a modern flair: glass tops and extendable features are customer favourites.
Classic office furniture
A home office needs to be a serene environment, which is why the ornate nature of classic desks is so popular. Nowadays, desks offer the best of both worlds to bolster your creativity: the shape, colours and detailing of traditional desks and the practical functionality of contemporary design, such as plenty of storage space.
And don't forget the classic office chair - our dining chairs with their bold, solid hardwood structure are a great option not just for their gorgeous style, but also for their comfort.
Shop all our modern and classic furniture and sofa ranges today.