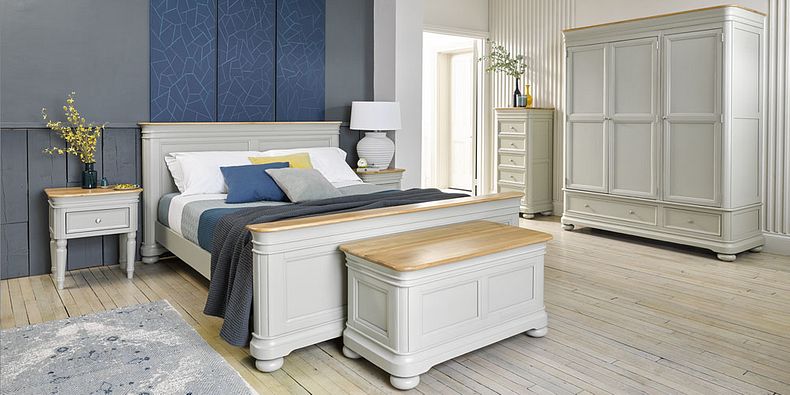 Super King Size Mattresses
Pocket spring-loaded comfort
FROM £400
All Mattresses save 10% when you buy any size bed frame
Super king mattresses
A super king mattress is the largest mattress size. They measure 6 feet in width and 6 feet 6 inches in length. In metric measurements, they are around 180cm wide and 200cm long. By providing the most amount of space of all mattresses, they're ideal for those who love comfort, families with young kids and couples who like their own space.
A superb super king mattress is key to always feeling fresh and well-rested, so find your most comfortable super king size mattress in our range and have the best night's sleep every night. We ensure that all of our mattresses are the highest quality, with a choice of fillings and different levels of firmness, so that you'll be able to find the perfect one for your individual needs.
Cosy and supportive super king-size mattresses
All of our super king-size mattresses are made in the UK to the highest standards by Cotswold Beds, designed to mould to your shape and provide a premium feel. We create a variety of long-lasting mattresses, from ultra-supportive to extra cosy, filled with a combination of memory foam and pocket springs, so you're sure to find a balance that suits you.
Our super king mattresses are inherently anti-allergenic, covered with luxurious upholstery to make sure your temperature is well-regulated. To find equally comfortable mattresses for all other bedrooms in your home, check out our full range of mattresses.For more mattress information, check out our mattresses guide.
A super king size mattress is ideal for a spacious bedroom and great for those who like to have plenty of room to stretch out at night. Every mattress needs a bedframe to go with it, so explore our range of super king-size beds, which offer the same lasting quality as our mattress collection.
Coordinate a super king bed alongside with a set of matching bedroom furniture, for a sleek, uniform look. Our solid oak designs are highly versatile and great for adding warmth to your room, while our mango and painted furniture has a modern, organic appeal.
Take a look at our bedroom furniture guide for plenty of design ideas for your room.