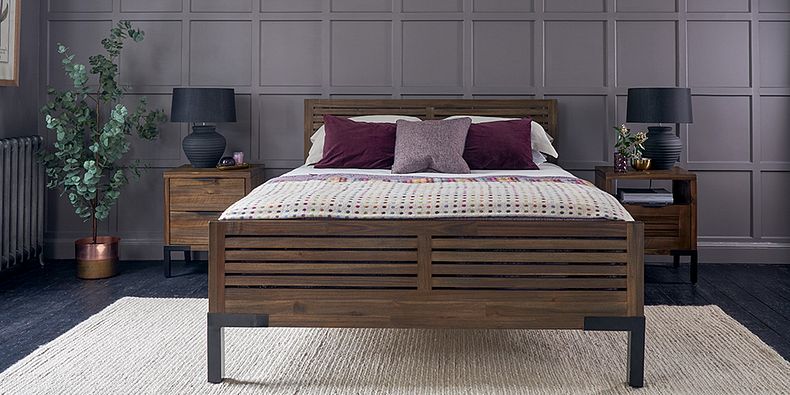 Beds
Great bedrooms start here – don't forget the mattress
FROM £285
All mattresses
20% OFF
when you buy with any same size bed frame
Wooden bed frames
Your bed is the centrepiece of your bedroom, so why settle for anything less than perfection? Choose a bed that's comfortable and stylish, so you can depend on it to look and feel great for years to come. Our solid wood single, double, king, and super king-sized beds are the ideal feature piece in any bedroom and will look beautiful over the long-term.
With a selection of over 20 different style of bed frames, you're sure to find one that complements the aesthetic of your space and delivers the a good night's sleep you deserve. Choose from single, double, king-size or super king-size beds, all carefully made to the highest quality, with durability and style in mind. All of our painted, mango or oak beds are 100% solid hardwood, including the frames, slats, headboards, and footboards, so you can rely on a beautiful bed that boasts long-lasting quality.
Oak beds
Our oak beds are built to last and will look great in bedrooms of all styles. Whether you're looking to decorate your bedroom with a country, boho-chic style or with a sleek, refined modern styling that will fill your room with light, you'll find that our natural oak and rustic beds are the way to go. And while you're decorating, consider pairing your new stunning oak bed with one of our solid wood beside tables for the perfect accompaniment to keep your snooze button within arm's-length in the morning. Whatever collection you're exploring, you'll find as well chests of drawers or wardrobes for the complete look.
Solid wood beds
We pride ourselves in using 100% solid wood throughout all of our wooden beds, so even the slats are made from solid kiln-dried oak for durability and performance. In fact, each bed is made of the highest quality hardwoods with each piece being carefully made ensuring durable and beautiful frames, headboards and footboards.
Bed and mattress
We've undergone extensive testing to make sure our mattresses and bed frames work well together, knowing that it helps pave the path towards your best sleep. Be sure to also check our range of exclusive high-specification mattresses, designed to specifically complement your new bed frame, paving the way for the perfect night's sleep.
Create your own sanctuary by styling your room around your bed, positioning it centrally to act as a focal point. Place a dressing table across from it, so you can roll out of bed and straight into action to prepare yourself for the day.