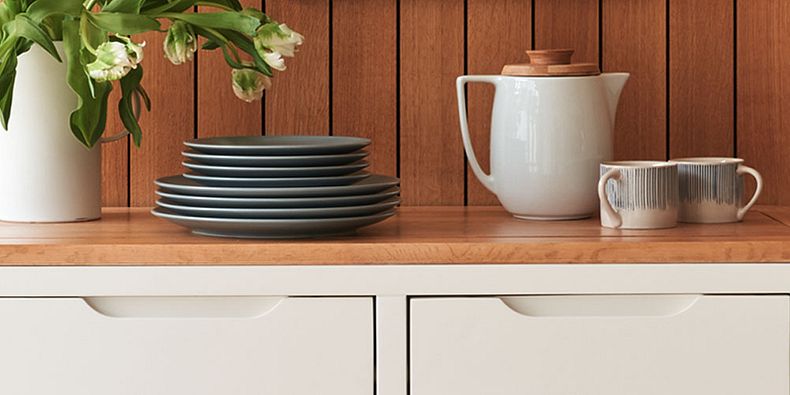 Painted Furniture
Oak accents and fresh-coloured style
Painted wood furniture
Painted furniture is the perfect way to give your home or room a refresh while also making a statement with subtle colours and unique styles.
On-trend painted furniture brings extra personality to a home. If you're interested in this interior style, we have a range of painted furniture collections to choose from. Made with the same care and attention as our oak ranges, the painted finish on these bedroom, living room, and dining room furniture collections will add light and character to any room.
Why our painted furniture is unique
Like all of our cabinet furniture collections, we only use 100% solid hardwood in our painted ranges, so you know they'll last for years to come.
We've carefully chosen solid wood for the bodies of our painted furniture. It's very strong with an incredibly smooth finish, ideal as a base for painted furniture ranges, as it creates the perfect "blank canvas" for the wide range of colours we use.
Most of our painted ranges feature beautiful solid oak tops, too, to add to their character. We carefully select the perfect oak finish to complement the paint tones of each range. These include:
Natural oak, that brings light tones to a room.
Rustic oak, warm tones, cosy in evening light.
Brushed oak, bringing texture – a truly rustic feel.
St. Ives – Natural oak, warm grey and bright, silver-coloured pull handles make the St. Ives collection perfect for modern homes. This grey furniture range will work with many colours to make a strong look. You can also soften it and give it a natural twist with sisal rugs and woven accents.
Hove – Hove's look is young and modern, with simple curves at the corners and smooth, recessed handles. Hove has an unfussy presence that will make a great backdrop to family living – it's retro modern style for real life homes. Dress up with bright accessories and colour pops, or simply enjoy the chalk white finish and natural oak tops.
Kemble – There's a reason Kemble is such a popular range with our customers – it's incredibly versatile. It's painted a putty shade with lavender undertones, so why not try combining it with rich amethyst colours. Bring this in with rugs or throws, or even an accent wall.
Highgate – Highgate is smart and refined. Chic inky blue paint tones with antiqued brass coloured metal cup handles on drawers, and mushroom knobs on cupboards.
Shay – The almond grey tones of our Shay collection are perfect for adding a little touch of Scandi chic to any space. The paint has a subtle warm tone, underpinned by the rustic oak top and antiqued brass hardware. Shay is smooth painted furniture throughout, blending with warmer walls, popping from dark colours.
Brindle – Curved and comfortable, Brindle is a seamless blend of old and new. Themes from traditional country furniture mix in this range; itt strikes the perfect balance between comfort and flair. This is a thoroughly modern farmhouse look, with its sage grey finish crowned with natural oak.
Country Cottage – Designed to be a classic addition to traditional country cottages, the rich buttery cream colour of our Country Cottage range looks great in a cranberry coloured scheme, or with cool grey walls. The cream colour and natural oak tops and handles are rich and strong on this gorgeous painted furniture collection, without being overpowering.
Roman – Welcoming and stately, Roman has presence. Across the range, a decorative Tuscan column underlines the strength of the furniture. Longer legs on tables echo this shape, too.
Spot – Full of retro modern character with slate grey painted drawer fronts and cupboard doors, Spot's handles are a simple, recessed circle. Designed by us to playful effect.
Grove – With cool curves and recessed handles, Grove is deep charcoal to Hove's chalk white. Mix Grove with different textures in a monochrome look, or add earthy colours for an urban luxe interior style. You could just enjoy the quiet presence of a dark shade – black in some light – that blends into the scene. Grove's deep grey tone is versatile at heart. It's a range that will look great down the years, with its built-in longevity, and smooth good looks.