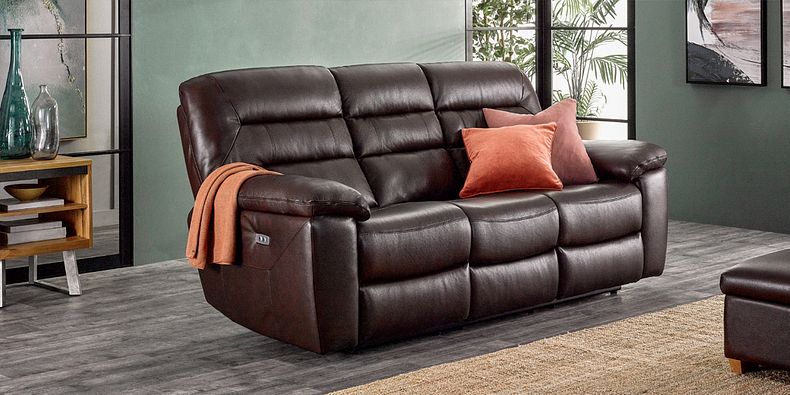 Leather Sofa Ranges
ADD LASTING LUXURY TO YOUR HOME
At Oak Furnitureland we have several unique leather sofa ranges for all types of homes. Each of our fabric sofa range has unique features, but they all share the same high-quality that you can expect from us. From the complimentary accent chair to the sofa bed, from corner couches including modular options to recliners, our leather sofa collections span an impressive mix of living room seating styles. Browse all our leather sofa collections today - our friendly delivery crews will bring them straight to the room of your choice, making installation easy.
Muse: Muse is a range of leather electric recliners with a modern, lighter look. Upholstered in a light stone colour, Muse brings recliner style right up-to-date with tapered oak legs and slim arms. Comfort is still key though, with plenty of cushioning on the arms, and for head and lumbar support.
Samson: Samson is a neat, modular range available in a wide variety of sizes, with both electric recliners and static designs to choose from. The former option features reclining at just the touch of a button, as well as USB ports in the arms, while the latter offers traditional homely comfort. Upholstered in beautifully soft real leather, Samson is available in nine neutral shades that will slot easily into any colour scheme. The leather has a subtle shine to it and features colour-matched stitching for a clean look.
Linden: Our dark grey leather Linden range has a modern high back style, with mid height, well padded arms. The fixed cushions are filled with the best mix of fibre and foam to be comfortable and to keep their shape. 14cm rounded hardwood legs lift the sofa for a lighter look. But it's still a solid build, with hardwood in the frame for strength. Two sizes of sofa, armchair and storage footstool complete the range.
Palermo: We know how to do leather sofas. Make them strong, with hardwood in the frame. Make them leather all over, even around the back and sides. Give plenty of lumbar and head support, and make the arms comfortably padded. Add low, hardwood feet, and step back. A low leather sofa, available to order in a range of eight colours.
Goodwood: Our popular Goodwood range is now available in leather. With sleek looks in a range of five colours, you can buy our pre-arranged groups, or choose individual pieces to make the sofa that suits your living space. Put your modular sofa together, and you can relax on the power recliner, plugging your phone or tablet into the USB port.
Hastings: Modern reclining with all-over leather luxury – at the touch of a button. Lumbar and head support is stitched in place, and cosy padding on the arms adds to the comfort. Power up your phone or tablet while you unwind, with the built-in USB charger. And keep your cosy rug handy in the matching storage footstool. Relax in style, with Hastings.
Sienna: Add a modern statement with the Sienna leather sofa range, which features an armchair and 2 and 3-seater sofas, along with electric recliner options, including a corner sofa. The range also encompasses a matching storage footstool. Showcasing sleek and contemporary design, the Sienna is upholstered in 100% extra thick embossed leather. The electric recliners are power motion and benefit from an adjustable footrest, while the manually adjustable headrest creates optimum comfort.
Vittoria: Create a contemporary look in your home with the Vittoria leather sofa range, which includes an armchair, and 2 and 3-seater sofas, along with a coordinating footstool. Taking inspiration from Italian design, the Vittoria range adds a modern statement with its slim arms and tapered dark stained beechwood legs. Upholstered in 100% soft embossed extra thick leather, the choice of eight colours makes it seamlessly blend with any interior.
Dune: Combining classic looks and maximum comfort, our Dune leather sofa collection is designed for real homes and includes static and electric recliner options for armchairs and 2 and 3-seater sofas. The electric recliners offer relaxation at the touch of a button, and also feature options with power headrests for the ultimate spot to unwind. There's also a coordinating storage footstool that provides useful extra seating.
Austin: Add a touch of classic design to your home with the Austin leather collection that includes static and electric recliner options for armchairs and 2 and 3-seater sofas. Upholstered in timeless and hard-wearing leather in a choice of six colours, the Austin range offers a contemporary take on traditional style. The electric recliners give support and relaxation at the touch of a button, with the power headrests adding an extra dimension of comfort. Team your sofa or armchair with the coordinating storage footstool for useful additional seating.
Arlington: Create a classic homely look with the Arlington leather collection, which includes a static armchair, and 2 and 3-seater sofas, along with an electric recliner armchair that offers relaxation at the touch of a button. The range is upholstered in soft yet hard-wearing leather in a choice of six timeless colours that are designed to fit in with real homes. The coordinating storage footstool provides useful extra seating and somewhere handy to store blankets.
Salento: Soft, embossed leather upholstery and wide, foam-padded seats with low arms characterise our Salento leather range. Combining real comfort with sophisticated Italian design, Salento is a luxurious range that comprises a storage footstool, armchair, 2-seater sofa and 3-seater sofa.
Cortesia: Upholstered in silky soft, premium-grade Italian leather, our Cortesia range blends chic, style-conscious design with homely comfort to be enjoyed every day. Cortesia comprises the classic living room essentials of a 2-seater sofa, 3-seater sofa, armchair, and useful storage footstool.
Marlow: Our Marlow leather sofa range offers maximum relaxation and understated style to suit any home. Upholstered in beautifully soft, high-quality leather in a choice of timeless colourways, Marlow brings a touch of luxe design that fits in with classic and contemporary decor. With wide arms, comfortable fixed foam cushions and high backs, the collection includes static and electric recliner armchairs, 2- and 3-seater sofas, and a coordinating storage footstool. The electric recliner designs provide Zen-like comfort at the touch of a button, with in-built USB chargers adding to its appeal as practical and stylish seating.
Carter: Our Carter leather range combines stylish designs with modern comfort to offer a collection of seating that looks at home everywhere, from spacious family living rooms to cosy snugs. The range comprises a storage footstool, armchair, 2-seater and 3-seater sofa, with the latter three available as both static designs and electric recliners with built-in USB ports, so you can charge your devices as you use them.
Turin: Upholstered in soft and lightly textured leather, our Turin range has an inviting look and feel and benefits from sprung seats and quality support. Comprising a storage footstool, armchair, 2-seater sofa and 3-seater sofa, the range benefits from deep seats and wide, padded arms.
Montgomery: Effortlessly bridging the gap between the traditional and the contemporary, use our leather Montgomery range to style any space, from a contemporary living room or cosy snug to an industrial loft or home office. Comprising 2- and 3-seater sofas, an armchair and a matching footstool, creating a coordinated look is simple.
Seymour: Seymour is a contemporary range of recliners and comprises a storage footstool, armchair, 2-seater sofa and 3-seater sofa. The seating is characterised by ruched detailing and wrap-around stitched fluting that follows the contours of the arms. Black tapered metal feet refine each silhouette and create a light, airy look.
Santino: With low, wide silhouettes, padded arms and deep seats, Santino is a range of power recliners with a difference. Virtually indistinguishable from static seating when in their upright position, the armchair, 2-seater sofa and 3-seater sofa have discreet and easy-to-use control panels that allow you to adjust your headrest and footrest separately.
Juliette: Featuring gently curved arms and elegant silhouettes raised up on slim black metal feet, our Juliette recliners are ideally suited to light, airy interiors with minimal but warm styling. The range includes a corner sofa with recliner, 3-seater and 2-seater recliner sofas, an armchair and a multipurpose storage footstool that can be converted into a seat.
Leo: Leo comprises a storage footstool, recliner armchair, 2-seater recliner sofa, 3-seater recliner sofa and corner sofa with a recliner at each end. Each piece in the range is characterised by contrast stitching, while all the seating benefits from wrap-around padding on the arms and is available with or without an adjustable power headrest.
Amalfi: Tapered black metal feet, wrap-around arm detailing and vertical fluted stitching elevate each piece in the contemporary Amalfi range. The 3-seater recliner sofa, recliner armchair and handy storage footstool all come with buttery soft leather upholstery that is available in three sophisticated neutrals.
Matera: Our Matera range combines premium design details and high-end comfort to create a truly luxurious collection of Italian leather sofas. The contemporary range is characterised by deep seats, voluptuous bolster arms and statement stitching, and comprises a loveseat, 2-, 3-, and 4-seater sofas, and a matching footstool.
Lucca:Discover buttery soft premium Italian leather and eye-catching, eclectic design with our Lucca sofa range. Featuring intricate quilted stitching and a distinctive silhouette that's elevated on solid hardwood legs, Lucca offers deep-set seating and extra lumbar support to create blissful comfort.
Aldo:Discover ultimate living room relaxation with Aldo, our power recliner sofa range featuring superior padding and real leather upholstery. Adjustable lower and upper support is available at the touch of a button, in this easy-to-match range that puts comfort first.