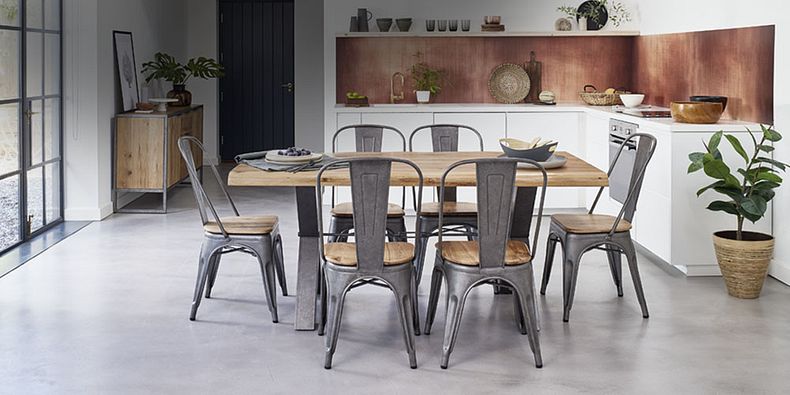 Dining Chairs
You choose your style.
Oak dining chairs
No dining room is complete without a dedicated place to sit down and enjoy the meal in front of you. High-quality dining room furniture can make all the difference at mealtime. That's why we have designed more than 200 styles of high-quality wooden dining chairs. Our renowned selection of kitchen chair frame and fabric styles means that you can always find the perfect look for any occasion. Whether in a modern kitchen, a rustic breakfast nook, or an elegant dining room, a stylish, comfortable seat will make your gatherings a real treat. Superbly crafted in real solid wood and made to the same exacting standards as all of the furniture in our furnishings? Check out our leather and fabric dining chairs. Want to bring farmhouse charm or Scandi chic into your home? Our solid wood benches and stools create a traditional look. Looking for something fresh and bright? Try our gorgeous painted styles.
Our dining room chairs are made to seamlessly complement all the dining room furniture within our collections; however, they can be bought separately as a pair for use in other areas in your home. Thy might be used as an extra seat in your hallway, as a bedroom chair or as the perfect pairing to one of our desks.
Solid wood dining chairs
All of our chairs, benches and stools are crafted using the highest quality of materials, including solid wood, real leather, and lush fabrics, bringing the quality you'd expect from any of our pieces into the finest details. Comfortable for you and your guests, our dining chairs are built to last and will stand the test of time in your home, matching the high quality standards you've come to expect from Oak Furnitureland, all at incredible value.
Please bear in mind that our dining chairs are sold in pairs and your basket will automatically be updated accordingly to reflect that.