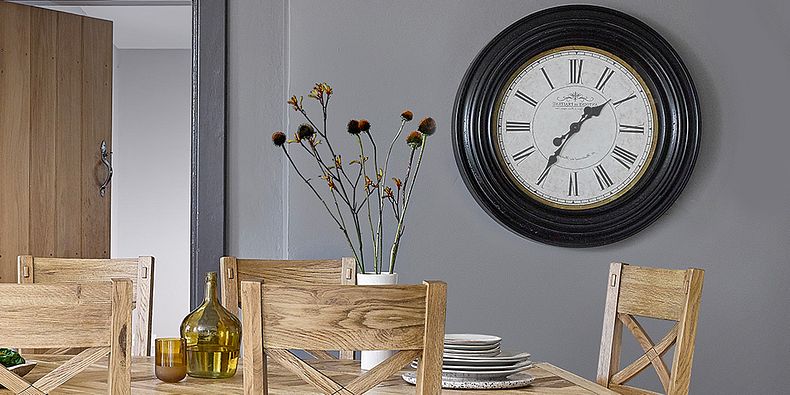 Clocks
A clock watcher's dream…
FROM £30
Whether you're looking for a traditional, avant-garde, or minimalist clock, our range is guaranteed to truly liven up your wall. Choose from a variety of striking designs, guaranteed to make an impact.
A wall clock can add beauty and functionality to your home. In addition to helping you keep track of time, wall clocks can double up as accessories, bringing colour and interest to a space. They can also provide the perfect finishing touch to your design scheme and are a great way to enhance the overall theme of the room.
All of our wall clocks are made to the highest standards to ensure on-the-mark timekeeping as well as lasting style. Explore our range of wall clocks to find a style you'll love.
Traditional or contemporary?
Our collection boasts a range of statement designs to suit all kinds of interior styles. For a traditional look, opt for a wall clock with old-fashioned charm such as roman numerals and a rustic finish.
Many of our clocks are inspired by those you find on old-fashioned steam trains or at a station, ideal for bringing an old-world feel to your space. For a modern look, choose a wall clock in an interesting shape or bold colour to make a bold statement.
Factors to consider when choosing your clock
Think about exactly where you want to place your wall clock, as this can inform the design you choose. A large clock will look great in the kitchen or dining room and will prove handy when it's time to round the family up for dinner, whereas a smaller clock would suit a cosy space, such as a bedroom or office.
You could also hang a wall clock above a statement piece of furniture such as a display cabinet to give it focus. Make sure there is an adequate gap surrounding the area where you hang it to give it the limelight it deserves.
For a coordinated look, choose a clock that complements your colour scheme – try to pick out a design that incorporates at least one of the colours from your décor. To create contrast, opt for a wall clock in a shade at the opposite end of the colour spectrum.
If you're looking to create a bold impact, choose a wall clock that has a statement backdrop – many of our clocks feature intricate designs such as world maps and floral motifs.