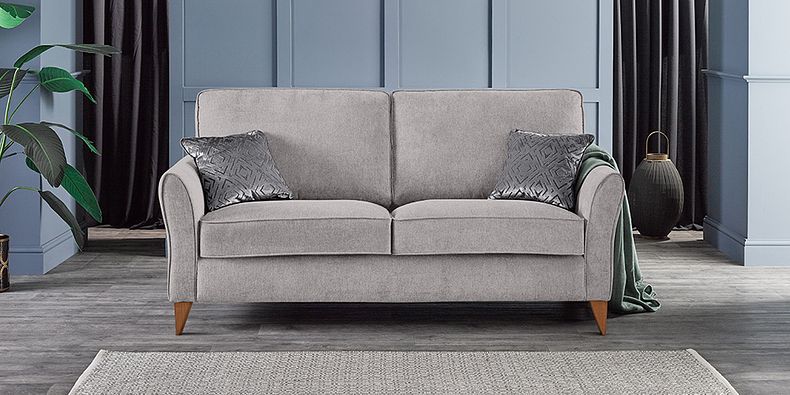 Fabric Sofas
SINK INTO BLISSFUL COMFORT, DAY AFTER DAY
There's nothing quite like sinking into a soft sumptuous sofa at the end of the day. We love that cosy feeling that a perfect fabric sofa has, and have worked hard to design a range of beautiful sofas that bring that to life.
We have three different sofa sizes that will meet the needs of any living room. From smaller, 2 seaters to opulent, 4 seaters, including our ever-so-popular 3 seaters, we have the ideal fabric sofa for you across our many different collections.
All of our fabric sofas use only the highest quality upholstery materials which meet and exceed all British flammability standards, so you know you are bringing only the best pieces into your home. Using flat weave technology, the fabrics have a soft and touchable finish, not to mention best in class durability for a longer-lasting sofa. Many come with complementary scatter cushions to complete your living room look.
When it comes to your sofa, comfort is key, which is why we've designed several different styles of cushion so that everyone can sit back and relax. When life gets busy, the last thing you want to do is be plumping your sofa cushions, which is why we've exclusively designed a dual foam seat cushion for many of our sofas, combining a high resilience foam for a springy feeling and excellent support, with a softer deeper foam top, which really lets you sink in comfort - it's a truly luxurious feeling!
For those all about sinking into a cosy, cloud-like sofa at the end of the day, then our foam and fibre styles might be perfect for you. Made from the same high resilience foam of our dual foam cushions, these are topped with a deep layer of polyester fibre for a lovely lived-in look.
Finally, to create that sink-in feeling, perfect at the end of a long day, some of our fabric sofas use high-quality polyester fibre cushioning, specially selected due to its high comfort rating. Enjoy the many fibre seat backs and arms that feature throughout our sofa collections for added comfort.
From the complementary accent chair to the sofa bed, from corner couches including modular options to recliners, our fabric sofa collections span an impressive mix of living room seating styles. Browse all our fabric sofa collections today - our friendly delivery crews will bring them straight to the room of your choice, making installation easy.