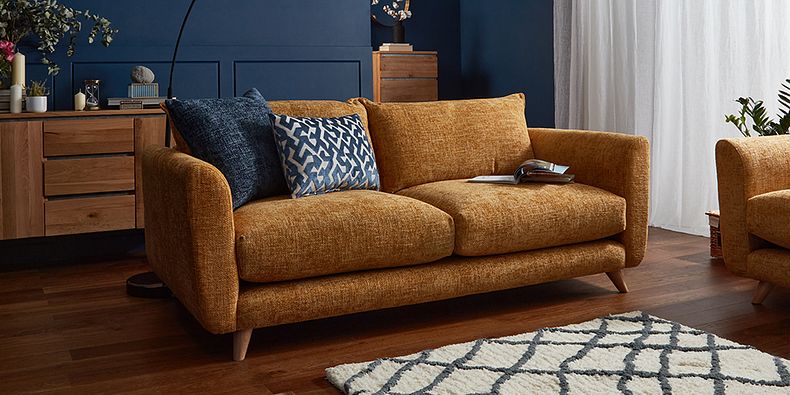 Fabric Sofa Ranges
Every home deserves a stylish fabric sofa
At Oak Furnitureland we have several unique fabric sofa ranges for all types of homes. Each of our fabric sofa range has unique features, but they all share the same high-quality that you can expect from us. From the complimentary accent chair to the sofa bed, from corner couches including modular options to recliners, our fabric sofa collections span an impressive mix of living room seating styles. Browse all our fabric sofa collections today - our friendly delivery crews will bring them straight to the room of your choice, making installation easy.
Morgan: Our Morgan range allows you to create a sofa which meets your exact requirements, thanks to its wide range of modular units. From the standard two-seater, to a large scale corner group, Morgan allows you to build up your sofa piece by piece - or to keep things simple, choose from one of our pre-created standard groups.
Gainsborough: Elegant and inviting, our Gainsborough range offers a lot of choice. The classic, high-backed style is available in several sofa sizes, including a four-seater and a corner unit. Sit back and put your feet up on the matching square footstool.
Nebraska: Our Nebraska sofa range was designed with lavish lounging and total relaxation at heart. The collection boasts contemporary good looks and is bound to be a stylish addition to any living room. Nebraska is upholstered in a sumptuously soft upholstery fabric available in a selection of great neutral colours.
Colorado: Colorado range has been designed with relaxation in mind. This is both in its relaxed, cosy finish, and the fact that it's a range of electric recliners. At the touch of a button, you can elevate your feet, and get comfy. With USB port by the power button, you can charge your devices as you use them.
Jasmine: Our Jasmine sofas have a modern, elegant design, complemented by accent cushions for style in your living room. Jasmine has a variety of models within the range. From sofa bed, to accent chair, to footstool, Jasmine gives you the freedom to make your living space work for you, both practically and in looks.
Eastbourne: Eastbourne includes power recliners and a riser recliner armchair that is ideal for those with limited mobility. These electric pieces feature built-in USB ports, so you can relax with your devices while you charge them. Static seating options are also available, along with a useful storage footstool.
Goodwood: The Goodwood range is designed as a comfortable addition to modern living rooms. It features a wide selection of modules to choose from - from electric recliners with USB ports to cosy corner units, so you can create a custom sofa look for your home.
Jensen: The Jensen sofa range is a modern, clean design, raised from the floor by slim, tapered hardwood legs. They reveal the Scandi influence at work in Jensen's look. It's also found in the multi tones of colour in the hard-wearing woven fabric, warm and tactile.
Marlow: Designed to suit any home, our Marlow sofa range features both power recliner and static high back designs as well as matching footstools. The wide arms and fixed foam cushions featured by this range make it a truly comfortable addition to your home, while the neutral colourways create a calming feel. The recliners even feature built-in USB ports.
Carrington: Our Carrington sofa range is designed to bring modern sensibility and traditional elements together, to create a streamlined look, perfect for family living rooms. It boasts beautiful fabric upholstery in a high quality finish that will stand up to everyday use and look great year after year.
Evie: Our Evie range gives you lots of choice in how you style your living room. With corner sofa, three and two-seater sofas, armchair – and loveseat and swivel chair – you can have fun choosing how to make the best use of the space in your living room.
Dylan: Dylan comprises both static and recliner armchairs, 2- and 3-seater sofas, as well as a useful storage footstool. When not extended, the recliners in this range have a neat, compact look that is almost indistinguishable from their static counterparts. The main differences of note are the discreet buttons and USB ports on the arms of the recliners; these make lying back smooth and easy and enable you to charge your devices while you use them.
Brighton: Brighton is a classic retro modern style. Slim smoked oak legs, squared-off arms and deeply buttoned backs give the Brighton range its inviting looks. Smart, fresh colours are included in the upholstery choice, and the textured weave is soft to touch. Made to last and to look good for longer, foam filled seat cushions give comfort and shape retention, and fibre filled back cushions have sink in luxury.
Houston: Houston features slender, well-padded arms and eye-catching, geometric accent pillows. Stylish back cushions with button detailing have a soft fibre filling, making them both comfortable and supportive. Houston's seat cushions are foam-filled and fully reversible. They're also very inviting, with six sophisticated shades of silky soft velvet upholstery to choose from.
Arizona: Neat and simple, our Arizona high back sofa range has attractive scroll arms and tweedy upholstery. Arms and base go nearly to the ground, with low, hardwood feet that have a smoked oak finish. With a large seating area and high back cushions, this smart sofa is made for comfort, too.
Texas: Our Texas range offers a huge choice in roomy sofas and luxury sofa beds. The cool, modern two seater and three seater sofas – and armchair – come as sofa beds, too. There's also a corner sofa which includes a storage chaise section, just right for keeping handy the bed linen for sofa beds.
Zodiac: Zodiac is a modern modular sofa range, upholstered in fabric that's durable and soft to touch. Choose from eleven different groups, or pick individual pieces that will clip together to make the shape to suit your living space. Zodiac has comfy cushions, filled with the best in foam and fibre. Fibre gives that sink-in luxury feel, foam is best for shape retention. Back cushions are removeable, and the fixed seat cushions also have spring support from the frame.
Inca: Our Inca range is neat, with a touch of mid-century style and comfy support in the shape. Higher arms and a textured fabric make Inca just the spot to snuggle down.
Montgomery: Our Montgomery range is a modern take on the classic chesterfield style. Velvet upholstery looks amazing with the pleated detail – it's such a luxurious style. Choose from three or two seater sofas and armchair, with matching footstool, too. Montgomery comes in seven colours, so you can design your luxe room around a range of colours, or keep things mellow with a neutral tone.
Dexter: This range is all about choice, comfort, and texture. And we've put it together with our usual attention to detail. A range for real homes, Dexter will be great for family lounging or quieter, more grown-up living rooms. Well-cushioned arms with button detail tone with upholstery that has a light, tweedy touch. Choose between classic high back or more relaxed pillow back sofa styles for a cosy living room or family den.
Malvern: For laid-back lounging, look no further than Malvern. Soft and textured to touch, it's a cosy collection. As it's modular, you have the choice of one of our pre-set groups – or you can order what you need for your own living space. And then there's the swivel cuddler chair with matching half-moon footstool. It all adds up to great modular style with modern lines.
Bramble: Classic country style in a choice of two completely different styles of upholstery. There are five shades of plain, grounded colours with a super-smooth feel. There are also two tones of a floral design with a sketched quality. Mix and match these fabrics across the range of sofas, armchair and footstool, and bring a breath of the country to your living room.
Broadway: For luxe style and a glamorous feel, browse our Broadway range of sofas and loveseat. There's a choice between classic high back style, or a mass of cushions on the pillow back style. Ranging from four seater down to two, any living room can have some of the Broadway sophistication. Enjoy relaxing on soft upholstery and lush scatters.
Carter: This is a modern recliner range in a smart grey fabric. Chosen for its soft texture and durability, it holds the comfy fillings in place so you can relax – at the touch of a button. Charge your phone or tablet while you're seated, using the USB port. And keep your cosy rug handy in the storage footstool. The Carter range is perfect for a power nap in style.
Fern: Upholstered in the softest velvet, Fern will bring mid-century looks to your living room. Longer hardwood legs – finished in walnut – and bright accent pattern are part of the style. Velvet is lovely for living rooms, giving a rich presence to your interior style. Check out Fern for sofas large and small – and armchair too.
Claremont: A huge range of choice in one range. Velvet upholstery in an incredible fourteen colours, with abstract accent pattern that features across the range. Wooden feet reflect the curve of the flared arms. Choose from three sofa sizes, armchair, loveseat and accent chair, plus storage ottoman. Accent chair and footstool can be plain or patterned. All the sofas come in high back or pillow back styles.
Hampton: Town and country looks in fresh checks and pastel tones. Hampton is a real fresh-as-a-daisy range in high back and pillow back styles. Scroll topped arms and real wood feet in a sunbleached, driftwood finish complete the inviting look. Choose plain or patterned accent chair and storage footstool, and high back or pillow back sofa styles.
Vittoria: Upholstered in silky soft, extra durable microfibre fabric, the Vittoria fabric sofa range includes an armchair, 2- and 3-seater sofas, along with a coordinating footstool. Taking inspiration from Italian design, the Vittoria range adds a modern statement with its slim arms and tapered, dark stained beechwood legs. The choice of five colours will all seamlessly blend with any interior, while the seating is padded with extra soft foam to provide ultimate comfort.
Dune: Our Dune fabric sofa collection combines classic looks and effortless comfort. Designed for real homes, it includes static and electric recliner options in armchairs and 2- and 3-seater sofas. The power recliners offer relaxation at the touch of a button and feature the option to have power headrests for ultimate unwinding. There's also a coordinating storage footstool.
Sienna: Featuring an armchair, footstool, and 2- and 3-seater sofas, along with electric recliner options, including a corner sofa, our Sienna fabric range makes a modern statement. Sienna is upholstered in durable microfibre fabric, with a choice of five colours, and has slim chrome legs that add to its appeal. The electric recliners benefit from an adjustable footrest, while the manually adjustable headrest ensures enhanced comfort.
Milner: Characterised by curved arms that showcase a distinctive oval shape when viewed from the front, resilient foam cushions, and elegantly tapered beech wood legs, our Milner range has a clean look with a subtle retro twist. Discover 4-, 3- and 2-seater sofas, as well as an armchair and storage footstool to make up an entire living room suite.
Bassett: With signature scroll-top arms, turned front feet, and decorative scatter cushions, our Bassett range exudes elegance, charm, and homely comfort. A wide range, discover living room furniture from accent and storage footstools to large 4-seater sofas.
Ashby: Low, cosy seats, elegant scroll-top arms, and a choice of six timeless colourways characterise this classic sofa range. Choose from a selection of complementary sofas, armchairs and footstools, most of which are available in both high back and low back designs.
Fiesta: A stylish, contemporary range characterised by slim, grey metal feet and finished with contrast piping, our Fiesta range is upholstered in soft, woven chenille and available in a selection of cool neutrals. The loveseat and sofas have an added touch of luxury provided by quilted velvet cushions.
Willoughby: Our Willoughby range offers a subtle, retro twist that looks perfect in contemporary homes. Available in a selection of warm neutrals accented by patterned scatter cushions, choose Willoughby to experience Scandinavian serenity and transform your living room into a relaxing retreat.
Cortesia: Upholstered in soft, durable polyester, our fabric Cortesia range blends chic Italian design with luxurious comfort for real homes. Cortesia comprises the classic living room essentials of a 2-seater sofa, 3-seater sofa, armchair, and useful storage footstool.
Bridgeport: Inspired by the beautiful simplicity and stylish functionality of Scandinavian design, Bridgeport is available in five contemporary colourways and features decorative scatter cushions. The range comprises a storage footstool, armchair, 2-seater, 3-seater, 4-seater and chaise sofas.
Caravelle: Caravelle embodies everyday luxury and quilted velvet comfort. Comprising an accent chair, 2-, 3-, and 4-seater sofas and a coordinating footstool, the seating in this range features solid beech feet, quilted velvet scatter cushions, fixed back support, and reversible seat cushions.
Dalby: Furnish your home with the fun, modern style of our Dalby sofa range. Available in both bold and neutral colourways, Dalby comprises an accent and storage footstool, as well as an armchair, loveseat, and 2-, 3-, 4-seater, and large 4-seater sofas, all of which have high backs and trimmed back pillows.
Salento: Characterised by silky soft velvet upholstery and wide, foam-padded seats with low arms, our Salento fabric range combines real comfort with sophisticated Italian design. Salento is a luxurious range that comprises a storage footstool, armchair, 2-seater sofa and 3-seater sofa.
Samson: Samson is a neat, modular range available in a wide variety of sizes, with both electric recliners and static designs to choose from. The former option features reclining at just the touch of a button, as well as USB ports in the arms, while the latter offers traditional homely comfort.
Harmony: Available in five different types of upholstery, two floral and three more pared back shades, Harmony has traditional looks, inviting curves and piped cushions. A wide and versatile range, Harmony comprises a footstool, armchair and accent chair, as well as sofas in both standard high back and pillow back designs.
Turin: Our fabric Turin range has deep, inviting seats, is upholstered in woven polyester with a soft yet textured feel, and has been designed with premium comfort and quality support in mind. The collection includes a storage footstool, armchair, 2-seater sofa and 3-seater sofa.
Shelby: Generously proportioned and upholstered in premium woven fabric, everything about Shelby invites you in and encourages you to snuggle up and relax. A broad, family-friendly range, Shelby comprises a storage footstool, armchair and loveseat, as well as 2-seater, 3-seater, 4-seater, and corner sofas.
Carlton: Built to the highest specifications, Carlton is upholstered in short pile velvet with a glossy, tactile finish. Comprising a footstool, armchair and loveseat, as well as 2-seater, 3-seater, 4-seater and corner sofas, the Carlton range has a piece to suit every living space and a variety of colourways.
Hepburn: Our Hepburn sofa range is available with either gold piping and metal feet or fabric piping and solid oak feet. Comprising 2-, 3- and 4-seater sofas, two footstools, an armchair and a loveseat, this collection is characterised by curved, modern silhouettes, Berber-inspired scatter cushions and trimmed back pillows.
Amelie: Characterised by flared, scroll-top arms with fluted detailing, turned solid beech feet and patterned scatter cushions interwoven with subtle shimmering threads, Amelie is a classic range with a modern twist and is ideally suited to vintage-inspired cabinetry, such as our Burleigh range.
Porter: Upholstered in soft velvet and characterised by fabric piping and fluting on the back cushions and arms, Porter is a luxurious sofa collection inspired by quiet luxury and art deco design. It comprises an armchair, 2-seater sofa and 3-seater sofa, all of which are available in five colourways.
Sofia: Sofia features simple silhouettes with softly flared arms designed to embody classic comfort and style. Comprising an armchair, 2-seater sofa and 3-seater sofa, our Sofia range comes with double-sided scatter cushions and solid oak feet. It is available in four neutral colourways that are easy to style.
Melbourne: Available in four versatile colourways, Melbourne's upholstery is a tactile and lightly textured chenille-style fabric. Characterised by wide arms, piping detail and low oak feet with a dark stained finish, this range has a simple approach to stylish comfort. Melbourne comprises a storage footstool, armchair, 2-seater sofa, 3-seater sofa and 4-seater sofa.
Odette: With our Odette range, it's possible to choose between pillow back and high back 2-seater, 3-seater and 4-seater sofas and team them with a matching armchair and storage footstool. Designed with understated luxe interiors in mind, the pieces in this range feature flared arms, fabric piping and contrasting accent cushions.
Seymour: Seymour is a contemporary range of recliners and comprises a storage footstool, armchair, 2-seater sofa and 3-seater sofa. The seating is characterised by ruched detailing and wrap-around stitched fluting that follows the contours of the arms. Black tapered metal feet refine each silhouette and create a light, airy look.
Santino: With low, wide silhouettes, padded arms and deep seats, Santino is a range of power recliners with a difference. Virtually indistinguishable from static seating when in their upright position, the armchair, 2-seater sofa and 3-seater sofa have discreet and easy-to-use control panels that allow you to adjust your headrest and footrest separately.
Juliette: Featuring gently curved arms and elegant silhouettes raised up on slim black metal feet, our Juliette recliners are ideally suited to light, airy interiors with minimal but warm styling. The range includes a corner sofa with recliner, 3-seater and 2-seater recliner sofas, an armchair and a multipurpose storage footstool that can be converted into a seat.
Leo: Leo comprises a storage footstool, recliner armchair, 2-seater recliner sofa, 3-seater recliner sofa and corner sofa with a recliner at each end. Each piece in the range is characterised by contrast stitching, while all the seating benefits from wrap-around padding on the arms and is available with or without an adjustable power headrest.
Aldo: For super-soft comfort and made-for-life style, the Aldo recliner range in suede & super-soft velvet feel fabric has it all. Featuring superior padding and a marble patterned, durable upholstery, adjustable lower and upper support is available at the touch of a button.
Stanley: With its handmade button-back design and low pleated curved arms, add timeless Chesterfield-inspired design to your living space with our Stanley sofa. Match with the Newton furniture range for maximum modern farmhouse style.
Stanmore: Meet Stanmore, a beautifully elegant sofa range that effortlessly adds timeless character and charm to your space. With softly curved arms and a classic silhouette that sits on solid oak spun legs, Stanmore brings instant modern country style to your home.