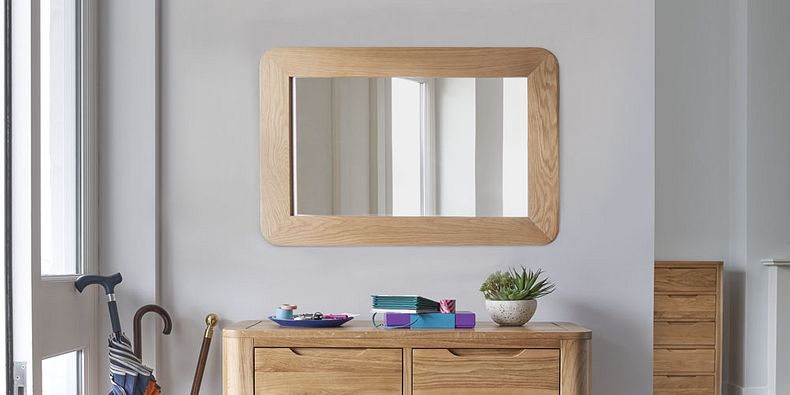 Mirrors
Real wood frames to match our ranges
FROM £40
Maximise on light and add the finishing touch to your space with a stylish oak mirror from our collection. Large, small, tall, or wide we've got all kinds of styles to accentuate your space.
Adding a mirror to your space provides so many benefits. In addition to helping you look your best, a good mirror can create a design statement, disguise imperfections, and most importantly, open up a space by bouncing light around the room.
Oak mirrors
All of our mirrors are framed and backed with 100% solid oak, to ensure they are exceptionally robust and won't warp or bow over time. Choose from a variety of styles from large horizontal and vertical shaped mirrors to smaller dressing table mirrors.
Tips for choosing a mirror
Always choose a mirror that coordinates with your interior style. If your space is modern, opt for one with sleek lines. For a traditionally-designed space, try looking for a mirror with a rustic finish. In a retro-modern setting, experiment by grouping various sized mirrors together for an eclectic look.
If you want to make your space seem grand and tall, invest in a vertical mirror to give the illusion of higher walls. For spaces where you want the walls to appear wider, look for a horizontal mirror.
How to place your wall mirror
In small spaces such as a bedroom, place a large oak mirror on a wall that's beside or opposite a window, to maximise on morning light. You could also place amongst framed prints and photos as part of a gallery wall – this is a clever way to create natural artwork while giving your space a refreshing, feel.
In the hallway, we recommend hanging your mirror above a statement piece of furniture such as a console table. Doing so will give it focus, transforming it into an eye-catching focal point. Positioning it here will also prove handy when you want to give yourself one final check over before you leave the house!
If you're intending on placing your oak mirror in the dining room, consider choosing a horizontal mirror and hanging it opposite the dining table. This is also a great trick for reflecting a statement light fixture or a luxury chandelier you want to show off.
In the living room, a horizontal mirror will also work well hung above the fireplace. Make sure that it is positioned a good few inches above the mantelpiece so that it doesn't distract from any ornaments or decorations.
We offer a wide range in beautiful solid hardwood, which complements our furniture collections. From chunky oak cottage-inspired designs to delicate table pieces, you're sure to find a style you'll love. Don't miss our beautiful mango and painted hardwood mirrors, which add visual interest to your home.