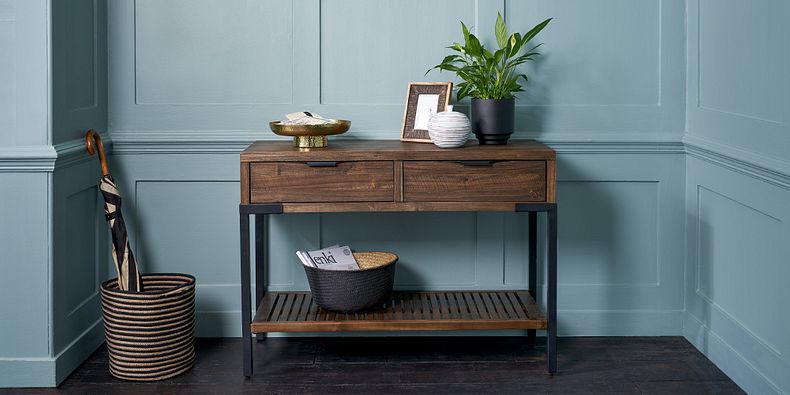 Console Tables
Style on legs, for display and storage
FROM £200
A hallway table is often the first piece of furniture you see when entering your home, greeting guests as they walk into your front door. These consoles tables, designed to sit close against the wall in a mudroom or entry, are an ideal way to create a fresh, clean and clutter-free first impression in any guest. With drawers perfect for storing keys or mail, and lower shelves ideal for keeping boots, umbrellas, or other hallway clutter organised, a hallway table can create a stylish first impression of your home.
Whether it's somewhere safe to drop your keys in the hallway as you arrive home or a space to show off your most treasured ornaments, our beautiful console tables bring a touch of class to your home. Choose from elegant solid oak, distinctive mango, and stylish painted console tables, crafted from the finest materials to ensure they maintain their beauty over time.
Oak console tables
Solid oak has a timeless charm that's synonymous with British interior design and can effortlessly blend with classic and ultra-modern living spaces. Our solid oak console tables work well as standalone items, or as part of one of our many furniture collections. Defined by gorgeous golden hues and superior grain patterns, our oak console tables are built to stand proud for decades to come. Place one in the hallway to add organisation and beauty to your everyday routine.
Our painted hallway tables are designed to make a bold style statement in your home. Available in beautiful shades of grey, white, and cream, you can find a style that complements the theme in your home. Painted furniture has an irresistibly versatile look, which can work brilliantly in both rustic and ultra-modern homes. Style your painted console table with wicker baskets and fresh flowers for a charming, country-cottage effect, or keep it minimalist and make use of the handy drawers.
We recommend also exploring our other pieces of hallway furniture to find the perfect storage cabinet or hallway unit to pair with your new console table.
We have a wide selection of solid oak, mango, and painted console tables, available in many different designs and finishes to create a perfect entryway. And if your entry is small, why not consider pairing your hallway table with one of our fantastic matching hallway mirrors to create the illusion of a bigger space?