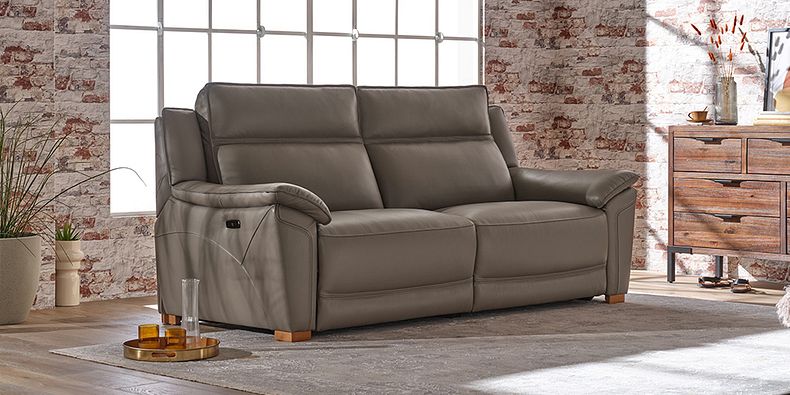 Leather Sofas
ADD A TOUCH OF LUXURY
There is nothing quite as satisfying as sinking into a brand new, soft leather sofa. At Oak Furnitureland, we combine 100% quality real leather sofas with exceptional style, so that you can add a touch of luxury to your living room. From our recliner sofas, leather armchairs, large modular sofas to our small corner sofas, rest assured that no expense has been spared. We've worked hard to design an elegant range of leather sofas that promise lasting style. Where other manufacturers use leather fabrics such as PVC, leather effect, vegan leather, or leatherette in hidden areas to save costs, we are committed to using only the best materials in ours so that our leather sofas are of the highest quality; even in areas which are often hidden such as the back and sides. So, you can relax knowing our leather settees are leather all over.
And we know that life's too short for plumping sofa cushions. Our designers have come up with special cushion fillings which look great, feel incredibly comfortable, and are easy to care for. Some of our leather sofa sets also boast overstuffed arm pads which beg you to sit back, lean in and relax. Many also feature specially designed areas for lower-back support as well as fixed backs for easy care. From our exclusive dual-foam cushions – which have crisp shapes and need no turning or plumping – through foam and fibre cushions for a relaxed style, to pocket-sprung seating in leather loungers, you'll only find high-quality seating with us.
Different sizes and styles of leather sofas
Living rooms come in all shapes and sizes and choosing a sofa that will fit can often be an arduous task. Rather than compromise on space or style we've created a number of sizes available in each range. If you're looking for a small 2 seater leather sofa or 3 seater leather sofa with matching leather chairs, we've got you covered. We've also got a versatile selection of leather corner sofas to suit your design and functional needs. Or, if you're looking for just one statement piece in your living room, we have a whole host of 4 seater leather sofas to fit the whole family, including leather corner sofas.
Leather recliners
Need a sofa that will allow you to truly unwind and relax? You may want to take a look at our leather reclining sofas and leather recliner chairs, perhaps even our electric recliner suites. If a recliner doesn't suit the arrangement of your living room, but you still want to put your feet up, we also have leather footstools with storage functions to choose from.
Choosing the right colour sofa
Compared to fabric sofas, there is often a smaller selection of leather colours you can choose from. A popular choice is often the classic tan leather sofa followed by the versatile black leather which is particularly comfortable when you choose a black leather reclining sofa option.
At Oak Furnitureland, we offer more than 10 different dyed leather colours on many of our leather suites, including cream, red, grey, brown or black leather suites to satisfy everyone's unique tastes. For those who love a neutral styled living room we've got some great grey corner sofas or cream leather sofas to choose from. If, however, you want a less traditional colour, we have a selection of rich and warm toned 2 and 3 seater sofas with a red leather finish.
So, take your pick from a range of contemporary colours and styles, including cream leather sofas, grey leather recliner sofas, brown leather armchairs or classic black leather sofas.
If you are still unsure about what kind of leather sofa to go for, we've created a sofa guide which will give you further guidance.