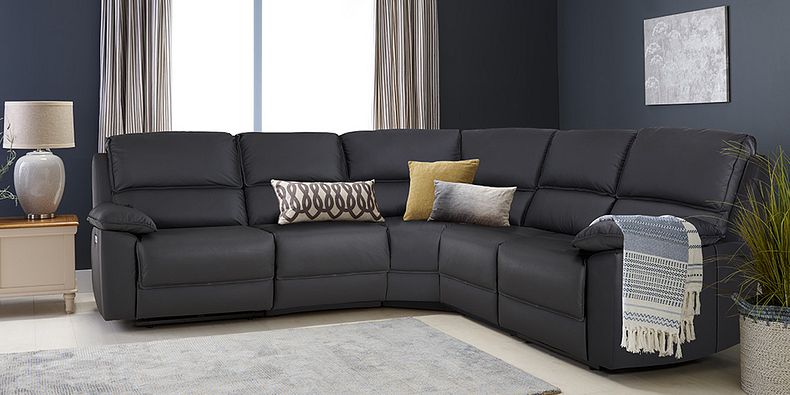 Cream Leather Sofas
Available From £1,150
Quality leather, all over

Lifetime frame guarantee

Solid wood frames

Recliner options for extra comfort

Quality leather, all over

Lifetime frame guarantee

Solid wood frames

Recliner options for extra comfort
Understated yet elegant, cream leather sofas are the pinnacle of contemporary style. Ultra chic, such a sumptuous material echoes home modernity and is beautifully shaped by a number of on-trend and classic silhouettes.
Bright and eye-catching as an ensemble sofa suite or the focus of the room as a solo seat, cream or ivory leather sofas have a timeless quality and are luxurious to the touch. Keep yours feeling as soft and looking as blemish-free as the day it arrived with our leather care kits - upholstery in as delicate a hue as cream needs a little tender loving care from time to time!
White and all its different shades are one of the most versatile colour palettes you can have in the home, so don't fear that a cream leather sofa would be a tricky focal point for your living room: in fact, it really is the piece you need to make your home look worthy of an interior design magazine. Read on for our guide on choosing a cream leather sofa.
What should I look for in a cream leather sofa?
When browsing the market for a cream leather sofa, ensure you're prioritising sofa sets that rank quality and comfort as the most important design aspects. After all, your sofa will stay with you for the foreseeable future so you will need one that's built to last all of life's rough and tumbles.
We know that sofas are among the most used pieces of furniture in the home, so all of ours are built with sturdy hardwood frames, adequately preparing them for years of wear. Every cream leather sofa in our collection is made with premium leather, too, meaning they're polished yet gentle to the touch and designed for durability.
What size cream leather sofa should I get?
Not only is selecting the upholstery of your sofa a thoughtful interior design choice, but so is choosing what size you're going to go for. All living room furniture revolves around the sofa, so make sure you opt for a cream leather sofa that fits the space you have available without swallowing it up. Alternatively, don't go for one too small that doesn't have enough presence in the room. To help inform your decision, we've broken down all the cream leather sofa sizes available for you:
Cream leather corner sofas
Ideal for cosy corners or large living spaces alike, l-shaped cream leather sofas are optimised for functionality. A favourite for large families, they give everyone a spot in front of the TV and help divide up big, open plan rooms. With the ability to be configured for left-handed or right-handed layouts, you'll love how easy and versatile this particular seating arrangement is.
Cream leather recliner sofas
Nothing says 'comfort zone' quite like a cream leather recliner sofa. Sink back into the overstuffed pillows as your sofa puts your feet up either electronically (designed with those with mobility issues in mind) or manually. Total relaxation never felt so good - or looked so stylish!
Cream leather sectional sofas
Just as you need to be adaptable to fit the needs of your home, so does your furniture, which is why we offer cream leather modular sofas, giving you the opportunity to customise a piece of furniture that works for your living room space. Build a sofa fit for your unique requirements and it will become the beloved heart of your busy family home.
Cream leather sofa sets
A white leather sofa makes a classy style statement, but a whole set can really make a room look complete. There are lots of different options for you to weigh up - will you go for just one? Or a sofa and an armchair? How will you arrange them? In cases like this, cream leather's flexibility shines through.
Cream leather two seater sofa
Although cream leather two seater sofas are one of the smaller options, they're still fashioned with the same optimal comfort as any of our larger sofa ranges. A prime cuddle spot, their ultra-cosy features such as rounded pillows and springy armrests will defy all your expectations.
Cream leather three seater sofa
Cream leather three seater sofas can be incorporated as part of a sofa set or can even fly solo. Either way, selecting a few different options from the same range will give your living room a sense of continuity and give friends, family and guests a welcoming spot to socialise.
Cream leather armchairs
Burrowed into a quiet reading nook or embraced into a larger seating array, cream leather armchairs carry with them a place to call your own. As the high backs and cloud-like cushions cradle you, it'll soon become your favourite seat in the house.
Cream leather footstools
So, you've pulled together your dream sofa set, but it doesn't quite feel right. Have you considered tying everything together with a matching cream leather footstool? The perfect pairing to any sofa or armchair, now you won't ever need an excuse to put your feet up. We also offer cream leather storage footstools that are the embodiment of smart storage; now you'll always have somewhere to conceal your living room clutter.
How to style a cream leather sofa
White leather sofa sets meld well into a multitude of design schemes. If you love the cleanliness of the upholstery, then you might want to lean into an all-white scheme. Don't forget to uphold a textural balance by opting for a few subtle shade differences - perhaps with off-whites, silver and opaque details like crystals to stop your living room feeling like a wash out.
A bolder option would be monochrome, which harks back especially to a retro art deco theme. Try an accent wall with geometric wallpaper or a high-pile Herringbone patterned rug to experiment with this style. You can even opt for whimsical elements like cow-print pillows or quirky matte statuettes if you want to really showcase your personality and bring out the brilliance of your cream leather sofa.
Cream leather sofas are also quite glamorous - think the flashy Palm Springs aesthetic - so luxurious furnishings are also appropriate here. Go for glitzy gold accenting, lots of reflective surfaces and sleek painted furniture. For more on how to choose a sofa, please see our Sofa Guide for a step-by-step breakdown. Otherwise, shop our full range of sofas today.