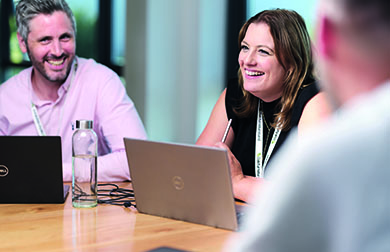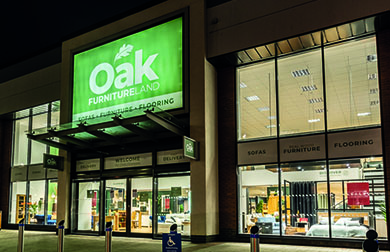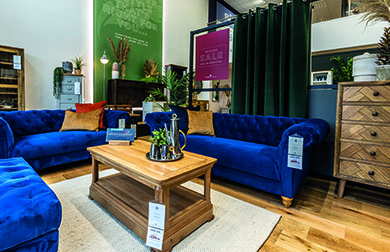 A Message from our CEO
At the risk of sounding like a cliché, no two days are ever the same at Oak Furnitureland. We're a fast-paced, thriving retail business and this is testament to our incredible, dedicated people, as well as our furniture itself.
We're on an exciting journey and are looking for talented individuals to help us continue to drive the business forward and contribute to our whole home offering of quality, stylish, and exceptionally great value products, that really makes our brand something special.
About Oak Furnitureland
We have a lot of things to be proud of here at Oak Furnitureland.
Firstly, let's talk about our furniture itself. From beautiful bedroom cabinetry and sofas you can't help but sink into, to dining tables you can gather around with loved ones and customisable mattresses that guarantee a dreamy night's sleep, there's something for every room in the home.
All our furniture is exclusively designed and properly made. We use quality hardwood that's been responsibly sourced, and we let the natural beauty of the wood shine through in each piece.
And then we have our people. From our showroom colleagues and our delivery drivers to our customer service team and logistics department; everyone works as one united team, driven by a shared purpose and values.
In short, we make furniture that we're really proud of, so that we can help people make their house a real home. Why not join us?
To find out more about our current vacancies and apply click here.
Working for Oak Furnitureland
Employee discount: amazing discounts available on all Oak Furnitureland products after successful completion of probation
Life assurance: free cover of a minimum of two times your annual salary up to the age of 65
Birthday: an additional day off for you to celebrate your birthday
Pay: our salaries are competitive and reviewed every year
Hybrid working available for some of our desk-based roles
Holidays: a minimum of 28 days statutory holiday per year, pro rata if part-time
Pension: 4% employee contribution matched by the company
Uncapped commission for our sales roles that offer great earning potential
1 in 6 weekends off for those in retail positions
Health and wellbeing: great discounts on local gym memberships
Employee Assistance Programme: gives all employees access to both telephone and face-to-face counselling services
My Rewards Programme: offers discounts on everything from restaurants and supermarkets, to entertainment and holidays
Free on-site parking at all locations
Our people are hugely important to us, and regardless of role or department, all Oak Furnitureland colleagues are crucial in helping us provide our customers with outstanding products and an exceptional customer experience. They also help shape the continual evolvement of our company culture and support our journey in helping us to create an enjoyable place to work.
At Oak Furnitureland, we believe it's important to support our colleagues in having the right knowledge, skills, and behaviours that enable them to deliver their role successfully.
To assist our new colleagues in getting off to the best possible start, we provide a comprehensive induction that supports and guides them through their first few weeks, helping them to understand their role, the business and develop relationships.
We provide the framework for development to take place but look for individuals to drive and take responsibility for their own personal development, which includes putting into practice what they have learned, and seeing learning as a continual process.
Our business is committed to investing in the development of its people, either within their current role, or when they are looking to develop towards their next career step.
Learning can successfully be achieved through short bite-sized sessions, long training events, and anything in between. Development at Oak Furnitureland doesn't necessarily mean attending a workshop (although we do run these too) and could involve several different learning methods, including on-the-job training, peer-to-peer learning, completing modules, watching videos, reading articles, completing e-learning, using knowledge assessments or shadowing others.
As our business continues to evolve, we know that our people are critical to our current and future success. Therefore, over the next few years, we have big plans to further develop the learning and development on offer to our Oak Furnitureland colleagues.
Our purpose is to help people make their house a real home. Each and every role within Oak Furnitureland plays a part in helping us achieve this and we are all driven by a shared set of core values;
We are one team
We are authentic
We are adaptable
We are experts
We put our customers first
If this sounds like something you're keen to be part of, and you want to find out more, discover our current vacancies.
You've found the ideal role for you, completed your application form and would like to know the next steps. Our friendly recruitment team will be on hand to support you with the process.
Once your application has been submitted you will receive an automated email response to acknowledge receipt. One of our team will endeavour to respond to every applicant within four business days as we know how important it is to inform you of changes in your application status as soon as possible.
Unfortunately, not all applications are successful at the submission stage and while we will always consider transferable skills, some of our roles require applicants to have specific technical skills. If we are unable to move forward with your application, we will always email to advise.
If your application does match our requirements, you can expect to be contacted by one of the team either by phone, text or email to arrange an initial telephone conversation. The call usually lasts no longer than 30 minutes and allows us to find out more about you as a person and your skills, an opportunity for you to ask any questions and to make sure the role would be a good fit for you.
If we are a good fit for each other, we will organise a face-to-face interview for you to meet the hiring manager and get a feel for the environment you will be working in. We don't like to keep people waiting so will always ensure we give verbal feedback to all interviewed candidates in a timely fashion.
On some occasions we will ask you to participate in a second interview with the Head of Department/Division as it is important to us that everyone in the team gets to meet prior to making a final decision.
Congratulations! You have been successful at your interview and we think you would be a great fit for our team. You will receive a call from the manager or recruitment team offering you the role and explaining the next steps. Once we have approved your right to work in the UK and sent you a link to begin your DBS check, your contract will be with you within two to four business days. Both the manager and the recruitment team will be available to answer any questions you may have and ensure you receive the best onboarding experience possible. Welcome to the team.
What should I include in my CV/application?

The most important thing to keep in mind when starting the application process, is that your CV reflects the job advert, in terms of experience, responsibilities, and competencies required.

A few general tips: If you decide to submit a cover letter, ensure it complements your CV and explains more thoroughly how you fit the role rather than repeating everything twice. It's great to let a future employer know what skills you have but it is equally important for them to know how you have used them. Don't just list your competencies and experience, use real-life examples to show how those traits have been utilised in specific situations.

In your cover letter and CV, only expand on the information relevant for the position to which you are applying. Make sure your CV is well-structured with informative headings. This will make it easier for the recruiter to find the necessary information. Remember to thoroughly proofread both your CV and cover letter, if submitting one, to create a professional and complete image of yourself.

Can I apply if I have less experience than required in the job advert?

We are happy to receive applications from people who have worked in different sectors. Even if you have less or different experience than specified in the job advert, you may have other qualities or skills relevant for the role. Showcasing a real desire to be part of our team can go a long way, so we encourage you to apply if you find a position interesting.

How do I know where my application is in the recruitment process?

You will be notified by email each time there is a change in status to your application.

I received a rejection. Can I get feedback?

Unfortunately, we do not have the resources to provide feedback to all candidates who apply for a position. However, we always provide verbal feedback to candidates who attend an interview.

How do I prepare myself for the interview?

It's always a good idea to arrive properly prepared for an interview as this will ensure both the interviewer and yourself make the most out of the opportunity. Here are a few general suggestions to help you prepare yourself. Do some research on the company and the role you are interviewing for. Once you have applied, remember to save the job advert for reference at a later stage, as it may be removed from our website once relevant candidates have been identified. Think of real-life examples to show your competencies instead of just stating them. Make thorough considerations as to why you want the job as well as your strengths and potential development requirements. Prepare a few questions to ask the interviewer to show your interest in the role and the company.

Why can I not email my CV directly to you?

To ensure that your personal data is handled correctly, you must submit your CV online through our recruitment system.
At Oak Furnitureland we have put diversity and inclusion at the top of our employee agenda, as we believe that a more diverse and inclusive workplace, where people of different backgrounds are truly represented, ensures better outcomes for all colleagues and the business.
Beautiful furniture, made from responsibly sourced real wood. It's in our name and it's in each and every piece of furniture we make. Sustainability is a key priority for Oak Furnitureland and we're working hard behind the scenes to make changes that will help us become a truly environmentally responsible business.
We're proud to partner with the charity, One Tree Planted, to plant 100,000 trees by the end of 2022. Our partnership with One Tree Planted will see us plant now, for the future, and will help to replenish natural resources.
We're working in partnership with Clearabee to offer our customers convenient and environmentally-friendly furniture removal and recycling services. And, we've joined forces with the British Heart Foundation to provide customers with a free furniture collection service, to help give good quality, unwanted items a second chance at life.
If you are interested in taking your first steps to a career with Oak Furnitureland then please take the time to visit our current vacancies.
Our Products
Quality, stylish and affordable products are at the heart of what we do and have been the driving force of our business since we launched over 15 years ago. From cabinetry ranges that span furniture for bedrooms, living rooms, dining rooms and more, to comfortable and hard-wearing sofas, we offer exclusively designed pieces for the whole home, in a choice of styles to suit every taste.
Oak Furnitureland products are made from solid hardwood and feature classic carpentry joints to ensure our furniture lasts for years to come. We use soft yet durable fabrics in our upholstery, and where leather is used, it is always real. We also offer a selection of stylish and well-made accessories, such as table lamps and statement clocks, that perfectly complement our larger pieces. 
Find out more in our About Us section.
'In our showroom, we work as a team and have fun while making sales. The customers are part of our extended family. It's a relaxed, happy atmosphere and not like going to work, I love working here.'

Beverley, Retail Sales Advisor, Farnborough

'I'm grateful for all the professional support and opportunities to help with my career growth. The company has myriad training programmes to ensure you're fully prepared to handle all calls.'

Sheldon, Desk-based Sales Advisor, Swindon

'I enjoy working for Oak Furnitureland as every day is a different challenge, with development tools to learn and achieve at the touch of a button. I enjoy working as part of a team to hit collective goals.'

Carla, Retail Sales Advisor, Belfast

'Being trained to be as knowledgeable as I can, with the support of management, is great fun and allowed me to hit the ground running on day one. The sales team is a close-knit group you can always rely on.'

Tom, Desk-based Sales Advisor, Swindon

'I'd been keen to work at Oak Furnitureland for a while but it was about finding the right hours. The flexibility I was offered was a real positive, along with joining a company that's still on a journey to grow and improve.'

Emma, Human Resources, Swindon

'I joined the company as it's at an exciting time in its journey. It's backed by very supportive owners and led by an inspirational and focused leadership team intent on creating an engaging working environment.'

Paul, Finance, Swindon