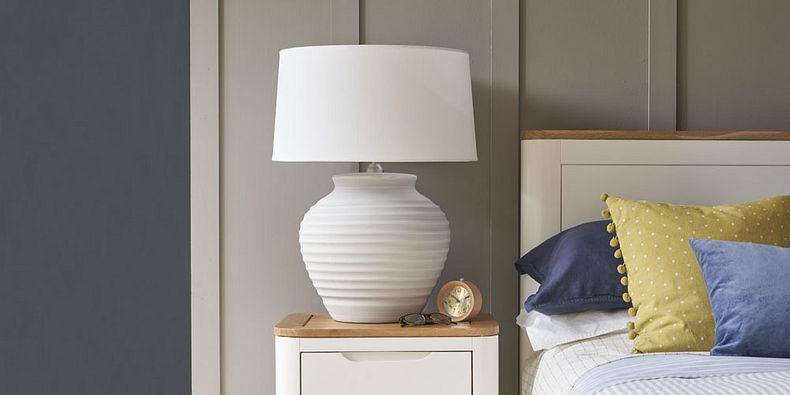 Lamps
Let there be light, upstairs and down
FROM £65
Whether you want to add a sculptural silhouette or create a cosy ambience when you're winding down, our collection of stunning floor and table lamps are an ideal way to inject light and character into your home. A warm glow from a lamp creates a more intimate feel than overhead lighting in a bedroom and is a great way to step up your decor. Floor lamps can help illuminate awkward corners of your bedroom to make use of every bit of space.
Incredibly versatile, lamps are an ideal way to bring light, colour, and texture to your home. Perfect for adding warmth, a lamp is an essential ingredient in a cosy setting and can also double up as a stylish focal point.
Made using the highest quality manufacturing techniques, our lamps are highly robust and built to stand the test of time. Whether you're looking for a table lamp to assist you when reading your favourite book or a statement floor lamp to illuminate a dark corner, we've got all sorts of styles to suit your home. Once you've found your preferred lamp, why not choose a side table to match?
Things to consider when purchasing your lamp
When choosing the right lamp for your layout, think about the purpose of the room. It's likely that you'll need a smaller table lamp for a bedside table, while an oversized, statement lamp can make an artsy addition to a dining or living room.
Also consider the size of the room, especially when choosing floor lamps. A slim and elegant floor lamps works great in a smaller setting, while a large, chunky design is perfect in a room where there's ample space for it to shine.
Coordination is also key – lamps look best when paired with complementary colours and can help to tie the theme of the room together. Don't be afraid to play with colour – if your room is grey, consider choosing a lamp in a bright shade to add a flash of excitement. If your room is white, consider a lamp in a darker shade such as grey or black, for an edgy touch.
Ways to use a lamp
Lamps can serve all sorts of purposes. Almost any lamp can be used as task lighting but many can also be used to create ambience, accent a piece of statement furniture, or to purely function as decoration.
While table lamps are most commonly placed on living room side tables, they also look great on sideboards, hallway stands, and on top of a chest of drawers. Floor lamps look especially on-point when placed in the corner of a room, but they can also be used as a spotlight flagship pieces you want to show off, whether that's a bespoke piece of furniture, art, or decorative ornament.
When using a lamp for accenting lighting, try opting for one with an adjustable head so you can direct the light in the area you want to illuminate and draw attention to.
If you intend on using your lamp as a decorative feature, look for one with an interesting design that's sculpturally pleasing. It could be a table lamp with a bubble-shaped base or a tripod floor lamp with sleek lines and a statement shade.