We offer a choice of four delivery options; Premium, Flexible, Standard or Doorstep Delivery. More information on how this works in line with social distancing guidelines is in our FAQs, and we will also send you an email confirming what happens next when you place your order.
| | Premium Delivery £99.99 | Flexible Delivery - £69.99 | Standard Delivery - from £29.99 | Doorstep Delivery - from £9.99 |
| --- | --- | --- | --- | --- |
| Your order unpacked | | X | X | X |
| Your furniture set up for you | | X | X | X |
| All packaging taken away | | X | X | X |
| Ability to change your delivery date | Up to 3 days prior | Up to 3 days prior | X | X |
| Choose any available weekday within the next 3 months | | | X | X |
| Earliest delivery option provided | | | X | X |
| Choice of delivery dates | Any available | Any available | 3 provided | 3 provided |
| Delivered to your room of choice | | | | X |
| Your delivery date is confirmed at time of purchase | | | | |
| SMS delivery reminder 36 hours before | | | | |
| Courtesy call 30 minutes before arrival | | | | |
| 2 man delivery service** | | | | |
| Delivery to UK mainland and NI only | | | | |
| Orders up to £699.99 / Orders over £699.99 | £99.99 | £69.99 | £29.99 / £39.99 | £9.99 / £29.99 |
We're committed to providing a delivery service which is safe, quick, efficient and hassle-free.
COVID-19 additional measures
The safety of our colleagues and customers remains our top priority, and with this in mind, we have introduced additional measures to ensure a safe and contact free delivery experience, in line with government guidelines.
Our delivery drivers work in fixed pairs where possible, and are provided with personal protective equipment that includes face masks, hand sanitisers and cleaning equipment. Our vehicles are all cleaned daily, and our delivery teams sanitise between each delivery.
Your drivers will give you a 30 minute pre-call. Please advise them if anyone in your home is experiencing any COVID-19 symptoms as advised on the NHS website, or if anyone in your home is vulnerable, shielding or self isolating and would rather receive your delivery at the doorstep.
To ensure that deliveries are contact free, we would ask that you open all the windows and doors along the access route to where your goods will be placed, before your delivery arrives.
During your delivery, please ensure that you remain 2 metres away from our delivery team at all times. They will wear face coverings, and deliver to the room of your choice, or your doorstep, depending on the delivery option you have chosen. Please check our FAQs for additional information.
Our delivery options
Premium Delivery
Our Premium Delivery service gives the option of choosing any available delivery date that suits you. Your chosen delivery date is flexible, and you can change this online if needed via your online account. In addition to this, our Premium Delivery service includes room of choice delivery, and our delivery team will unpack your items, set them up where you want them to go in your rooms, and will take all the packaging away once they are done setting up, leaving you to enjoy your new beautiful furniture, hassle free.
Flexible Delivery
Our Flexible Delivery gives you the option of choosing any available delivery date that suits you. Your chosen delivery date is flexible, and you can change this online if needed via your online account. Our Room of Choice service is also available as part of Flexible Delivery, unfortunately we are unable to unpack orders or take packaging away.
Standard Delivery
Our Standard Delivery offers our Room of Choice service - our delivery team will bring your new furniture into the room(s) of your choice. Unfortunately we are unable to unpack orders or take packaging away.
Doorstep Delivery
We will deliver to the doorstep only and will not be able to enter your home. A member of your household will need to be present to accept delivery and carry your furniture over your threshold, which our drivers will observe.
If you prefer, we can deliver to a secure garage. If your garage is not joined to your property we will need to see proof of identification at the point of delivery.
If you live in a flat, we can only deliver to the entrance of your building, and not to your front door. As we will need you to carry your furniture over the threshold, we will need to see proof of identification at the point of delivery.
Our furniture is not flat packed, and therefore can be large and heavy. Getting larger items upstairs, for example, can be particularly challenging. If you have ordered larger items (for example sofas, dining tables, wardrobes, chest of drawers, sideboards) you will need someone from your household to help you carry your items into your home and into the room of your choice when our drivers arrive.
All Deliveries
For all deliveries except our Premium Delivery service, unfortunately we are unable to unpack your order or take the packaging away. On the day before your delivery we will send you a text message (SMS) re-confirming the delivery date and also provide you with a three hour delivery window. On the day of delivery we will call you 30-45 minutes before to let you know we're on the way.
Available delivery dates will be presented at checkout.
Our products begin their journey to you 3 working days before the actual delivery date. Therefore if you need to amend your delivery date within this time frame you will be charged a £49 late re-delivery fee. If an order is cancelled within 3 working days of the stated delivery date a return fee will apply. Please check Our Cancellation & Refund Policy of Your Owners Manual.
If for any reason you need to return your items, you will need to repackage them securely. We therefore recommend you keep your original packaging in good condition until you are 100% satisfied with your products.
Your furniture is packaged well to ensure it arrives to you in perfect condition.
Please advise us of any issues or damages within 24 hours.
Some large items (such as beds and wardrobes) do require minimal assembly.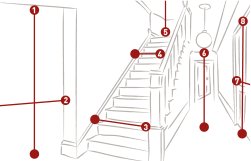 Click here to view the image as a PDF.
Before you buy, we recommend that you check that your chosen furniture will fit through hallways and doorways into your home, and into the desired room.
If your furniture is to be taken upstairs, measure the clearance height, especially if your staircase curves.
If your home has a lift, measure the height and width of the doorway as well as the lift.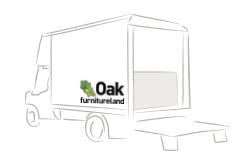 On the day of delivery, make sure the route of the furniture from the delivery van is safe and clear, taking into account access to the back of the van.
Remove anything from the walls of the access route that may be damaged, or that may restrict the delivery of your furniture.
Put down protective material, i.e sheets on the floors if desired. Protect edges and corners of railings and doorways with bubble wrap.
Clear space in the room for the new furniture.
Pets should be shut in a separate room during the delivery.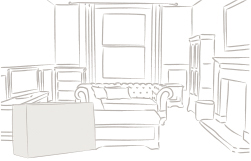 After delivery, keep your furniture's packaging and quality control label. The label will be needed for reference if you need to get in touch with us about your furniture.
Check the furniture is in perfect condition. If you have any concerns, contact us immediately.
Please note, Premium Delivery is the only service we have where our team will take away packaging after delivery.
Other Delivery Information
For any orders with a delivery address in the below-listed postcode areas, or orders weighing less than 25kg, we may deliver using a pallet delivery service or a parcel courier.
** If you live in any of the following postcode areas, your order may be delivered using a one man palletised distribution service:
KW11, KW13-14, IV27
Unfortunately we are only able to deliver to the UK Mainland and Northern Ireland.
Please note that on rare occasions your delivery service may be subject to change. If this occurs, you will be contacted prior to delivery to be informed of any changes.