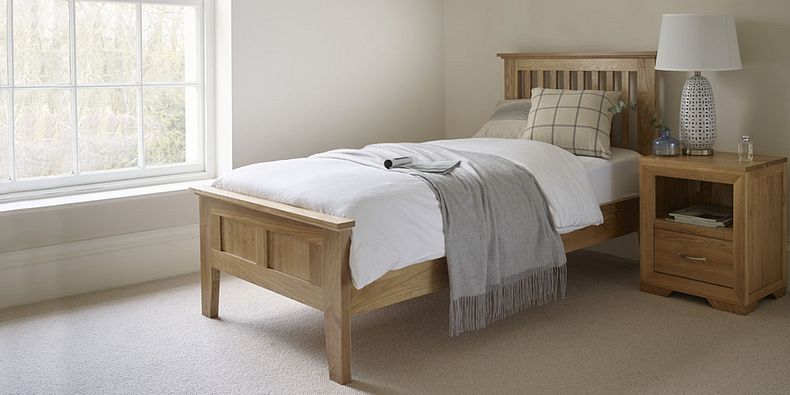 Single Mattresses
Cosy bed, cosy mattress
FROM £200
All Mattresses save 20% when you buy any size bed frame
Single bed mattresses
Perfect for children or the spare room, our luxurious single mattresses are designed with quality in mind. Our collection includes Maxi Cool single mattresses, which feature a soft quilted cover to help absorb heat, as well as natural anti-allergenic and mite-resistant qualities.
Looking for extra support? Our Posture Pocket single mattresses are made from high-density foam, and feature a memory foam layer and a soft quilted aloe vera cover for extra cosiness.
Choosing the perfect single bed
Whether you're looking for a new bed for the guest room or something for the kids, our compact single beds come in a variety of styles to suit all homes. Our rustic solid oak single beds are perfect for bedrooms with a charming country cottage style, and are made from the finest cuts of solid oak chosen for their superior grain pattern and golden colour tone.
For a more striking look, our painted natural oak single beds take inspiration from French design to create an attractive piece of furniture that your guests are sure to love. Our collection also includes solid natural mango single beds, which look great in ultra-modern bedrooms with their distinctive cuts of tropical wood.
Turn your spare room into a cosy retreat
A small bedroom or snug loft conversion featuring a single bed doesn't have to be merely functional – it can have charm and character too. Make your spare room a home from home for your guests with a range of accessories that give the space more personality. Our wide selection of mirrors can help bounce light around the room to give the illusion of more space, while offering your guests somewhere to check their appearance.
Illuminate the room with one of our stylish table lamps, which are ideal for bedtime reading. Complete your guest room with one of our wall clocks, which come in a wide range of vintage, classic, and contemporary styles.