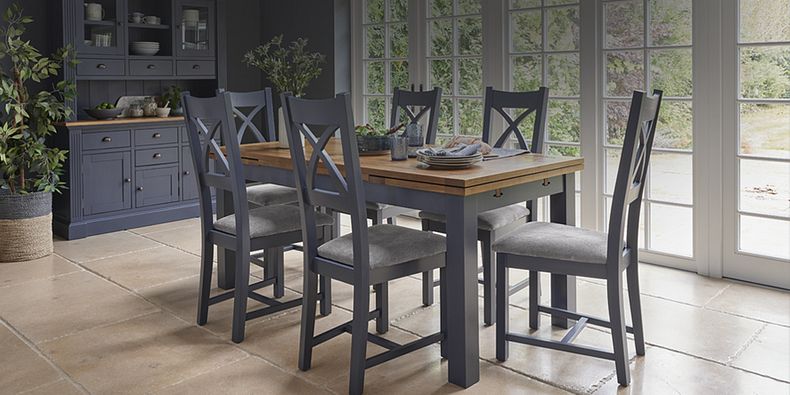 Painted Dining Table and Chairs
ORDER
NOW FOR
CHRISTMAS
Painted furniture is a very popular interior look, and we've been building up our selection of ranges that have paint finishes. A lot of our painted ranges have dining tables and chairs, so we've collected some painted dining sets here for you, in one place. Remember that if you see part of one set that you really like, but aren't quite sure about one bit of it – the colour of the seat pads, for instance – you can fine tune the set to suit your taste using our dining set builder. You can put any chair with any table. Some of our painted dining tables have matching chairs – Arlette's mid grey dining table and chairs is one range. But you could mix it up by pairing oak dining chairs with the oak-topped painted dining tables. You can also add a pair of dining chairs to the set if you know you'll have your extending painted table at its maximum length most of the time, seating eight rather than six.
A word about quality: our painted dining furniture is always made from 100% solid hardwood. You'll never find MDF underneath the paint finish. The chairs and tables are made to the same standard as our oak and mango pieces. The hardwood we use is especially suited to being painted – it has an exceptionally even surface to begin with, helping to make the paint finish smooth.
Our painted dining sets are available in different sizes, styles, and shades. A 4ft (120cm) round, off-white painted table and chairs will brighten the corner of a large kitchen perfectly – or kitchen diner – seating up to four. Our cream dining table and chairs sets have their own undertones – warm yellow or slight lavender tones, putty and stone. Or choose out and out grey dining table and chairs – St. Ives with its smart grey finish or Brindle with its modern sage grey shade. Our chalk white dining table, Hove, has modern curved legs and natural oak tops. This table extends from 4ft 3" (130cm) to 5ft 9" (180cm), comfortably seating up to six. Any of our natural oak dining chairs will match Hove's natural oak top.
All these painted dining tables and chairs will have matching furniture to add to your dining room or kitchen. Choose to dip in to the painted wood look, or add to it with a sideboard, display cabinet – or even a painted dresser. Enjoy looking through our painted dining sets – and then using your favourite in your home, down the years.