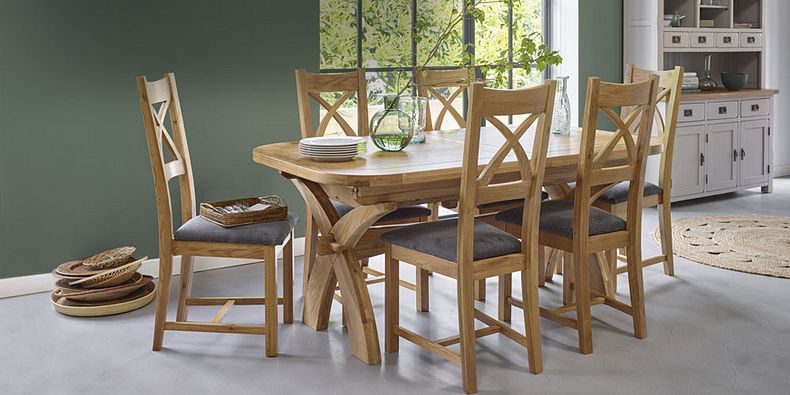 Dining Table and 10 Chairs
Sets of large dining table and chairs, for great times.
FROM £1,740
Large dining table and chairs
Do you love to entertain? Whether you have a reputation for throwing great dinner parties for friends or have an extended family you love have around, our beautiful sets of dining table and 10 chairs are the ideal place for memories to be made. Choose from large dining table and chairs sets in 100% solid oak, mango, or painted hardwood, which are all rigorously tested to ensure they last a lifetime.
Besides our standard sets of dining table and chairs we also have extendable, round and glass sets available, we've made it easy to find a set of dining table and chairs you love. Crafted from solid oak, painted hardwood, and mango, our sets dining table and 10 chairs are built to last. Our dining room sets also include a wide selection of our stunning dining chairs. Upholstered in high-quality fabrics in a wide range of colours, or stunning genuine leather, you're sure to find your perfect style. You'll find that our sets of 10 chairs also feature solid wood feet and come in a variety of elegant designs in genuine leather, premium fabrics, and even woven grass in some cases. Whatever your personal taste happens to be, our sets of large dining table and chairs ranges span contemporary, traditional and ultra-modern styles, guaranteeing you'll find furniture you love at Oak Furnitureland.
10 seat dining table and chairs
A large dining table and chairs should be considered as a key, long-term home investment and one that should be enjoyed for many years to come. For that reason, choosing a high-quality dining room set that's designed to last a lifetime is important. Style should be considered too, and the timeless designs found at Oak Furnitureland can survive passing trends with ease.
If your dining space has a modern, big-city apartment feel to it, then the chic Rhodes large dining table and chairs have the right amount of style and sophistication to fit right in. All featuring a gorgeous natural solid oak table, one dining table set comes with 10 natural oak chairs that are the perfect blend of classic and contemporary.
If you have some spare room to play with once your 10 seat dining table and chairs is in place, then why not upgrade and invest in a matching sideboard or display cabinet? Ideal for storing away books and other bits and pieces, a sideboard or display unit can also be used to house drinks and prepare cocktails or be filled with lush green plants or ornaments.
Framed posters or art prints can give the room some personality and are a great way to frame your new dining set and spark conversations at the table.