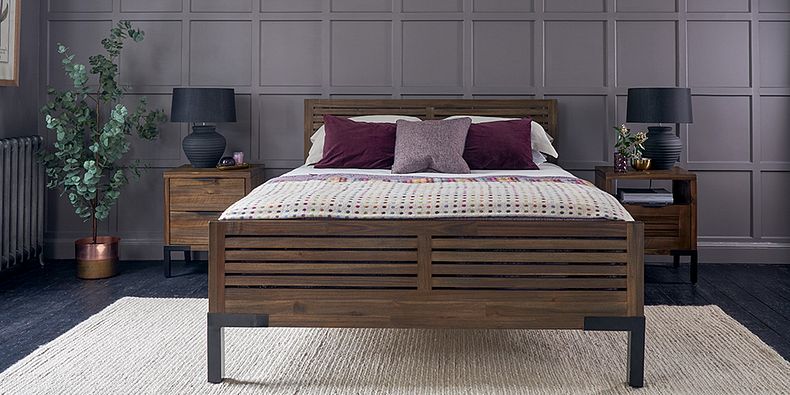 King Size Beds
Sleep like royalty, but sounder
FROM £425
All Mattresses save 10% when you buy any size bed frame
Oak king size bed frames
Available in a range of styles, our king-size beds are the perfect addition to your bedroom if you love to stretch out in luxury. All made to the highest quality, our range of wooden king size beds offer a stunning finish, long-lasting durability, and comfort, giving you a spacious and restful night's sleep. With painted, mango or oak king size beds available, all of which are 100% hardwood from the frame and slats to the headboard and footboard, you're sure to find the perfect king size bed that brings a royal feel to your bedroom.
Upholstered beds also feature in our range. Choose from six colours, including blush pink and midnight blue. Two styles feature – either a buttoned headboard or stitch detailing. Covered in soft velvet down the side rails too, each style has hardwood legs – and adjustable mattress height too.
Ideal for a larger bedroom with plenty of space to work with, our high-quality wooden and upholstered king-size bed frames offer generous room to spread out, making them the ideal choice for luxurious comfort and a relaxing night's sleep. They'll also work beautifully with our bespoke mattresses to complete the perfect bedroom setting.
Give your room a further feeling of grandeur by positioning a lamp beside your bed, placed on a gorgeous bedside table. Choose a solid hardwood dressing table, kept beside an eye-catching triple wardrobe for easy access and organisation for your clothes and shoes.
If you're looking to decorate smaller bedrooms in your home, our single and double beds could also be perfect for you.