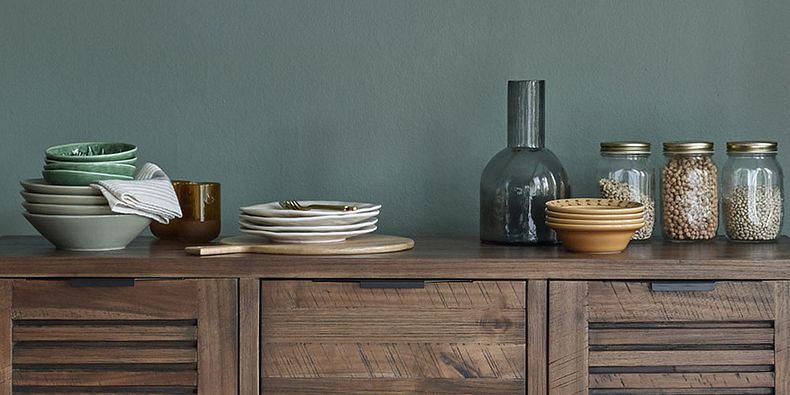 Hardwood and Glazed Oak Furniture
Real wood with modern finishes
As well as our popular natural and rustic oak furniture, we also have other oak and acacia styles with tactile, decorative finishes, and modern glazes.
Our mango furniture has a unique look and feel and is a favourite alternative to conventional wood types. The beautifully brindled grain patterns of this hardwood are brought to life by our special wax, applied to each piece. This highlights the kaleidoscope of tones that occur naturally within the wood, and for which mango is particularly renowned for. The simple wax finish makes the most of the natural patterns in the mango, unique to each piece, and stunning to both the eye and the touch.
Acacia hardwood gives a smooth base for paint and special stains, and is a great starting point for making special, tactile finishes. The beauty of oak can also be enhanced by coloured glazes. Colour can be applied in a way to make the natural grain patterns still show through.
These are the unique ranges that you can find here:
Mantis Light: Simple shapes set off the exotic mango grain. A tasteful, minimalist design which accentuates the varied grain and colours of the mango wood.
Brooklyn: Industrial, loft living style, with metal frame. Made from natural solid oak, it's built to last.
Boston: Bring some warehouse living style into your home. The metal has a galvanised effect which is sleekly styled into angled legs. Also find panels of metal in between drawers. These set off the look of natural oak.
Detroit: Detroit is made from dark coloured acacia. Strong and solid, it has a modern stained and glazed finish teamed with black metal legs and handles. Scored, tactile and richly coloured, the range is both relaxed and elegant.
Parquet: Inspired by a classic flooring technique, our Parquet range has a thoroughly modern decorative style. Brushed, glazed oak is styled to represent a wood block design, with great attention to detail. The outer bevelled surround contains and displays – just like a picture frame. The rich, warm colour – achieved by adding a subtle dark pigment to the glaze – is complemented by bronzed and textured metal handles. Parquet is 100% solid oak in a warm, textured finish.
Willow: The inspiration for the grey wash of Willow can be found in the silvery leaves and bark of willow trees. Made from solid oak, we've put lots of care into getting the grey finish just right. It enhances the natural patterns in the oak, letting unique grain shapes and knots show through the wash. Gunmetal grey bar handles and drawer knobs complement the look.
Also, don't forget to check the hardwood furniture guide that we've created especially for you, with all the information on why mango and hardwood furniture is so special, differences between hard and softwood, care tips, buying advice, and more...