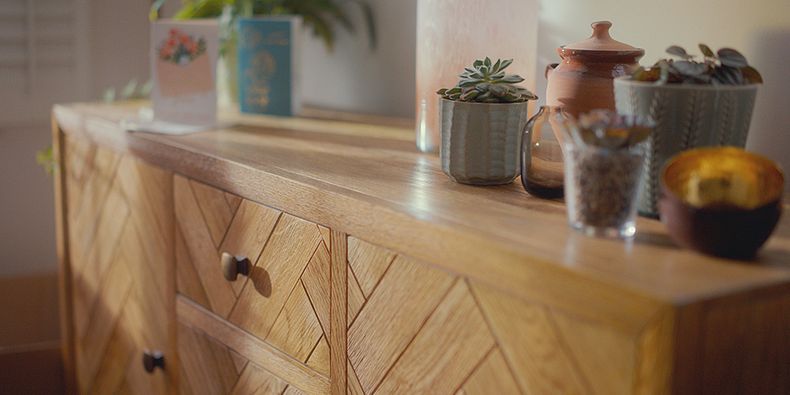 Sideboards
Sideboards aren't just for board games
FROM £295
Oak sideboards
There's a good reason why a wooden sideboard is such a popular item of furniture, it's one of the most versatile pieces in any home. Not only do they function perfectly as a space-saving storage facility, but they're also a stylish accent piece, or an extra surface to display your belongings. Sideboards are such highly regarded pieces and can completely transform a room, hence why they have stood the test of time!
Our solid wood sideboards are ideal for storing plates, cutlery and any other dining and living room essential items. Our collection is so versatile that it would look just as good in a kitchen, hallway, or landing. A sideboard can also serve as a stylish drinks cabinet in the kitchen, perfect for when you have guests over and want to show off your cocktail making skills.
Wooden sideboard
All our sideboards are built to the highest standards and use solid hardwood (oak, mango or painted hardwood) throughout, even the bases, backs, and drawers. All the dovetail joints have been screwed, pinned and glued to ensure supreme strength and longevity. Deep drawers and roomy cupboards provide plenty of space for stashing away household items. Made with the finest solid oak, our oak sideboards bring timeless appeal and are made for life, so there's no need to keep repurchasing new furniture. They can act as great save-spacers, helping you to organise items neatly as well as doubling up as decorative display areas for plants, artwork and precious ornaments. The wood is finished with our signature wax sheen to protect and enhance the beauty of the natural oak grain and keep it looking great for years to come.
An oak sideboard can be used anywhere in the house, whether that's in in the dining room paired with dining table and chairs, in the living room matched to a coffee table, combined with a dresser in the kitchen, or placed below a clock in a hallway. Incorporate it in the dining room to keep crockery and cutlery in easy reach or place it in the living room to store books, games or any other loose living room items that need a home.
Small and large sideboards
If you don't have enough space in your hallway, our small sideboards are a great way to add interest or fill an unused gap. Use the inside cupboard space to store shoes and house your phone, plants, and family decorations on the top surface. You could also use a large sideboard to create a focal point in an unused alcove in the living room or kitchen – perhaps in the space next to a chimney breast, for example. In this case, our large sideboards would be an ideal feature piece.
Choose from traditional and contemporary sideboard styles made from high-quality solid oak or mango wood and painted finishes such as grey or white. Whether you prefer metal, wood or in-built handles, our cabinets are finished with a range of stylish touches.