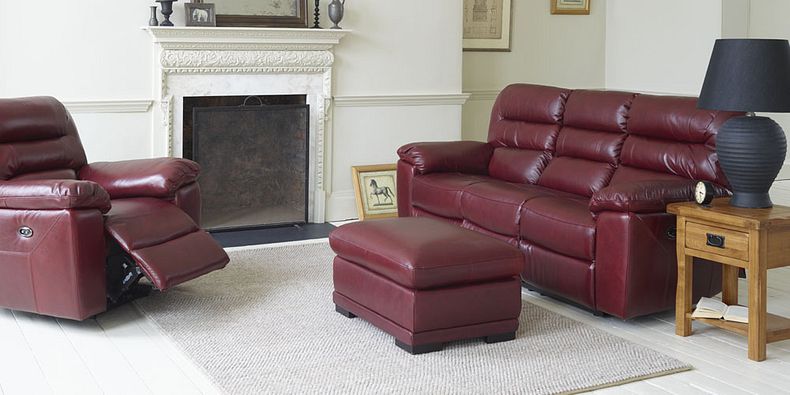 Leather Footstools
Strong enough to sit on

Leather all over, to match our sofas

Handy storage for a clutter-free look

Different styles for all tastes

Strong enough to sit on

Leather all over, to match our sofas

Handy storage for a clutter-free look

Different styles for all tastes
Soft to the touch
What could be more luxurious than resting your feet on one of our stylish leather footstools and snuggling up for a cosy movie night? Each one of our leather footstools is designed to complement our beautiful leather sofas and armchairs, and is built from solid hardwood, firm yet comfortable padding and genuine leather for long-lasting durability.
Each of our leather footstools is soft to the touch and makes for an attractive accessory. All are part of wider sofa ranges, so you can purchase a coordinated living room suite, or simply accent your existing furniture.
Whether you prefer totally smooth, glossy leather or a more rustic, matt finish, you're sure to find a footstool that will suit your style and practical needs in our varied collection.
Choose your colour
Our leather footstools come in a wide variety of different colours to offer the perfect finishing touch for every home. Create a seamless perch for your feet by matching your black leather sofa with a black leather footstool. Or, if you prefer a slightly softer look but still want to go for darker colours, choose a chocolate brown or slate grey leather footstool.
Alternatively, for a more natural feel, our neutral beige, taupe, and light brown leather footstools are ideal.
Leather storage footstools
Our leather storage footstools help to keep your home clutter-free and are perfect for resting your feet at the end of a long day. Designed to complement our stunning leather sofas, our leather storage footstools come in several attractive shades, including grey, burgundy, cream, tan, and black.
Boasting generous storage space and built with hardwood frames, real leather and luxury padding, they're designed to make a stylish statement in your home for many years to come. Every footstool even comes with a lifetime frame guarantee.
How to care for a leather footstool
Fading, marks and blemishes are all things that can naturally happen to leather furniture when it's not properly taken care of. Our leather care kit protects the upholstery, nourishes the covering, and keeps the footstool clean. We recommend it with all purchases of leather items to ensure they look just as good as the day you bought them. The kit comes with a perfectly formulated cleaner, a protection cream, plus a sponge and cloth. You won't need anything else to look after your leather footrest.
Browse our collection of leather footstools today to find the right one for you.