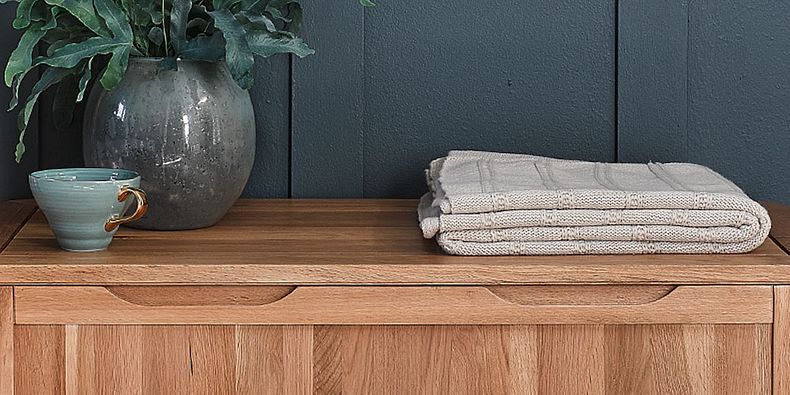 Natural Oak Furniture
Lovely oak, with its unique wood grain and strength
There's a reason why our natural oak furniture is so popular - the beautiful look of the wood really shines through in this finish! All our natural oak furniture is finished with a special coat of clear protective wax, which allows even the finest details of the woodgrain to shine through.
Light oak furniture
Romsey: Warm and homely, for everyday living. Crafted from solid natural oak, Romsey features softly rounded edges and handleless drawers.
Bevel: In our Bevel collection, our natural oak adds to the overall sleek and refined modern styling, rendered in simple shapes that show off the warm tones of the oak. The angled surfaces catch the light perfectly, showcasing the many faces of natural oak.
Canterbury: A stunning range from natural solid oak, designed with elegant simplicity in mind. The range is softened and curved at the edges, an attractive look which complements the mitred panels and dark metal handles and button knobs.
Wiltshire: Distinctive and warm, with rounded corners and subtle arched base. Made from 100% natural solid oak, Wiltshire features wide beading on the drawers and door fronts.
Alto: For those who love minimalist styles, our Alto collection is a testament to the power of natural oak, with the simple finish allowing the stunning finger joints to take centre stage of the design. The look is light and airy, and natural oak fits many different colours and design schemes.
Oakdale: Minimalist style that's made to last. It uses strong clean-cut lines and attractive side panelling to create a collection that allows for the quality of the natural wood to shine through.
Copenhagen: Our Copenhagen range is built on a slender frame; but it's still strongly made from solid oak, all through. A subtle sense of Scandi style is seen in the pared back look.
Ellipse: Ellipse is influenced by Scandi design. Mitred outer frame sets off the sculpted, recessed handles. Their shape is a curved wave, a smoothness that's reflected in the framework at the base, and the rounded feet.
Also, don't forget to check the hardwood furniture guide that we've created especially for you, with all the information on why natural hardwood furniture is so special, differences between hard & softwood, care tips, buying advice, and more...