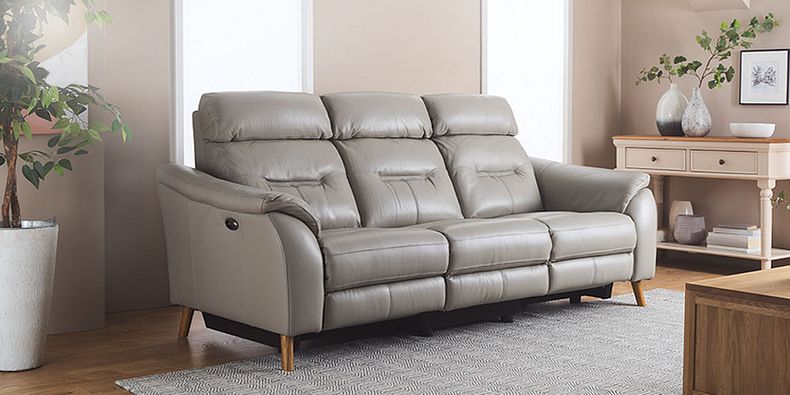 Grey Leather Sofas
Available From £1,150
Quality leather, all over

Lifetime frame guarantee

Solid wood frames

Recliner options for extra comfort

Quality leather, all over

Lifetime frame guarantee

Solid wood frames

Recliner options for extra comfort
Cool, contemporary and chic, grey leather sofas are one of the most stylish centerpieces you can incorporate into your living room. Grey is among the more versatile colours and, paired with the chic shine of leather, it's the ideal option for a modern home.
They're perfect for families, too: not only are they soft and sinkable, but they're also incredibly durable thanks to their hard-wearing upholstery. If well cared for, they will truly stand the test of time. Why not try our leather care kits to keep your sofa looking and feeling box fresh?
Whatever purpose you need your sofa to serve - be it a welcoming seat for the whole family or a cosy yet elegant comfort zone for two - grey leather is fit for any interior layout. Here are our top tips for designing the inspiring living room of your dreams with a grey leather sofa. And if that's got you dreaming of grey interiors, check out our grey living room ideas for a welcoming and stylish space.
What should I look for in a grey leather sofa?
The two major tick boxes for your grey leather sofa should be quality and comfort. At Oak Furnitureland, all our leather sofas are built for strength thanks to their hardwood frames. The soft touch of our grey leather sofas is down to the suppleness of the materials we choose for our designs. Luckily, we also do not sacrifice style to meet our own high standards.
What size grey leather sofa should I get?
The great thing about grey leather sofas is that they manage to remain tasteful no matter what shape or size you opt for, so your choice should be motivated by the kind of space you have available to you. After all, your sofa plays a huge role in influencing the rest of your living room! Here are some of the options you need to weigh out before making your final decision:
Grey leather corner sofas
L-shaped leather sofas are ideal for tricky spaces; they hug snug corners by utilising tight, complex layouts. Or, if you have an open plan design, they do a great job of compartmentalising the different living spaces, making the dining-living-kitchen combo feel more homely. Whether you need a sofa to slot into a specific space or you have a bit more room to play with, grey leather corner sofas are an inherently practical choice, while also inviting you to recline from head to foot.
Grey leather recliner sofas
Speaking of reclining, some of us crave a totally unbridled relaxation domain. Enter grey leather recliner sofas: the ultimate spot for daily respite. The next choice you need to make is whether you want an electric recliner that puts your feet up with the touch of a button (perfect for those with mobility issues) or a manual recliner that's best suited for an area without access to power.
Grey leather sectional sofas
The benefits of grey leather sectional sofas for busy family homes are unmatched in terms of functionality. We know every home is unique, which is why we recommend modular sofas for all kinds of layouts, but especially for large families and sprawling spaces as you can customise exactly how many seats you require.
Grey leather sofa sets
Sofa sets also fall into the perimeters of adaptability - purchase one on its own or invest in a set that combines seats with different amounts of capacity. Grey leather two seater sofa
If you think you are sacrificing comfort with a two seater sofa, think again. Although they are smaller, many of our two seater grey leather sofas have inbuilt overstuffed arm pads for optimum relaxation - cradling you as you watch TV or sort through life admin on your laptop. Ideal for that all-important me time.
Grey leather three seater sofa
Add to your array of living room seating with a three seater sofa. Best enjoyed with a friend or partner, your grey leather three seater will become the favourite spot at home to catch up over a cup of tea.
Grey leather armchairs
Grey leather armchairs are a winning option for both form and function. Paired with a two, three or even four seater grey leather sofas, armchairs provide an extra spot for someone to kick back and curl up with a book or join in on family film night.
Grey leather footstools
If a recliner isn't quite your style, why not try a grey leather footstool? Available in matching shades and upholstery to accompany our bestselling grey leather sofa ranges, they provide a finishing touch to your interior vision. For practical purposes, many of our footstools are cleverly disguised storage options - perfect for tucking away extra blankets and pillows!
What colours are available for grey leather sofas?
Light grey, distressed, dark grey, silver, or somewhere in between - grey is a spectrum and, as brought into common parlance through popular culture, there are at least 50 shades of this classy colour to choose from.
Dark grey leather sofas
A grey leather sofa sofa in a darker shade - perhaps a metallic nickel or burnt charcoal - will be a statement, immediately catching the eye and leaving behind a lingering sophisticated atmosphere. To balance out the room, accentuate your dark grey leather sofa with lighter hues - be that in your soft furnishings or with dramatic painted furniture ranges.
Light grey leather sofas
You may opt for a pebble tinge or move a bit closer to an off-white tint but, either way, lighter shades such as soft pastels will emit a sought-after feeling of calm in your living room. Light grey leather sofas can give the room a chicer, more minimalist edge, echoing new century and Scandi trends.