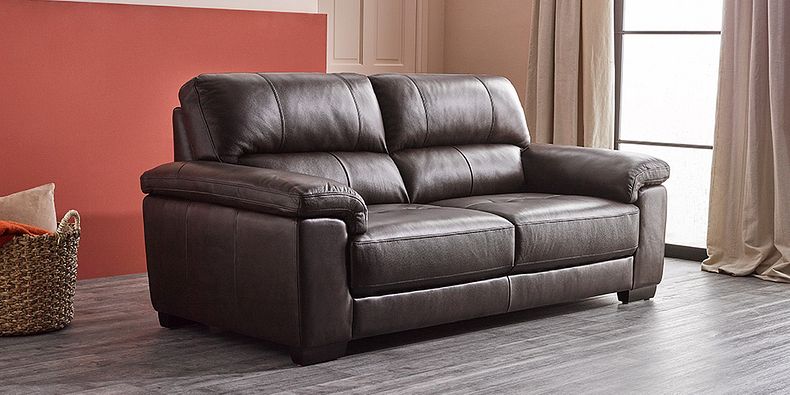 Brown Leather Sofas
Available From £1,150
Quality leather, all over

Lifetime frame guarantee

Solid wood frames

Recliner options for extra comfort

Quality leather, all over

Lifetime frame guarantee

Solid wood frames

Recliner options for extra comfort
A classic addition to your living room, brown leather sofas make any house feel like a home. The richness and warmth of the material adds texture to your interior design scheme; you'll love the glossiness of the upholstery and the timeless silhouettes. Whether your tastes are closer to industrial chic or terracotta-inspired tones, brown leather is an adaptable choice.
Leather is the ideal material for busy family homes. You and the kids will love their supple quality and fierce durability. Mess and spills are easily wiped away thanks to the smooth upholstery. They'll stand the test of time, too – keep your sofa set well looked after with our leather care kits and they'll be a feature of your home for years to come.
Whether for small lounge spaces or a homely spot for the whole family to pile onto, brown leather sofas are fit for every and any purpose. Plus, they add a welcome touch of luxury to your home. Get inspired with our brown leather sofa guide.
What should I look for in a brown leather sofa?
When choosing a brown leather sofa, ask yourself is it high quality? Your sofa will sit at the heart of your home for many years to come, so you want to ensure they are built to last. Our brown leather sofas come fitted with hardwood frames, meaning they're prepared for years of wear.
Next ask: is it comfortable? The leather we use is soft and springy, meaning our brown leather sofas are spots that you'll dream of returning to again and again. Not only are they cushy and comfy, but they're designed to never go out of style. It's a win-win.
What size brown leather sofa should I get?
No matter the space you have available to you, a brown leather sofa will provide depth to your living room. But, now you have the material locked down, next you need to decide the shape and size of your sofa. At Oak Furnitureland, we have brown leather sofas for everything from cosy living rooms to wide, open spaces. Take a look at some of our possibilities:
Brown leather corner sofas
Whether you want to section off seperate parts of one large room or have seating options which wrap around a corner, l-shaped brown leather sofas are functional and versatile. They bring a bit more bang for your buck by adapting to awkward layouts - plus, who wouldn't want to sprawl out on a brown leather corner sofa? It's a piece of furniture that makes comfort key.
Brown leather recliner sofas
Is total, head-to-toe relaxation a top priority for you? If so, consider investing in a brown leather recliner sofa. With both manual and electric options available throughout our reclining ranges, you'll always have a well-deserved excuse to put your feet up.
Brown leather sectional sofas
You may need a settee that's completely customisable and tricky home layouts call for brown leather sectional sofas. The pragmatic option, modular sofas aren't best for just one type of home - they are useful in every kind of home space, especially in bigger family homes. Imagine the movie nights you can host on one of these!
Brown leather sofa sets
Mixing and matching seating options can really help to pull a room together - and make sure every person and guest has a spot to call their own. These sofa sets attest to the versatility of brown leather in the living room.
Brown leather two seater sofa
Snug and inviting, our two seater brown leather sofas aim to cradle you in a state of blissful relaxation. Features like overstuffed arm pads and cloud-like pillows have been designed to usher in comfort in even the smallest of spaces.
Brown leather three seater sofa
Perhaps your living room calls for a mixture of two or three-seater brown leather sofas. Sticking to one range will help you achieve a smart, cohesive look, whereas incorporating a couple of similar collections will add variety and whimsy.
Brown leather armchairs
The prized position for that all-important me-time, a brown leather armchair not only looks great as a solo piece, but could also be the missing piece in your living room sofa set.
Brown leather footstools
There are plenty of ways to put your feet up that are not just limited to recliners. Our brown leather footstools are the perfect pairing to their matching sofa ranges, so you can really pull your vision together. Some are even storage footstools - the ideal smart storage option that combines functionality and comfort!
How to style a brown leather sofa
From tan hues to chocolate shades, brown leather sofas come in a lot of different forms, and so there are a myriad of ways to style yours. As the sofa is your living room centerpiece, all other decor should work around it. Brown leather pairs well with natural and rustic solid oak furniture, which will really help illuminate the beauty of the fabric. Alternatively, textural woods like mango and wood-metal industrial designs also help to procure that much sought-after depth. It all depends on the theme you're trying to achieve.
With brown leather, colour splashes can easily be incorporated into your accessories - whether that's on prismatic framed prints, Herringbone soft furnishings or spring-ready vases. If you're struggling to get inspired by a colour palette for your brown sofa, we've provided some expert suggestions here.
Take your pick from a variety of great colours and easily find a brown leather sofa to match your current living room look. From tan to walnut leather, including two-tone, light brown and more classic shades of brown, you're guaranteed to find the brown leather sofa of your dreams.
For more on how to choose a sofa, please see our Sofa Guide for a step-by-step breakdown. Otherwise, shop our full range of sofas today.