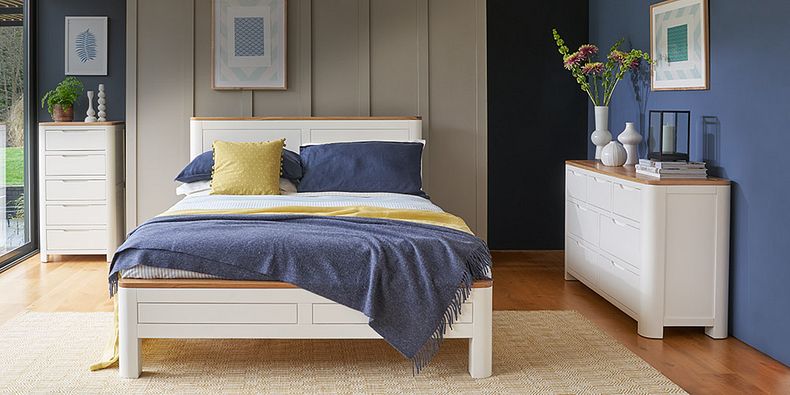 Hove
Modern curves, chalk white, real wood
Light, cool, and airy. These are words associated with white interiors, and are desirable attributes in any dining room. Scandi, minimal, and country cream. These are interior styles that could be enhanced by light coloured furniture, whether that's natural oak or painted white.
White furniture
There are so many benefits to investing in white painted furniture and soft white furnishings like sofas. Fresh, clean and timeless, white furniture provides the perfect blank canvas, giving you the flexibility to experiment as much as you'd like with the surrounding decor. It also reflects the light, making it a great choice for smaller or darker living rooms.
Hove's look is young and modern, with simple curves at the corners and smooth, recessed handles. Made from hardwood throughout, the bases are painted chalk white, contrasting with the warmth of the natural oak tops. Made from 100% solid hardwood, Hove has an unfussy presence that will make a great backdrop to family living. This is a retro modern style for real life homes.
Create a monochrome look with a white TV unit
A white TV unit could form part of a dramatic monochrome look, contrasting with a black TV. The Hove range includes stylish small, large and corner white TV unit along with other matching items for your living room and is a great way to achieve a coordinated look. Choose more of the Hove range – a white coffee table, perhaps – and maybe a dark grey sofa or soft furnishings. Our Evie or Cooper sofas would fit the bill.
Introduce a white mirror to bounce light around the room
A white mirror will help to maximise on light, instantly opening your space and making it feel bigger. Try placing the mirror above a statement piece of furniture such as a sideboard or furniture to give it focus.