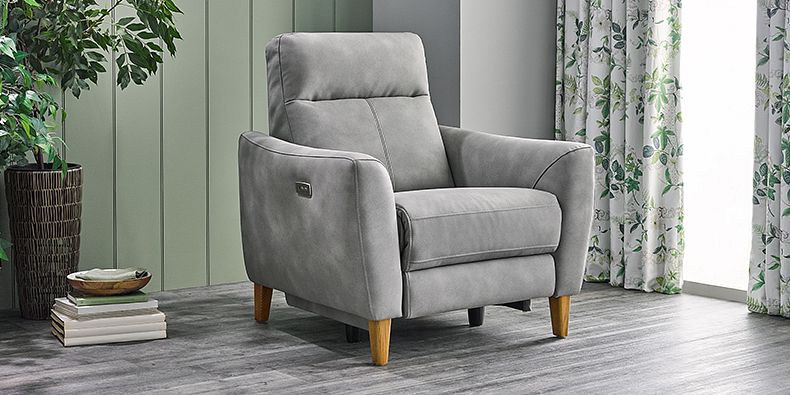 Grey Armchairs
Available From £350
Cosy and supporting

Always hardwood in the frame

Lovely fabrics made to last

Lifetime frame guarantee

Cosy and supporting

Always hardwood in the frame

Lovely fabrics made to last

Lifetime frame guarantee
Take a break from the chaos and recline into a grey armchair. Carve out a spot just for you in your hectic family abode. The ideal addition to an almost-complete grey sofa set or a beautiful feature piece in its own right, your living room is crying out to be completed with the addition of a grey armchair.
You won't have any trouble fitting one into your design scheme, either - grey armchairs benefit from a neutral upholstery that benefits any interior design vision. Whether you're wanting grey living room ideas for a welcoming and stylish space, or you just love the look and feel this versatile colour brings to a space, read on for our guide to choosing a grey armchair.
What should I look for in a grey armchair?
No matter the colour, upholstery or design, all Oak Furnitureland armchairs are built to last. Quality sits at the heart of our grey armchairs. They're made with solid hardwood frames and every joint has been screwed, pinned and glued for maximum strength. This support cradles the sprung seats, whose ductile foam technology is not only soft and sinkable but also gives them that showroom-ready plumpness.
What material is best for a grey armchair?
Our grey armchairs are famous for their substance and their style. Available in a number of fashionable shapes - from mid-century modern to cosy recliner, to a quintessential wingback - they're also available in either fabric or leather upholstery. We know that each home is unique and every customer has specific needs, so only you know which material will suit you and your lifestyle:
Grey leather armchair
Maybe you're swayed by the luxury of leather. Our leather in particular outdoes industry standards, being both cushiony to the touch and incredibly durable. Grey leather armchairs bring an air of modern design into your home and are especially cloud-like, forming a cosy cocoon around your body as you kick back and relax. This is also the ideal material for families. Grey leather was built to endure family life; its satiny surface means spillages are easily cleaned away as if they never happened. But, like any investment, a grey leather armchair must be taken good care of. All you need is one of our leather care kits that'll help buff its shine and protect it from life's rough and tumbles.
Grey fabric armchair
Textile upholstery is the classic option; grey fabric armchairs have an air of understated elegance and simplicity. The neutral tone makes this material particularly versatile as it's able to slot into any interior design vision. Whatever you're accenting - be it zesty prints or on-trend crushed velvet - grey fabric is the pairing of choice.
Your grey fabric armchair will be the pride of your lounge space for many years to come, but you should always keep it looking fresh. Because our material is top-of-the-line, it needs to be lovingly looked after - many of our customers swear by our fabric care kits to keep their fabric Oak Furnitureland pieces looking as good as the day they arrived.
Grey accent chair
To make more of a statement in your living room layout - or, perhaps, in a bedroom or home office - you may choose to opt for a grey accent chair. Adding definition and difference to an interior design scheme, accent chairs inject personality and an instant sense of character outside of the usual sofa collection designs. Many are even available in plush velvet for an ultra-luxe addition to your home.
Grey armchair and footstool
Relaxation is always on the cards if you invest in a grey footstool to accompany your new grey armchair. All of our footstools are designed in-line with our bestselling sofa and armchair ranges so you'll always find one that matches. With rectangular, elongated, round and printed options available, we prove once again that you will never have to sacrifice style for comfort.
The clever customer loves a smart storage option, and what could be more space-savvy than a grey storage footstool? It's a place to put your feet up while also providing a secret compartment for living room clutter or extra blankets and pillows.
Grey recliner armchairs
At Oak Furnitureland, there's more than one way to put your feet up. Our grey recliner armchairs are always a reliable option for catching up on well-deserved me time. Electric recliners are ideal for those with mobility issues as they send you into a comfort zone with just the touch of a button. If your armchair spot doesn't have access to power, however, opt for the manual recline. What colours are available for grey armchairs? If you think grey upholstery is the boring option, think again. Imagine all the different hues on the greyscale: from almost-white, to dark and distressed, to shiny silver - or somewhere in between! Grey may be achromatic, but it has a lot of depth: it's a multifunctional shade with lots of stylish potential.
Light grey armchairs
Whether you're more inclined to pebbly tones or platinum hues, soft pastel greys welcome light, allowing the natural warmth of the sun to bounce off their upholstery. This lightness creates tranquillity and peace and you can warm up the design scheme with splashes of colour - sage greens and baby blues create cohesion, whereas pops of contrast make a striking difference - or sunny natural oak furniture.
Dark grey armchairs
Grey can actually be a very rich colour, especially with a darker tint like gunmetal or marengo. Choosing a dark hue for your seating will be an eye-catching, sophisticated focal point in your home. Like light grey, dark grey also creates a minimalist feeling as it requires whites to balance it out. Try dark grey armchairs with light walls and exposed yet manicured wooden floors and furniture from our industrial-inspired ranges.