Romsey Details
The Romsey double bed brings cheerful, modern style into any bedroom. It boasts the sample simple silhouette of the overall collection, with gently rounded corners, a flat-fronted headboard and footboard, and subtle cut detailing to add to the styling. It's constructed from 100% solid oak in our natural finish, which brings out the brighter tones in the timbers, and emphasises the individual wood grain patterns. We've made this bed to our highest quality standards, including using solid oak in the slats as well, to help give your mattress a supportive surface through the years. Find beautiful coordinating pieces in our complete Rosmey range today.
For a smooth delivery, this bed has been designed to have some home assembly. Full instructions for setting up are provided.
All of our mattresses have been designed to fit and complement our range of solid hardwood double bed frames, browse the full range here.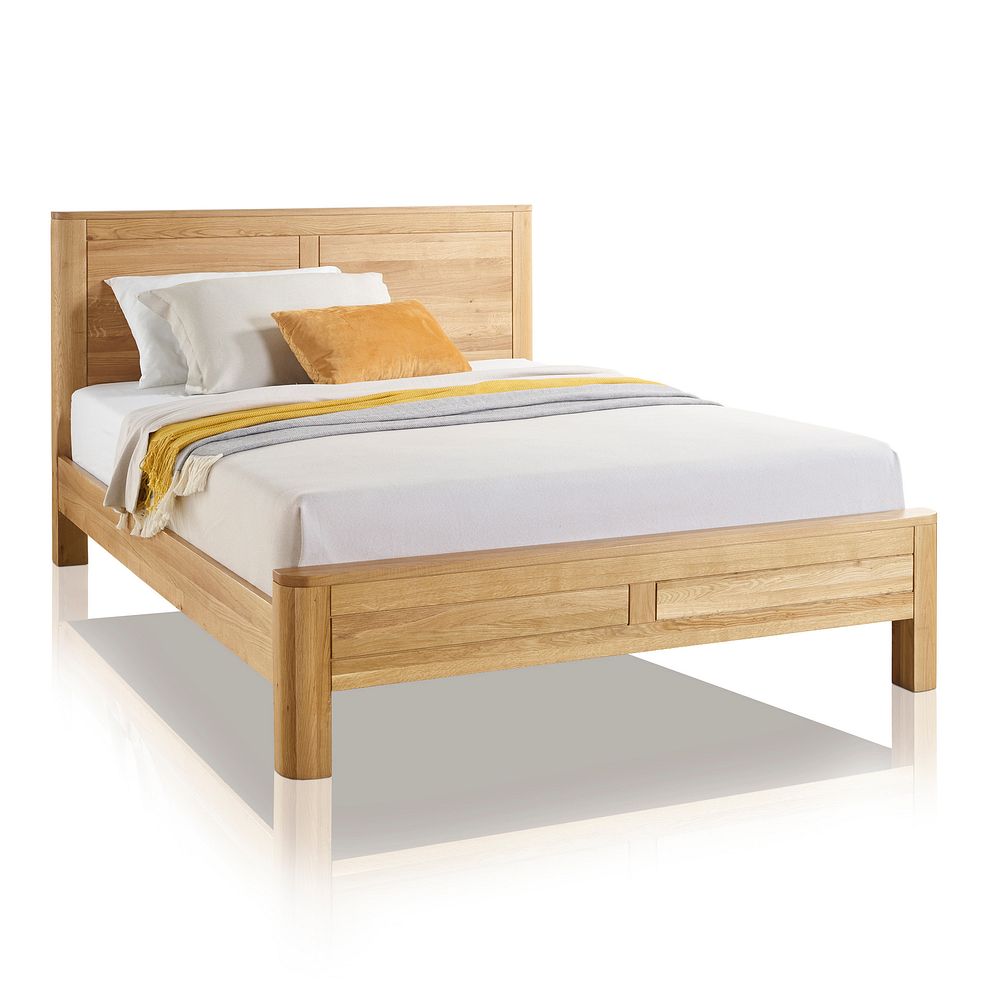 Dimensions & Assembly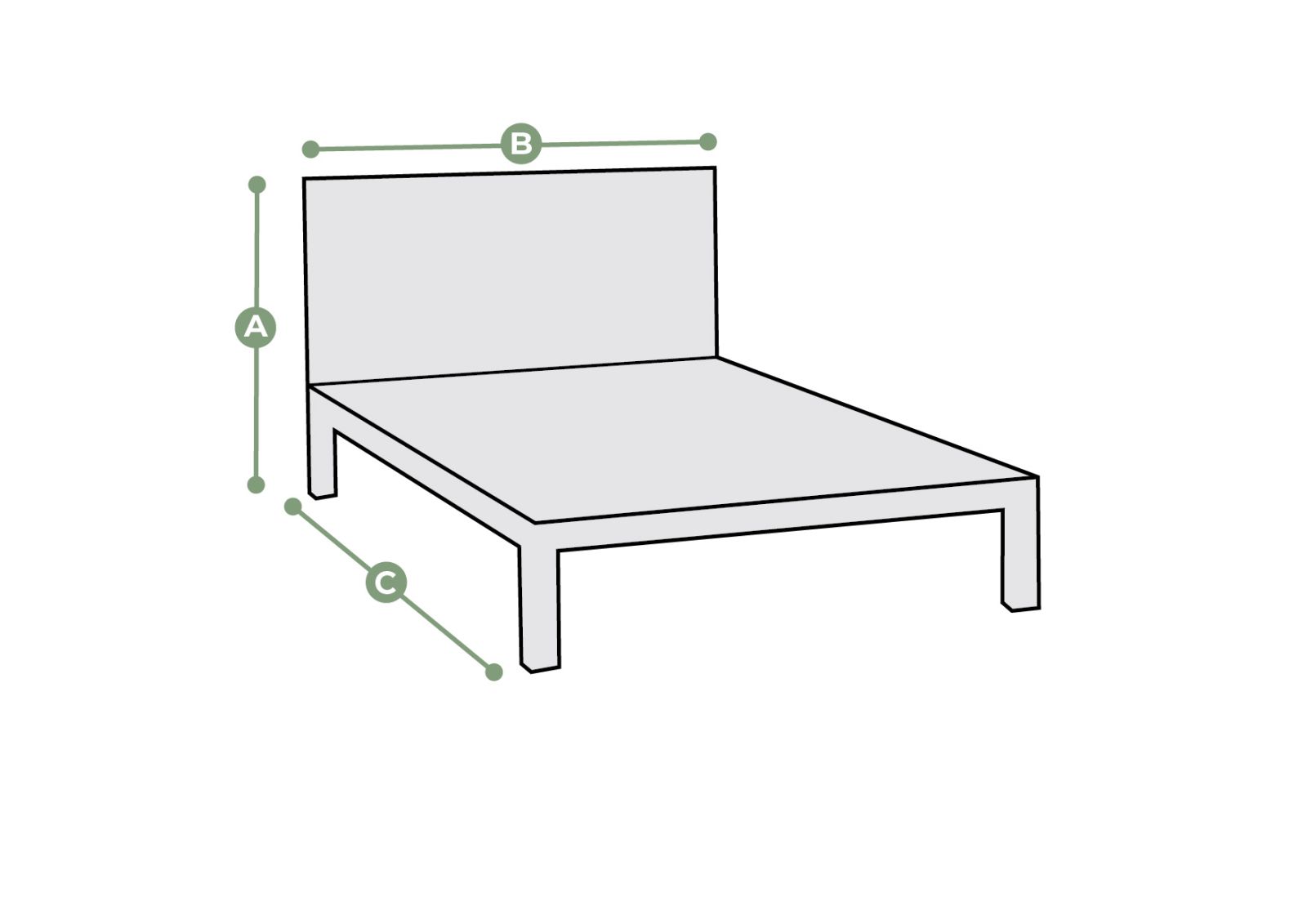 | | | | |
| --- | --- | --- | --- |
| Dimension | | CM | Inches |
| A | Height | 105 | 41.34 |
| B | Width | 142 | 55.91 |
| C | Length | 210 | 82.68 |
Product Code
RMS013
Product Title

Romsey Natural Solid Oak 4ft 6" Double Bed

Packaged dimensions
1 x (H23.5 x W151 x D113cm)
1 x (H22.5 x W205.5 x D30cm)

Weight
78kg
Number of parts
2
Will It Fit?
Choosing the right piece of furniture for your home is a big decision. Not only does it need to look good and do the job it was made to do, but it also needs to fit.
To fit with your interior style, to fit with your home needs, and most importantly, to fit with the dimensions of your room. If the piece of furniture is near a doorway, which way does the door open? Is the item going to be restricting the route in and out of the room? Is there a radiator on the wall, or a windowsill jutting out that you need to factor in when measuring the item's height?
Check what you can fit comfortably within your room by looking at the furniture measurements. You can find them in the Dimensions & Assembly section. Note them down and get busy with your tape measure.
The final important measurement to mention, is to ensure your new piece of furniture can fit through your front door when it gets delivered! Most items arrive assembled and boxed. The packaged item dimensions can also be found in the Packaging & Assembly section. Download our Will It Fit PDF, and follow our guide to a smooth furniture delivery.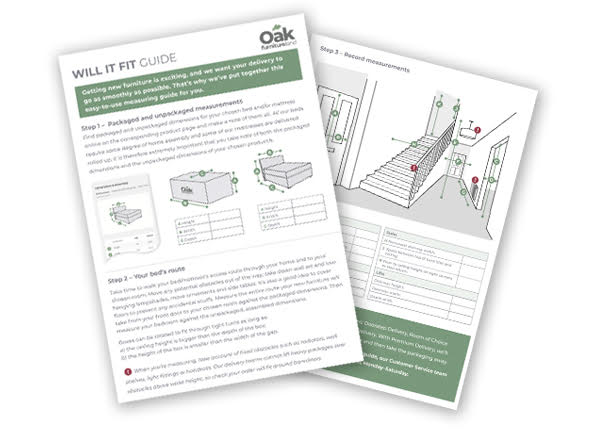 Reviews
4.9 stars out of 72 reviews
Avg.
The Romsey Natural Oak double bed is a beautiful & very well made piece of furniture. I love it.
Nicola Samson - 25 October 2023
Looks good, solidly built. Very comfortable. Not cheap, but well worth the money as the quality is so good.
Stephen Shilton - 26 September 2023
Very neat and is quality
Sandra Moss - 19 September 2023
I am thrilled with the purchase of the bed frame. The colour is exactly the colour I wanted. However, I feel it should have been a free delivery.
Jackie Sealey - 03 September 2023

Fantastic quality bed frame, really solid. Very pleased with our purchase.
Jane Miller - 22 August 2023
Love the style of this bed
sharon - 18 July 2023
On behalf of Jimi, he loves his new bed
Olujimi - 12 July 2023
Excellent bed, well made and beautifully finished. Just love the style and rounded edges.
eileen - 05 May 2023
Good and it's fits lovely in my room
Barry Abel - 28 April 2023
Absolutely love it!
KAREN WHITE - 24 February 2023
Stunning! I love it!
Ruth MacLean - 21 February 2023


There is nothing better you can buy, l bought my solid oak double bed from Oak Furnitureland UK, this company sells the best furniture you can buy, no point in going shopping anywhere else.
Michael Padley - 17 January 2023
Very well made nice finish.
Mr WILLCOX - 16 January 2023
I absolutely love my new bed. The quality is great and it goes well with my other oak furniture.
Catherine Gillman - 01 January 2023



Good value for money, though the material that makes up the head board could have been thicker, as it sound flimsy and moves when leaned on. The overall appearance of the bed is great and look lovely in the room alongside the other furniture I have. What's more annoying about this bed, is that the legs that support the centre rail are too short and do not reach the floor by about 1cm. Meaning that whenever you move or sit of lay down, the supporting legs thud the floor. Going to need to place some material to make up for the gap. Seems like a design oversight that the supporting legs do not reach the floor.
Jordan Verdes - 05 December 2022
Excellent
Shopper - 23 October 2022
Straight forward to put together
CollectPlus Customer - 16 October 2022
Good bed for the long nights
Mr Shacklock - 08 October 2022
Excellent quality, so pleased with this. Packaging and delivery 1st class. Best furniture I have ever bought.
Joanna Elizabeth Wilson - 04 October 2022
My bed is beautiful and elegant. It has a nice shape and is very strong. I'm so happy with this.Thank you so much.
Ferencne Keszthelyi - 17 July 2022
Nice furniture, but appalling company to deal with. Order placed 01/10/2021 - finally completed 30/05/2022. Originally due on 21/01/2022 but having heard nothing 3 days before that, I called, waited over an hour, to be told that the delivery had been cancelled and my stock had been re-allocated! I wrote to the Chairman - and didn't even receive an acknowledgement. NO telephone numbers or email addresses are available except for the Call Centre, who MAY respond in 14 days...... Absolutely the WORST company I have ever dealt with - but the furniture is nice.
customer - 31 May 2022
Looks stylish and is well made. Easy to assemble.
Gillian - 03 April 2022
The Romsey bed is excellent and was quickly put together by the two guys who delivered it. Delivery was 1 week late and confusion with your customer services. Telephone services difficult to obtain reply.
DOUGLAS - 26 February 2022
Love the style but rough edges let it down. I used the Premium services and the delivery was on time, the guys were professional and quick and took away all the packaging, of which there was a lot.
Lynda Cherrington - 23 February 2022
Looks really good lovely wood
domingo - 21 February 2022
Good solid wood bed, made to last. Love the style and quality.
Mrs Pat - 28 January 2022
Delighted with the bed which has met our expectations. Delivered on the day that was arranged by two very polite gentlemen.
Mrs Judith Penny - 10 January 2022
Good sturdy bed, oak sections thinned down though. Delivery was on the day as promised BUT a lorry came with half the bed and didn't know for sure if the other half was being delivered on another drop. Rang customer helpline, nobody answered after an hour of holding on. Just about to drive to their shop when 30 minutes later another lorry arrived with a complete bed.!! Good bed but rubbish customer service hope they're not like this if you have an actual quality complaint.
Dennis - 27 December 2021
this is a lovely bed, great quality and very easy to put together
RB - 11 October 2021
Love this bed, so easy to put together, my husband did this on his own,. excellent fitting
Mary Ellis - 24 September 2021
Flat pack delivery, very easy to put together. Well made and looks great.
Natasha Baron - 14 September 2021
A great bed. Stylish and comfortable
Customer - 14 September 2021
Xxxxxxxxxx
SB - 05 September 2021
High quality and good, clear instructions for it's assembly. Value for money, style complements other pieces in range even if purchased in differing time gaps. Delivery on time and very helpful and polite delivery staff.
Ivan - 09 August 2021
Well constructed and easy to assemble. This bedstead has a central support slat which should make it more robust. Looks good and sounds good (no creaking) so seems good so far!
Jan Butcher - 24 July 2021
Lovely well made bed, very solid. Really pleased with the quality.
L Corcoran - 28 June 2021
How the delivery men managed to get it upstairs I don't know- fantastic job!
Vereena Tyler - 27 June 2021
Just what was needed and solid aswell
Philip Higgs - 24 June 2021
Solid, attractive and well made bed, easy to assemble. We are delighted with it.
Mrs P - 19 June 2021
Love the rounded corners on this design and looks good in my newly decorated room
Colette Barker - 14 June 2021
Sturdy and easy to assemble. If you really stare at some of the panels the joins aren't perfectlt aligned (hence only 4*) but excellent value for money overall.
SB - 13 June 2021
Excellent product and excellent service
Audrey Greig - 12 June 2021
Had to wait a long time for delivery of this bed but knew this when is was ordered, but it was worth the wait. Easy to assembly, solid good quality wood and looks very stylish. Oak Furnitureland even bought the delivery date forward from the original slot given, kept up to date and phone received 30 minutes before the bed arrived. Would definitely recommend!
Jo - 08 June 2021
Love the bed, easy assemble and no smell at all. However, the packaging is awful. Using tones of foam for inner packaging that's cannot be recycled.
Ka Yee Lee - 06 June 2021
I love my new bed frame. It arrived exactly as scheduled and the delivery men put it up in no time. It makes my bedroom look much larger and the cats don't scratch it. I'm very pleased with my purchase
Barbara Jones - 31 May 2021
Good quality ...easy to assemble... looks good would definately recommend
Karen - 10 May 2021
Looks and is amazing. Really solid bed.
Dale Clode - 21 April 2021
Really pleased with every aspect of this bed, really straightforward to assemble.
Alison Rich - 21 April 2021
Really love this bed. Very well made and easy to put together. Had to wait a long time for it to be made and delivered but definitely worth the wait!
RH - 05 April 2021
Had to wait a while but it was worth it! Love the styling. Quality very good & no faults. Delivery spot on. What more can I say!
Philip Vallance - 05 April 2021
Very pleased with the quality of this product, it felt slight risky buying some we hadn't been able to see first but the descriptions are all genuine. Would buy other products from this company.
Penny Crawford - 04 April 2021
Nice product good quality.
Mr Adeayo - 03 April 2021
Excellent product, easy to assemble, good and solid.
Martin - 22 March 2021
Quality product, will last forever
Claire - 09 March 2021
Very good quality, worth every penny. Had a cheaper bed before and the difference is very noticeable. Came well packaged, with super friendly delivery, and was easy to assemble.
Jack Jolliffe - 27 February 2021
Looks great in my new house. The bed is very heavy but easy to assemble. I'm so pleased with the quality that I'm now looking forward to receiving my dining table and six chairs from Oak Furnitureland.
John - 13 February 2021
Beautiful solid oak bed. Very sturdy. Very easy to put together. Excellent delivery service.
Anna - 09 February 2021

Everything I expected, top quality product.
Jim Larkin - 21 January 2021
Great service very good delivery men will definitely be using them again
Christine - 18 January 2021
Well made and good styling. Easy to assemble. Would recommend.
Mazzy B - 26 December 2020
Amazing quality and really steady bed
Paschalis - 01 December 2020
Delighted with bed, only fault i can find is the sharp edge around the inside of the frame when tucking the sheet under.
james lattimer - 20 November 2020
Also a very well made excellent product ...very good quality
Mr Alan Turle - 20 November 2020
We love our new bed! It's sturdy, well made and really good quality and can't wait to sleep in it!
sharon - 15 November 2020
Recently (Nov 2020) bought this bed and easy to follow instructions on putting it together. Once the bed was complete, i must say it is a very sturdy product. I can say I am very happy with what I have purchased, and if anyone is looking and admiring the design, I can confirm that it will be a worthwhile purchase.
John Gauci - 08 November 2020
Nnnnnnnnnnnn
Belinda Innes - 13 October 2020
You can tell just by looking it is quality and it was a very good price for such. Very happy with the bed.
Carole Davies - 20 September 2020
Fantastic product, so solid and great quality. It just took so long to turn up but would definitely buy from Oak Furnitureland again for the quality and styke
Siobhan Godfrey - 06 September 2020
Lovely bed, looks great, assembled in under an hour. Unfortunately not all holes lined up to insert screws into slats but I think we have enough. No information from OFL on dimensions of each individual part but we managed to get the headboard up the stairs (just)!
Rebecca - 26 July 2020
This is a wonderful sturdy good looking solid bed and I am so pleased with it.
john mardle - 20 July 2020
Once assembled looks great, very strong and good quality. Would have given it 5, but when assembling the screw holes for the centre rail were too large of the screws provided, so had to drill deeper and use larger screws
Barry Cooper - 11 March 2020
Read more reviews