Original Rustic Details
This stunning rustic double bed has a frame crafted from solid oak in a traditional farmhouse style and sprung birch slats to improve the quality of your sleep and the life of your mattress.
The Original Rustic range features gently rounded corners and chamfered edges, with wooden dowel detailing. The oak frame is finished with wax to create the look of a well-cared-for antique and is marginally darker than our other oak ranges, while the hardwood slats have a slight bend for enhanced support and to take some pressure off your mattress internals.
In addition to bed frames, we offer an impressive selection of mattresses to complete your bed. Discover the rest of the Original Rustic Solid Oak range and style yourself a fully coordinated bedroom.
For a smooth delivery, this bed has been designed to have some home assembly. Full instructions for setting up are provided.
All of our mattresses have been designed to fit and complement our range of solid hardwood double bed frames, browse the full range here.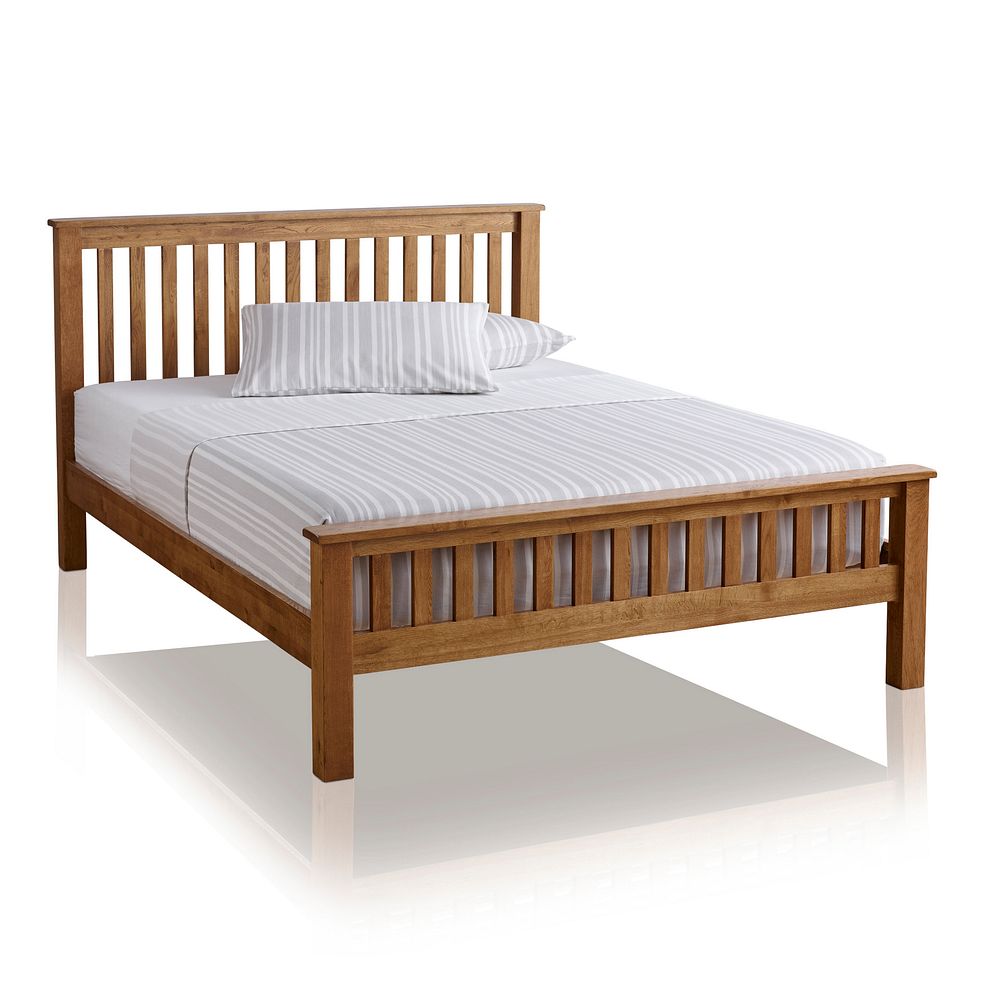 Dimensions & Assembly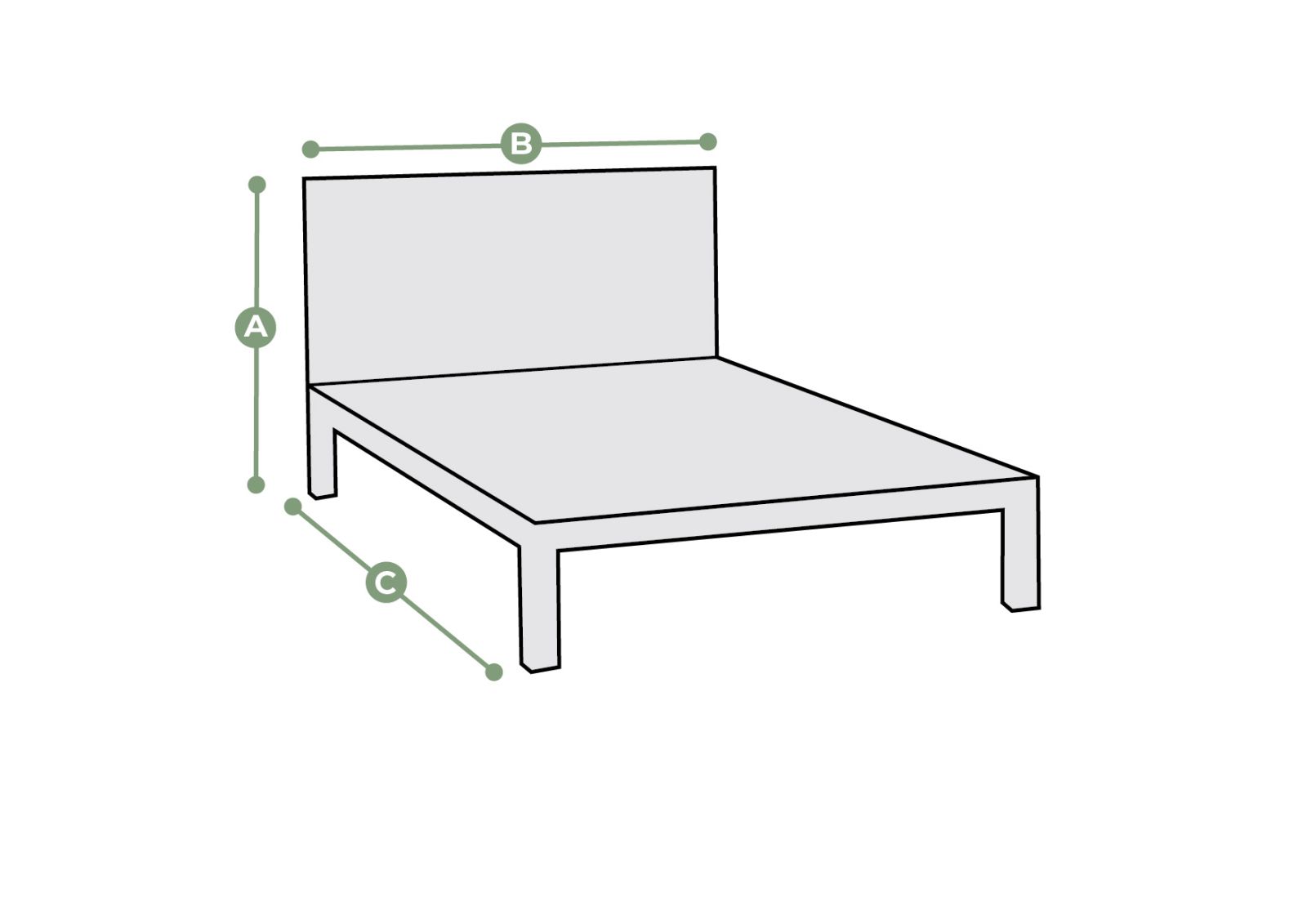 | | | | |
| --- | --- | --- | --- |
| Dimension | | CM | Inches |
| A | Height | 105 | 41.34 |
| B | Width | 147 | 57.87 |
| C | Length | 209 | 82.28 |
Product Code
RUS15
Product Title

Original Rustic Solid Oak Frame 4ft 6" Double Bed

Packaged dimensions
1 x (H23 x W156 x D115cm)
1 x (H17 x W203 x D32.5cm)

Weight
64kg
Number of parts
2
Will It Fit?
Choosing the right piece of furniture for your home is a big decision. Not only does it need to look good and do the job it was made to do, but it also needs to fit.
To fit with your interior style, to fit with your home needs, and most importantly, to fit with the dimensions of your room. If the piece of furniture is near a doorway, which way does the door open? Is the item going to be restricting the route in and out of the room? Is there a radiator on the wall, or a windowsill jutting out that you need to factor in when measuring the item's height?
Check what you can fit comfortably within your room by looking at the furniture measurements. You can find them in the Dimensions & Assembly section. Note them down and get busy with your tape measure.
The final important measurement to mention, is to ensure your new piece of furniture can fit through your front door when it gets delivered! Most items arrive assembled and boxed. The packaged item dimensions can also be found in the Packaging & Assembly section. Download our Will It Fit PDF, and follow our guide to a smooth furniture delivery.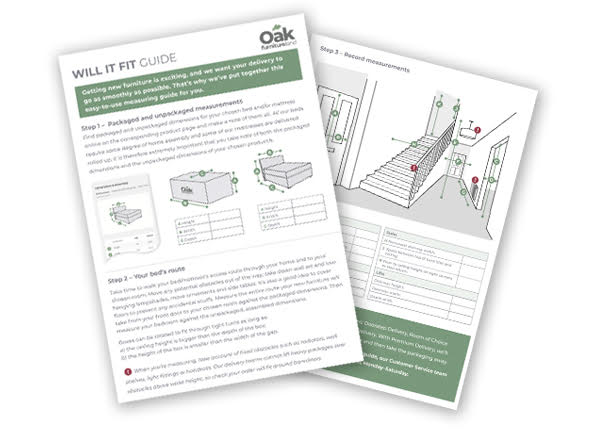 Reviews
4.7 stars out of 31 reviews
Avg.
A very solid and well made piece.
Iain Collins - 22 April 2022
Rock solid construction and beautiful mellow colour.
Alan - 19 April 2022
Oak is a little darker than I thought but overall delighted with this bed. Fits my overall wood and natural materials theme very well. Will likely buy another in the sales ...
John Meegan - 12 April 2022
It is extremely sturdy, and is just what my disabled husband needed to be able to get out of bed safely.
Mrs Barbara McFaull - 10 April 2022
Great looking bed and easy to assemble
Michael Frith - 04 April 2022
Excellent quality bed, easy to put together and sturdy
Victoria - 28 March 2022
Great quality furniture, solid and looks fantastic. Love it
Pauline - 05 March 2022
Very good value and attractive bed
Jane - 19 February 2022
Product itself is very good. There was an issue with the delivery date. Unfortunately the Head Office phoned us at 5.00pm to say the bed was out of stock, when we had had a text earlier in the day to confirm our delivery time slot (from 9.00am the next morning). The customer service on this issue from Head Office was very poor. Which is a shame, because products are good, and staff in the stores are very helpful. Has put me off dealing with the company.
Sheila - 08 February 2022
The product is fine but the delivery arrangements leave a lot to be desired. The date given in the sale room seems to be almost arbitrary as delivery always seems to be delayed. Rarely do you get a call or message and so you have to hang on the phone for half an hour to get an explanation. This comment is based on not just one but numerous delayed deliveries.
David Laughton - 05 February 2022
The bed itself a great and easy to put together. However we had paid for the bed frame (in two boxes) to be taken to our rooms, but the two delivery men only took one of the boxes up to the room, as they "tried" to do the other box they complained that it doesn't fit up the stairs. However we got it in one go! Very disappointed after paying £69.99 for a mediocre delivery service!!
DK - 11 December 2021
One of the best purchases we have made
Christine Banks - 03 December 2021
Excellent product and excellent service throughout
J. L. Smith - 23 August 2021
Came really late, with no proper explanation as to why ('in stock' when I bought it). If you need a new bed relatively quickly, something to be aware of. Aside from that, no complaints - the bed is really solid and was very easy to put together. Bought a Get Laid Bed at the same time which was similar in price but noticeably inferior in respect of quality.
Mr Ihringer - 10 July 2021
Fantastic bed frame and beautiful wood and finish.
Angela Robinson - 18 June 2021
Nice looking solid bed, happy with purchase.
Sylvia Rennie - 13 June 2021
Quality from doorstep delivery to bedroom beautiful furniture quality service would not hesitate to shop with oak furniture land again.
Katydidit - 08 June 2021
We are happy with our double bed furniture , however we were unhappy and disappointed that we paid for a specific delivery date as I needed to take the day off work. We were not notified on the delivery day that you were unable to deliver at all on that day due to transport problems which we only found out at 5-30 pm the same day when we finally got through to customer services. This meant we had to rearrange another delivery day , therefore I had to take another day's holiday from work.
Linda Milton - 05 June 2021
Very happy with the bed.
Laura Do - 18 April 2021

Brilliant bed frame. Easy to put together. (0ver 70s). Packed well and delivery very good All solid wood and love the rounded corners.
MRS J BRITLAND JONES - 17 April 2021
Absolutely stunning bed worth every penny
Sharon Christie - 07 April 2021
Really happy with this. Well made, easy to assemble and looks great. Really smartens up the bedroom
Linda Curson - 22 January 2021
brilliant, 5 star all round, brilliant design and sturdy bed. definitely recommend.
Jessica Welbourne - 25 December 2020
So easy to assemble, strong and solid
S Sparkes - 02 November 2020
This is our second bed of this style, says it all really, they are solid well built and a firm base for a mattress. Won't date should last for ever. The experience in the shop was excellent and delivery on time, although long delivery period.
Ray Orchard - 19 October 2020
Very pleased with this product.
Martin Crocker - 12 October 2020
Easy to put together and excellent quality product.
Andrew Sutherland - 18 August 2020
wonderful!
Sara Cronin - 17 August 2020
Looks lovely and exactly as it does on the website, arrived in A1 condition, no damage, the delivery guys were brilliant and very personable. It was easy to put together and feels really heavy and sturdy. When my mattress arrives from another supplier, I will be able to sleep in it, but in the meantime, I'm enjoying looking at it!!
Pat H - 02 August 2020
Absolutely delighted. Delivered on time, well made, easy for one 73-year-old to assemble, smart, and incredibly solid. Great service, too. After buying bed and mattress, I discovered that it was comfortable and supportive with my existing orthopaedic mattress. I asked if I could return my unopened new mattress, and there was no problem whatsoever, and a minimal return fee. Would recommend OFL to anybody.
John Rogers - 21 November 2019
Read more reviews