Goodwood Style
The Goodwood range is designed as a comfortable addition to modern living rooms. It features a wide selection of modules to choose from - from electric recliners with USB ports to cosy corner units, so you can create a custom sofa look for your home. You can also browse a range of our pre-designed modular sofas to find a look you love.The Goodwood range is known for its cosy overstuffed arms and back cushions which give it a luxurious sink-in feel, and the seat is pocket sprung for total comfort. Each piece is upholstered in a high quality fabric, so it will look great for years to come.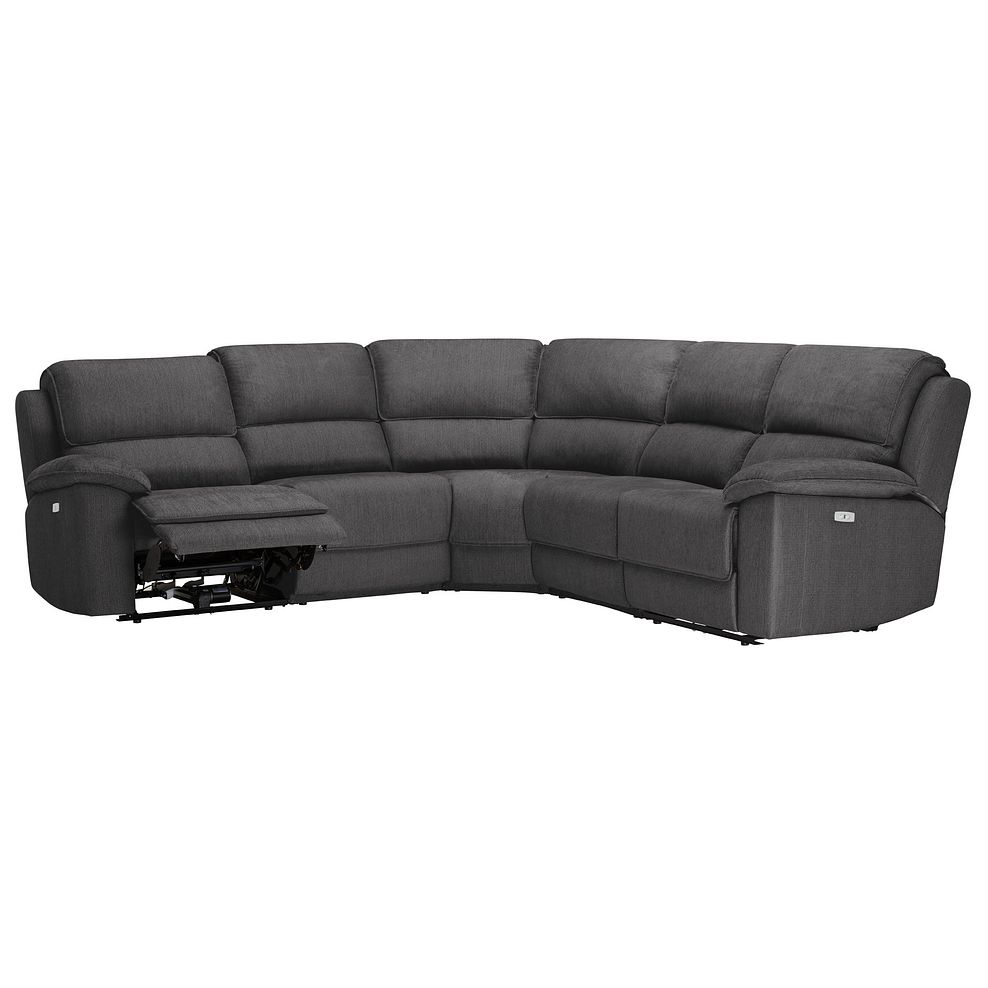 Dimensions & Assembly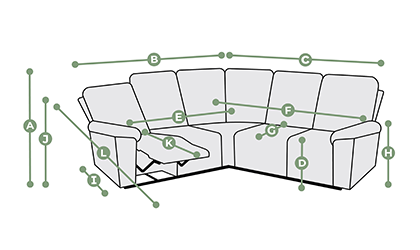 Dimension
CM
Inches

A

Height
102
40.16

B

Width
275
108.27

C

Depth
275
108.27

D

Seat Height
49
19.29

E

Seat Width
200
78.74

F

Seat Width
200
78.74

G

Seat Depth
54
21.26

H

Arm Height
65
25.59

I

Arm Depth
99
38.98

J

Back Height
92
36.22

K

Extended Depth
102
40.16

L

Total Reclined Depth
164
64.57
Product Code
GWD-GROUP-302-CHAR
Product Title

Goodwood Electric Reclining Modular Group 3 in Plush Charcoal Fabric

Packaged dimensions
1 x (H76 x W91 x D86cm)
1 x (H76 x W91 x D86cm)
2 x (H104 x W71 x D100cm)
1 x (H104 x W167 x D114cm)

Weight
178kg
Number of parts
5
Assembly Required
Goodwood Assembly Instructions
Will It Fit?
Choosing the right size furniture for your room makes all the difference. The right proportions make a room look comfortable. They make your room work.
Think about the room where your new sofa will be living. Will you want to have side tables at each end? Or will you want a coffee table in front? Check you can fit what you want comfortably by looking at the sofa measurements. They are within the Dimensions & Assembly section. Jot them down, and get busy with your tape measure.
The other place your sofa must fit is through your doors when it's delivered! Your new sofa will arrive wrapped or boxed. You'll find the packaged dimensions within the Assembly & Packaging section. Download our Will It Fit PDF, and follow our guide to a smoother furniture delivery.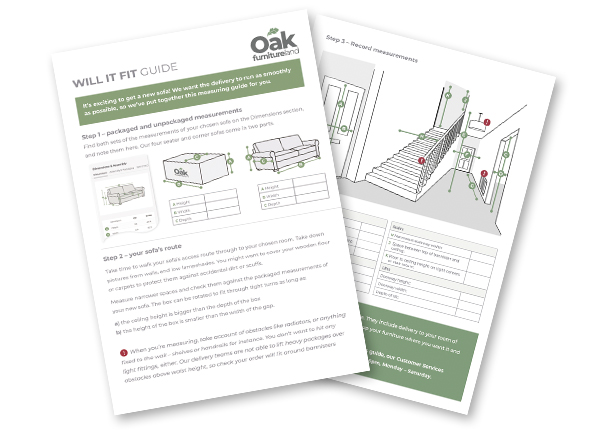 Materials & Care
Upholstered in a high quality fabric, to keep looking great for years to come. We're choosy when it comes to our upholstery, using only the highest quality fabrics. All our fabrics are rated for heavy domestic use to stand up to the demands of family life. Our fabric sofas have flat weave fabrics which are hard wearing and luxurious to touch.
Material composition:
Main material: 100% Terylene

Material construction:
Frame: All our sofa and armchair frames feature solid hardwood. It forms part of a strong frame that's made to last – and designed not to creak. Joints are strongly fixed using classic carpentry skills, so you can enjoy the support and comfort of a well-made sofa.
Seat base: Serpentine springs spread the load of the seat, and foam keeps them in place. Our springs are held together with 'silent wire', quiet strands helping to give plenty of support at the base. That means no sagging – and more comfort for you.
Seat cushion: Fixed cushions have a foam filling so they keep their shape. Wrapped around pocket springs, the seat is kept resilient, and you can relax into a cushion with a medium feel – not too firm, not too soft.
Back support: Serpentine springs used in the back support spread the load and keep back cushions secure. So you get support and comfort just where you need it.
Back cushion: These are fibre-filled and designed to keep their shape. Fibre is so luxurious when you want to settle back and relax.
Feet: Strong plastic legs.
Fabric
We choose our upholstery materials to look good, feel good, and to last. We make sofas for real homes where real life happens. Sofas for all sizes of home, all kinds of interior, and for all kinds of families.
Keep fabric upholstery looking good with regular vacuuming and dusting. Give real wood legs a polish. We stock a fabric care kit, with specialist products for general cleaning, and for old or resistant marks.
Sunlight
Sunlight can cause upholstery to fade. If your sofa is placed in a sunny part of the room, maybe draw the curtains at the sunniest times of day, or have a colourfast throw to shield the sofa from the strongest sunlight.
Furniture Guard
Protect your sofa and give yourself peace of mind with our 5 year Furniture Guard insurance.
For as little as £39.99* you can be covered for mishaps such as:
Stains and Accidental Damage
Water and liquid marks
Heat marks
Dents, chips and scratches
Pet damage
Structural Damage
Warping
Breakage
Excessive loss of resilience
This list is not exhaustive and you can find out exactly what's covered in the Furniture Guard booklet.
Furniture Guard can be added to your order during the checkout process.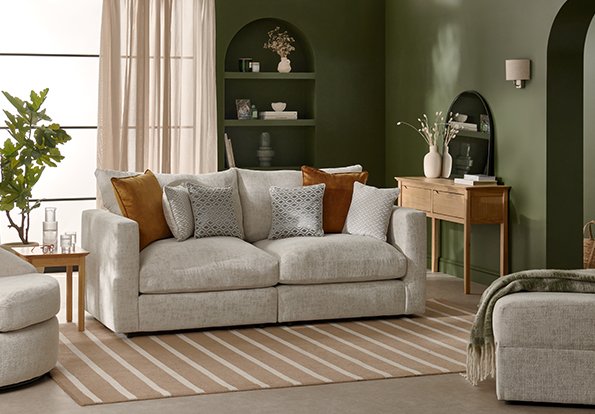 *Cost of Furniture Guard is calculated at 10% of your order value (min £29.99 - max cost of £400)
Designed for your comfort
Sofas start with the frame. Ours are made using classic carpentry skills. Hardwood is used to reinforce at key places so there's no creaking or moving of joints.

Seat base. Serpentine springs spread the load of seat cushions. We use more than most manufacturers, giving a stronger base for support.

Seat cushions. Foam and fibre fillings are used in different ways across our ranges. Choose from styles with firmer comfort or cushions that are luxuriously soft.

Back cushions. Our sofas come in different styles. Tensioned webbing and superloop back springs support classic high back looks and pillow back cushions alike, fibre-filled for sink-in comfort.

Scatter cushions. Most of our sofas come with feather or fibre-filled scatter cushions. Made to match particular sofa ranges, they add that extra bit of comfort.
Reviews
4.3 stars out of 32 reviews
Avg.
This sofa is OK but in the showroom was displayed near a wall. We have it in open plan areas and the back of this chair and the sofa electric chairs looks really untidy. I would really hope for the rear cloth to hang down to floor level
Billy Gordon - 07 January 2022
I love my sofa. Wasn't happy with the delivery though. There should be small print to say the corner piece doesn't fit through a standard front door and that delivery men are not allowed to lift items over a certain weight above their heads to deliver via a side gate for access to a patio door. The delivery men would have been only to happy to take it all away, 2 days before Christmas 🙄 #shocking We managed as we have a young strong adult in he family who easily lifted the corner piece over the gate.
Jon Beales - 03 January 2022
Bot of a struggle to put together
Julia Sweet - 30 September 2021
Beautiful sofa, very comfortable and definitely worth every penny spent
Amanda Smith - 17 May 2021
Perfect corner sofa at a reasonable price
Spencer Whale - 16 May 2021
The product is fantastic!! However your customer service is very slow Failed to deliver on arranged date !! I was told that the truck was stuck in traffic , which is in my opinion wrong as I live in the same town as your warehouse!!! and then the truck had broken down I had to threaten legal action if my sofa and footstool was not delivered the following day Eventually it was delivered by two warehouse staff !!!
John Wallis - 07 May 2021
Just took delivery of new sofa, very pleased with service from showroom to delivery. New sofa is fantastic. Would recommend Oak Furniture Land...👍
Neil Box - 13 March 2021
Absolutely in love with this, it's so comfortable. The free gift of the clock is also just as fantastic
Alison Boultby - 22 February 2021
Amazingly comfy and stylish. Room for us and the dogs.
Jane - 13 February 2021
We love our new sofa, very comfortable and looks beautiful.
Maria - 12 February 2021
Excellent service from going in to store to delivery. We had a very friendly helpful salesman, delivery was within three weeks. The sofa is amazing, excellent quality, very comfy, very spacious, electric recliners are amazing that you could sleep on as they recline forward so you are lying right back on the furthest recline, very quiet electric motor, material is luxurious and soft to touch. Excellent value for money as bought in the sale and a bonus free gift worth £300.
Michele Griffiths - 05 February 2021
very comfortable
Mrs Julie Sheppard - 16 January 2021
Extremely comfy, would highly recommend
Jayne - 09 January 2021
We absolutely love it! Service was great via the internet, the local branch were not so helpful- I think the guy thought I was just browsing! Delivery was prompt and they were careful and very friendly. The sofa was very easy to install and it's super comfortable- I do hope it stands the rest of time with a busy family and dogs.
Tracy Lott - 02 January 2021
A high quality item, comfortable and stylish yet good value.
Matt - 14 December 2020
You need to tell customers how big each box is. The reclining modules are packaged so large that they don't fit through a standard doorway and the delivery staff aren't allowed to open the boxes to bring them in. A little thought and repackaging would solve this. The machined rail that locate the two modules together on one of my pieces wasn't made correctly. This was visible by eye on inspection once I'd discovered the problem. I shouldn't need to take a file to a new sofa. If I wasn't an engineer this would've been a needless call out and a further delay in having a sofa. On the whole a decent sofa now it's sorted, but not overly impressed with the quality control and lack of communication regarding packaging limits. I've got other items on order which I've been emailed dimensions of the product but not the packaging. Not too impressed with the service but the quality so far is fine. Only had it 2 weeks though.
Graham Kirkham - 09 December 2020
Product is excellent. Help in store was great and delivery was on time. Only down side was delivery guys were awful damaged paint work told me it would be failed delivery. Rolled my sideboard end over end.. in the end despite paying for stuff to be taken in house I told them to leave it all out side and me and my son did it all without any drama. It tainted my experience unfortunately.
David Adams - 04 December 2020
Love my new sofa, so comfy, lovely material. Really pleased and fits the room perfectly. And this sofa has the added advantage of all the seats being separate that you can change it around....
Karen Eve - 01 November 2020
The product is very good however I did not have a good experience. I purchased the product from the Dundee store. The person who served me had a good explanation of the product but he failed to mention that you had to build the product yourself. If I knew that I would not have purchased the product. The store assistant seemed more interested in selling me add-ons. When the sofa arrived and the delivery driver informed me I had to build it myself I called the Dundee store. The person I spoke to was not interested. He said he would make a note and send it to head office. After 2 weeks I have not had any correspondence from head office. The worse customer service I have ever experienced and I will not be back to the store.
Lee Corr - 31 October 2020
Excellent quality and so so comfy love it
Gordon Reid - 23 October 2020
Very comfortable sofa with a lovely high back. Its very easy to assemble yourself. The service from the shop staff to the delivery guys has been excellent.
dbaggaley - 18 October 2020
Absolutely stunning. A quality sofa made to a very high standard. And so comfortable
Ernest ruck - 16 October 2020
Very good service from start to finish
Philip Moore - 12 October 2020
Bit noisy when reclining
Tina Hodgson - 06 October 2020
Fantastic quality and extra comfy would recommend to anyone
and Deliver To Ian - 27 September 2020
Difficult to connect the 5 sections of the sofa (certainly not a 1 man job) but once done, we were happy & would recommend
Tim Gage - 24 August 2020
We were instantly attracted to the sofa in store. We picked the colour on display in a grey finish. We had 5 segments which after delivery and unpacking, went together with relative ease considering when it was together and plugged in with ample length wiring tucked under the arm end, works a treat and functions well with almost horizontal positioning. It is a very large sofa so make sure you measure it. We got the 5 year insurance cover too for peace of mind. It fits through a standard frame front door byt the corner piece took some wrangling! Very happy
Mick - 07 August 2020
Purchased "blind" on-line without physically seeing the item but need not have worried as the furniture more than exceeded our expectations. Customer service excellent and delivery on time. Highly recommended and would have no hesitation in using Oak Furnitureland again
Phil - 23 July 2020
Read more reviews