Goodwood Style
The Goodwood range is designed as a comfortable addition to modern living rooms. It features a wide selection of modules to choose from - from electric recliners with USB ports to cosy corner units, so you can create a custom sofa look for your home. You can also browse a range of our pre-designed modular sofas to find a look you love.The Goodwood range is known for its cosy overstuffed arms and back cushions which give it a luxurious sink-in feel, and the seat is pocket sprung for total comfort. Each piece is upholstered in a high quality fabric, so it will look great for years to come.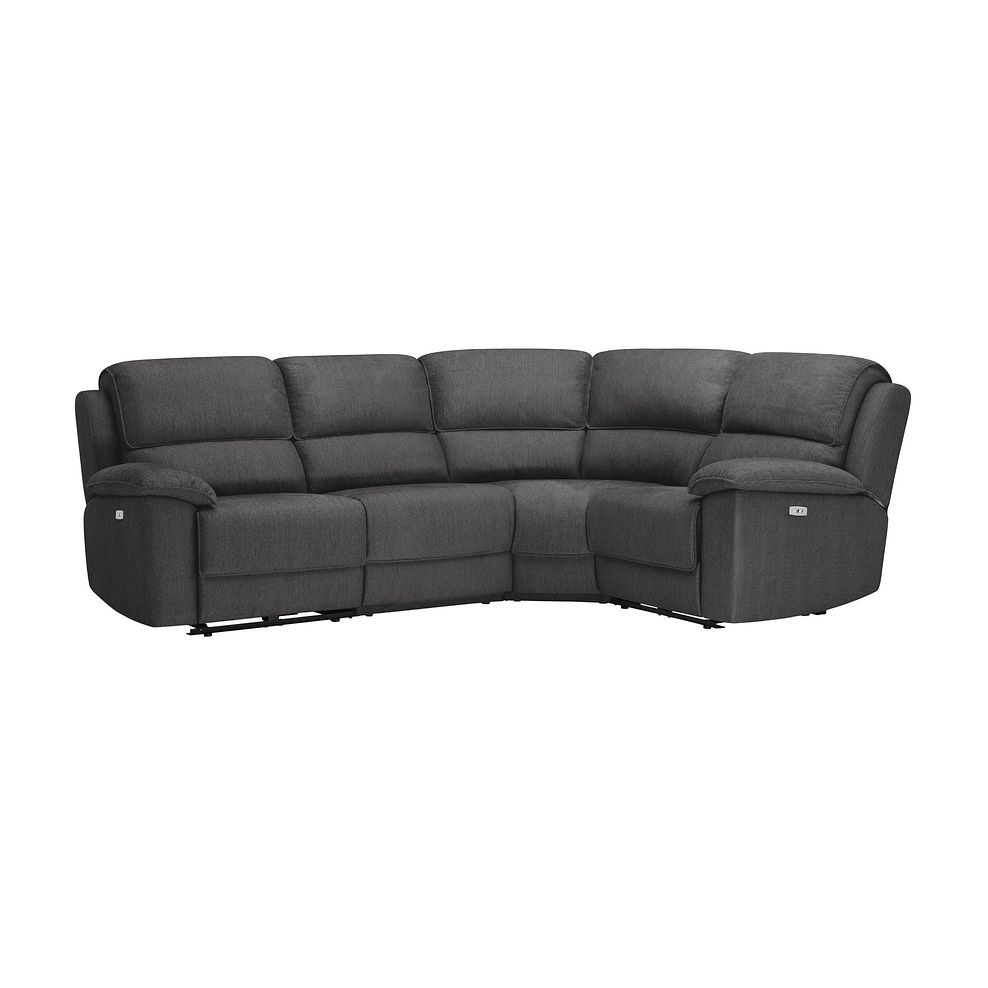 Dimensions & Assembly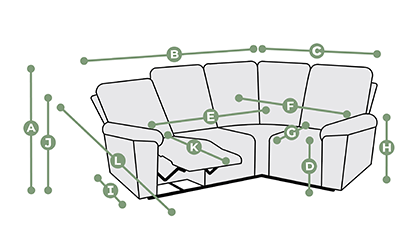 Dimension
CM
Inches

A

Height
102
40.16

B

Width
275
108.27

C

Depth
206
81.10

D

Seat Height
49
19.29

E

Seat Width
200
78.74

F

Seat Width
131
51.57

G

Seat Depth
54
21.26

H

Arm Height
65
25.59

I

Arm Depth
99
38.98

J

Back Height
92
36.22

K

Extended Depth
102
40.16

L

Total Reclined Depth
164
64.57
Product Code
GWD-GROUP-202-CHAR
Product Title

Goodwood Electric Reclining Modular Group 2 in Plush Charcoal Fabric

Packaged dimensions
1 x (H76 x W91 x D86cm)
1 x (H76 x W91 x D86cm)
1 x (H104 x W71 x D100cm)
1 x (H104 x W167 x D114cm)

Weight
153.5kg
Number of parts
4
Assembly Required
Goodwood Assembly Instructions
Will It Fit?
Choosing the right size furniture for your room makes all the difference. The right proportions make a room look comfortable. They make your room work.
Think about the room where your new sofa will be living. Will you want to have side tables at each end? Or will you want a coffee table in front? Check you can fit what you want comfortably by looking at the sofa measurements. They are within the Dimensions & Assembly section. Jot them down, and get busy with your tape measure.
The other place your sofa must fit is through your doors when it's delivered! Your new sofa will arrive wrapped or boxed. You'll find the packaged dimensions within the Assembly & Packaging section. Download our Will It Fit PDF, and follow our guide to a smoother furniture delivery.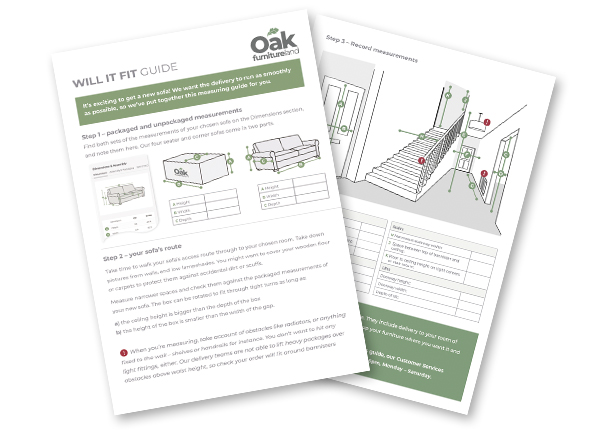 Materials & Care
Upholstered in a high quality fabric, to keep looking great for years to come. We're choosy when it comes to our upholstery, using only the highest quality fabrics. All our fabrics are rated for heavy domestic use to stand up to the demands of family life. Our fabric sofas have flat weave fabrics which are hard wearing and luxurious to touch.
Material composition:
Main material: 100% Terylene

Material construction:
Frame: All our sofa and armchair frames feature solid hardwood. It forms part of a strong frame that's made to last – and designed not to creak. Joints are strongly fixed using classic carpentry skills, so you can enjoy the support and comfort of a well-made sofa.
Seat base: Serpentine springs spread the load of the seat, and foam keeps them in place. Our springs are held together with 'silent wire', quiet strands helping to give plenty of support at the base. That means no sagging – and more comfort for you.
Seat cushion: Fixed cushions have a foam filling so they keep their shape. Wrapped around pocket springs, the seat is kept resilient, and you can relax into a cushion with a medium feel – not too firm, not too soft.
Back support: Serpentine springs used in the back support spread the load and keep back cushions secure. So you get support and comfort just where you need it.
Back cushion: These are fibre-filled and designed to keep their shape. Fibre is so luxurious when you want to settle back and relax.
Feet: Strong plastic legs.
Fabric
We choose our upholstery materials to look good, feel good, and to last. We make sofas for real homes where real life happens. Sofas for all sizes of home, all kinds of interior, and for all kinds of families.
Keep fabric upholstery looking good with regular vacuuming and dusting. Give real wood legs a polish. We stock a fabric care kit, with specialist products for general cleaning, and for old or resistant marks.
Sunlight
Sunlight can cause upholstery to fade. If your sofa is placed in a sunny part of the room, maybe draw the curtains at the sunniest times of day, or have a colourfast throw to shield the sofa from the strongest sunlight.
Furniture Guard
Protect your sofa and give yourself peace of mind with our 5 year Furniture Guard insurance.
For as little as £39.99* you can be covered for mishaps such as:
Stains and Accidental Damage
Water and liquid marks
Heat marks
Dents, chips and scratches
Pet damage
Structural Damage
Warping
Breakage
Excessive loss of resilience
This list is not exhaustive and you can find out exactly what's covered in the Furniture Guard booklet.
Furniture Guard can be added to your order during the checkout process.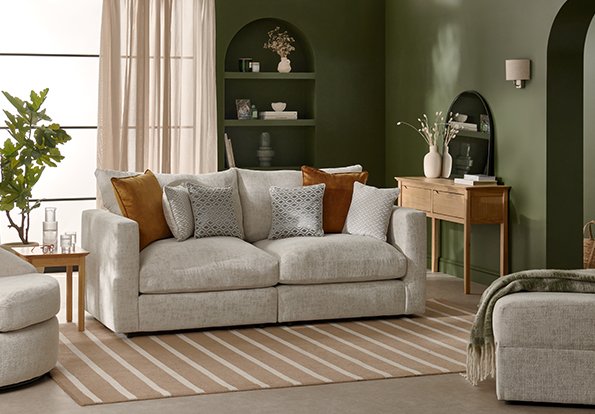 *Cost of Furniture Guard is calculated at 10% of your order value (min £29.99 - max cost of £400)
Designed for your comfort
Sofas start with the frame. Ours are made using classic carpentry skills. Hardwood is used to reinforce at key places so there's no creaking or moving of joints.

Seat base. Serpentine springs spread the load of seat cushions. We use more than most manufacturers, giving a stronger base for support.

Seat cushions. Foam and fibre fillings are used in different ways across our ranges. Choose from styles with firmer comfort or cushions that are luxuriously soft.

Back cushions. Our sofas come in different styles. Tensioned webbing and superloop back springs support classic high back looks and pillow back cushions alike, fibre-filled for sink-in comfort.

Scatter cushions. Most of our sofas come with feather or fibre-filled scatter cushions. Made to match particular sofa ranges, they add that extra bit of comfort.
Reviews
4.7 stars out of 15 reviews
Avg.
Delivered on time by 2 men who went above and beyond. Well packaged and no issues at all with the sofa
N Roberts - 07 November 2021
Very comfortable and love the material .
Frances Cargill - 23 October 2021
Up till now it a good comftable purchase
David Oxley - 02 July 2021
Very nice suit but be carful when you buy it incase there's a sale. I took delivery of mine one week before a sale and paid £400 more than I would have if I was told that there was a sale coming up! Not happy about that!!!!
Alister Dickson - 04 June 2021
Overall delighted with the quality and colour of this sofa in charcoal grey. The feel of the fabric is lovely and soft. The high backs are comfortable. The electric recliners with usb ports are fantastic. It is a perfect fit for my room. The delivery guys were ahead of schedule and very careful bringing into my house. It was easy to put together as each section is light enough to move in your own. The hardest things to do alone were removing all the packaging and clipping each piece together at the bottom.
Angie Kitching - 10 April 2021
good sofa set. Saw it in shop before lockdown so was comfortable to buy it on line. The packaging was a bit of a challenge especially as cardboard difficult to recycle at moment but it was well packed so no damage. The delivery guys were excellent and very helpful. Recliners work well so good buy!
Christine Salter - 19 February 2021
Nice sofa. Very comfy and easy to put together. Took three delivery attempts and communication was poor - but they answer FaceBook quickly. Actual delivery was okay - it was only left outside for 2hrs in the rain.
Claire Bower-Parker - 15 February 2021
Excellent service from the Farnborough store. Sofa arrived on time. So far it seems great. Very comfortable and fits the room perfectly. Lovely soft fabric. Good reclining motion. Only downside was that it's a bit tricky to get the modular sections to fit together. Packaging is awkward to dispose off - it would be better if it was taken away on delivery and recycled by oak furniture land.
David Stockman - 20 January 2021
The men who delivered the furniture First tried to deliver to number 10 then struggled to get the furniture into my home .Despite all measuements given at time of purchase and the said furniture being in segments. It was put down in mud instead of on the drive way finally coming in through the back old sheeting had been put down to protect both hall and lounge new carpeting but the men preffered to not use, using the edges of the carpet and traipsing in mud. It was a nightmare. The furnitures assembly instructions were unclear. I was told my son would be able to assemble this alone easily. This wasnt the case at all. I love my corner unit but the delivery was a shambles and assembly should be offed also delivery drivers should be issued with the protectors for their footwear.
Diane Hynes - 26 December 2020
Looks lovely very comfortable and love the recliner
Carole Barnes - 24 November 2020
Really good salesman, His name is Stanley, very professional, exactly understood what we need. Delivery guys very friendly, especially Chris, who managed to bring sofa through the doors and the hallway 🙂. Looks lovely and very comfortable!!!
Inessa Cheshire - 24 October 2020
Very Comfortable unit.!
Brian Eldridge - 23 October 2020
Absolutely lovely. Ordering was easy, I was able to book my delivery slot online (and change my slot when an earlier date came up). Delivered on time and phoned just before to let me know they were on their way. Only 2 issues that were a little frustrating: Unfortunately they only give you 30 days from the purchase date to buy the furniture protection cover. As the sofa didn't arrive for 14 weeks it would have been nice to have had it extended to the date of delivery so I wasn't able to purchase it as furlough meant money was tight. Secondly, the packaging is not taken away so was left with 5 tip runs to dispose of all the boxes and plastic. That said, am really delighted with the sofa. Well made and built to last.
Tracy Longley - 13 October 2020
The product is great, delivery was delayed due to Covid production problems but they gave an extra discount for this, which thankfully brought the price a little under their current offer! We rate it overall four stars because Oak Furnitureland do not take their environmental responsibility seriously at all. The men who delivered the sofa unpacked a couple of items to get them through our door. We thought great, they will take the packaging with them. However we later discovered that they had left it outside. The substantial cardboard boxes were perfectly reusable and could have been re-cycled as they were rather than left to deteriorate in the rain. There is a lucrative market in cardboard that even organised crime is moving into. With the volume of cardboard that they use as an organisation it must be worth them collecting it. The Van was travelling back empty any way. By not taking any ownership or financial responsibility for their packaging problem, nothing will change. They will continue to use plastic, they will continue to consume forests, they will continue to contribute to waste dumping in our countryside. We do hope that someone in their organisation reads this and takes it seriously, since the environment is the next big catastrophe to hit this planet after Covid, in fact it is already with us.
Roger Flett - 10 October 2020
Comfortable, appears to be good quality but have only had it for a month
Brian - 24 August 2020
Read more reviews