Detroit Details
King-size bed frame, part of our Detroit range
Strongly made from hardwood
Features different surface textures
Darker wood king size bed
Level the furniture with the small adjustable feet
Metal legs
Solid hardwood – including mattress-supporting slats
Clean and modern, with more than a touch of industrial style. Our Detroit dark wood king-size bed features the slatted theme of the range, and keeps it open. The stained and glazed hardwood is smooth in some parts and brushed in other. Metal legs complete the look of urban cool. The bed is made from hardwood all through – including the mattress-supporting slats. Team with other pieces in the Detroit range – and one of our mattresses.
For a smooth delivery, this bed has been designed to have some home assembly. Full instructions for setting up are provided.
All of our mattresses have been designed to fit and complement our range of solid hardwood king-size bed frames, browse the full range here.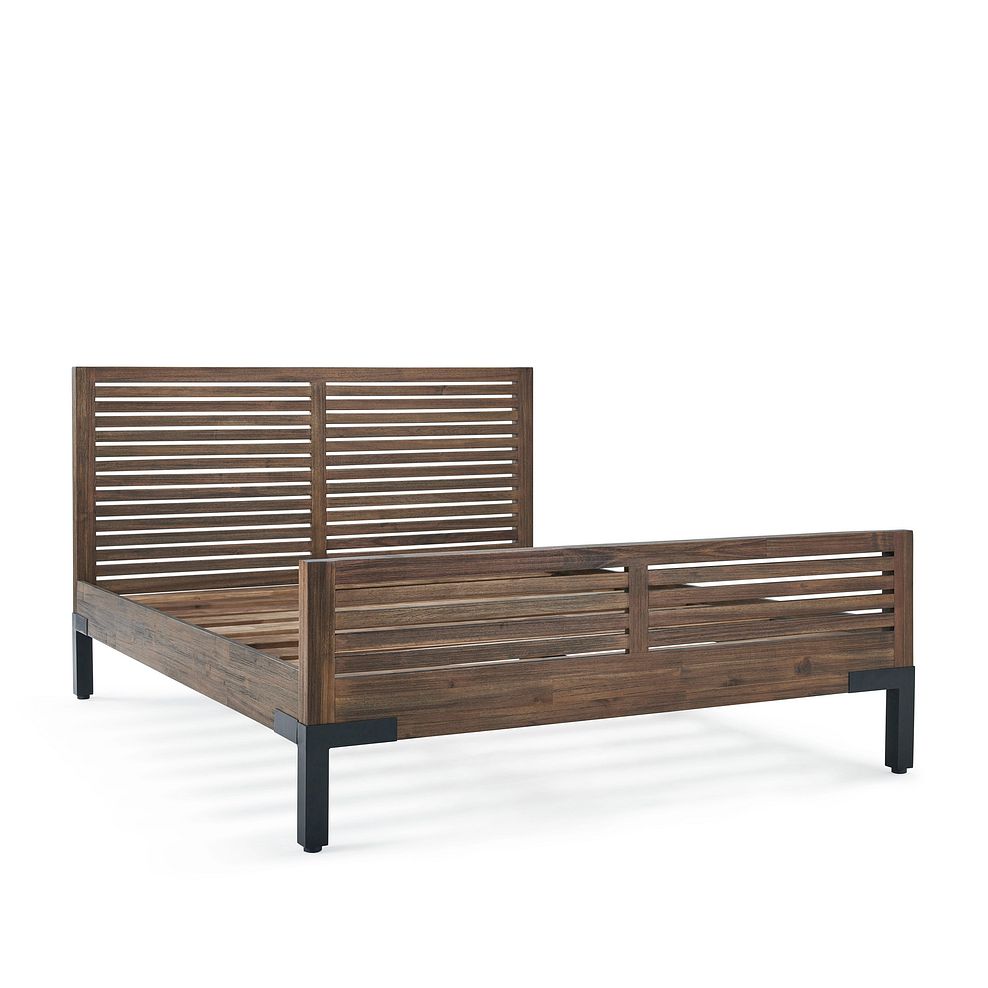 Dimensions & Assembly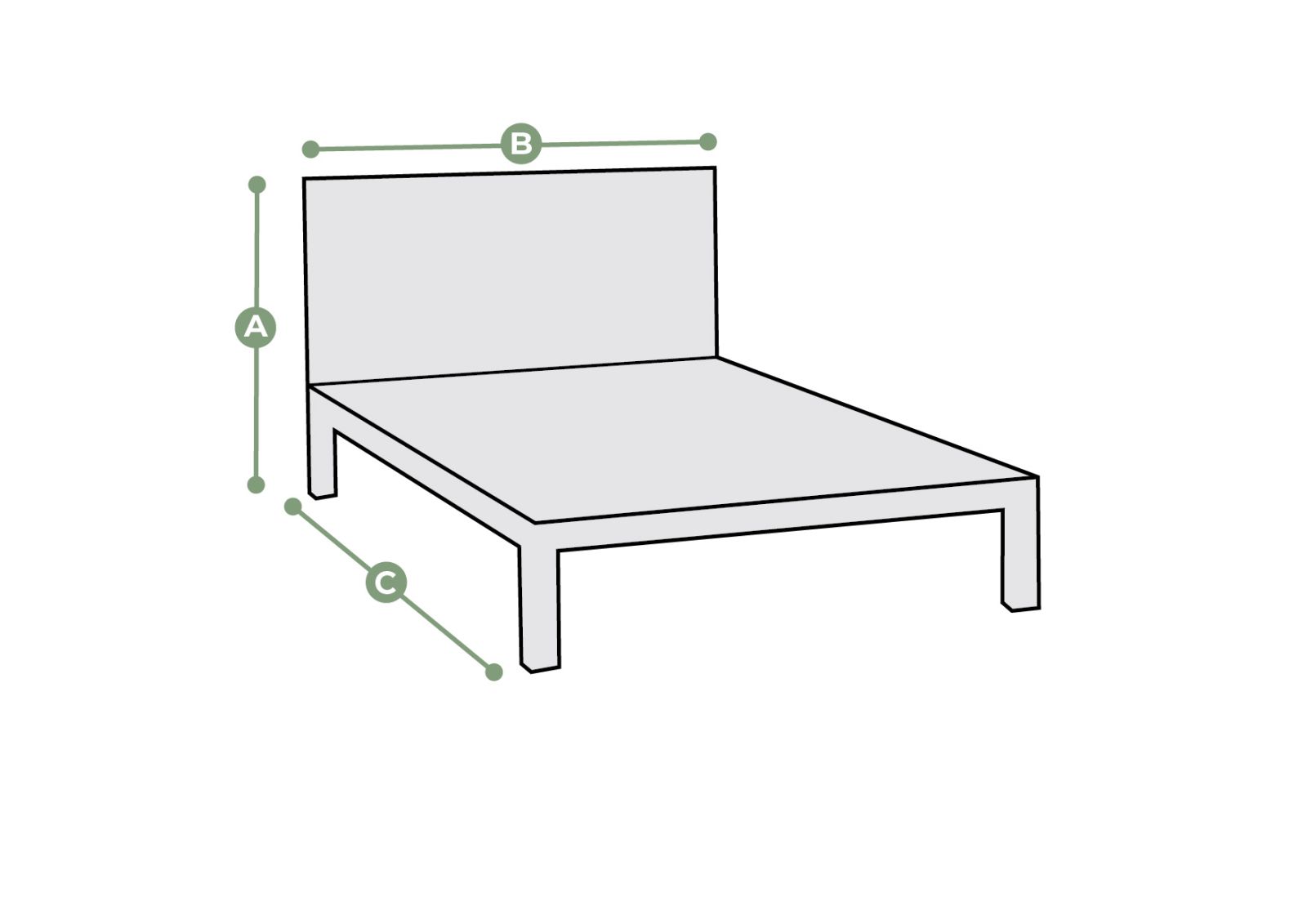 | | | | |
| --- | --- | --- | --- |
| Dimension | | CM | Inches |
| A | Height | 100 | 39.37 |
| B | Width | 156 | 61.42 |
| C | Length | 212 | 83.46 |
Product Code
DET112
Product Title

Detroit Solid Hardwood and Metal King-Size Bed

Packaged dimensions
1 x (H16 x W165 x D88cm)
1 x (H25 x W216 x D36cm)

Weight
66kg
Number of parts
2
Will It Fit?
Choosing the right piece of furniture for your home is a big decision. Not only does it need to look good and do the job it was made to do, but it also needs to fit.
To fit with your interior style, to fit with your home needs, and most importantly, to fit with the dimensions of your room. If the piece of furniture is near a doorway, which way does the door open? Is the item going to be restricting the route in and out of the room? Is there a radiator on the wall, or a windowsill jutting out that you need to factor in when measuring the item's height?
Check what you can fit comfortably within your room by looking at the furniture measurements. You can find them in the Dimensions & Assembly section. Note them down and get busy with your tape measure.
The final important measurement to mention, is to ensure your new piece of furniture can fit through your front door when it gets delivered! Most items arrive assembled and boxed. The packaged item dimensions can also be found in the Packaging & Assembly section. Download our Will It Fit PDF, and follow our guide to a smooth furniture delivery.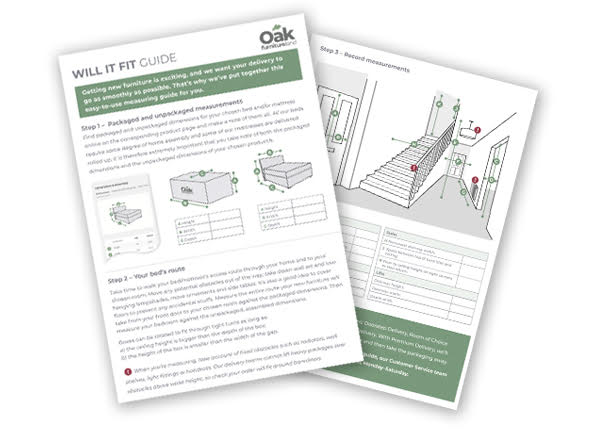 Reviews
4 stars out of 25 reviews
Avg.
Very stylish although a bit expensive. Good king size bed for a small double room. This is the best king size bed if you have small space compared to all other king size beds within oak furniture range.
Imran Safeer - 18 October 2023
Great quality and easy to assemble.
Cheuk Yan - 25 June 2023
Our old bed was more frame than bed so make such a nice change to have more bed than frame this time. It's exactly what we were wanting. We shopped around for ages for a bed, finding loads in other shops that were cheaply made or had bad reviews. This one is perfect, solidly built and goes perfectly with our style
Hannah - 20 June 2023
Looks fantastic, very comfortable
Douglas Burgess - 13 June 2023
Beautiful bed frame, lovely solid wood and easy to put together.
Ellen - 15 March 2023

Good quality bed and mattress. Really happy with products. Also the salesman at Fosse park branch was very helpful, thanks to him for getting delivery ahead of schedule.
Mr S - 04 March 2023
I'd have given 5-stars overall had it not come with so much packaging. An absolutely ridiculous amount. OF UK need to consider returning all packaging to depot for proper sorting and disposal - as John Lewis did for me on a large item. In this day day and age this is a MUST. BTW - bed frame very solid and impressive - overall satisfaction spoilt by above.
Martin Green - 07 February 2023
From the packaging which was excellent to the quality of the build and how it is made, cannot stress enough how well made this was
Deborah Smith - 03 January 2023
I liked this bed as soon as I saw it. I love how it looks in my bedroom, although one part of assembling it was quite tricky.
Oliver - 11 November 2022
Great collection, good value
Sara - 28 October 2022
Pretty good. Showroom staff were excellent and bed looks good. Delivery was slow. Full service is expensive so I went for doorstep delivery and self assembly. Build quality let's the product down slightly. Slats could be slightly longer (don't reach quite to sides of bed so screwing them in securely is difficult)
Jonathan Nixon - 15 August 2022
Delay in delivery but absolutely worth the wait
Sarah - 08 August 2022
Completely satisfied, beautiful, stylish and comfortable
Vlasta - 06 August 2022
Gorgeous solid bed!
Sami H - 06 August 2022
This is a good looking product which is spoilt by absolutely atrocious quality control on its constituent parts. Ours was delivered with an incorrect leg and a centre support leg with a huge split the full length of the timber leg. Worse than the quality control however is Oak Furniture Land's customer service. 2 weeks after reporting the incorrect leg to the store no one has been in contact about replacing it and a later report direct to customer services about the split support has yet to have a response. An absolute shambles, don't buy from them!
Michael Lee - 12 April 2022

Beautiful,,, strong made ,,lovely bed
Dawn Williams - 28 February 2022
Gorgeous looking bed that looks great with the matching drawers - faultless communication and delivery service- very pleased.
Emma - 28 September 2021
A beautiful, solid bedframe that will outlast me. It was easy to assemble and so sturdy once done, no creaking or movement. It is a deep, rich shade of brown and looks more expensive than it was. Very, very satisfied Oak furniture land.
Michelle O'Connor - 07 September 2021
Order arrived on time and tracking service was as promised. The drivers were polite and dropped the boxes at the front door. Boxes arrived in good condition, no bump marks or crinkly corners. Upon unpacking, all pieces accounted for and all in excellent condition. Bed after building (Took about an 1 - 2hours all in) is fantastic. Super solid, and doesn't creak during the night. It looks fantastic and is better than I imagined it would have been! Family have complimented it and are likely to purchase an item from Oak Furniture Land in future. In what would have otherwise been a 5* review, I've knocked off a star due to the EXCESSIVE amount of plastic and non-recyclable packaging. We FILLED 8 black bags full of it. Really disappointing from a company that sells and celebrates natural products/materials. I believe they could achieve the same results with dissolvable packing peanuts or recycled paper.
Emily - 28 May 2021
very well made . product just as seen online as not able to view due to covid. Need some level of skill to assemble but very good instructions.
Linda Bailey - 01 May 2021
Read more reviews