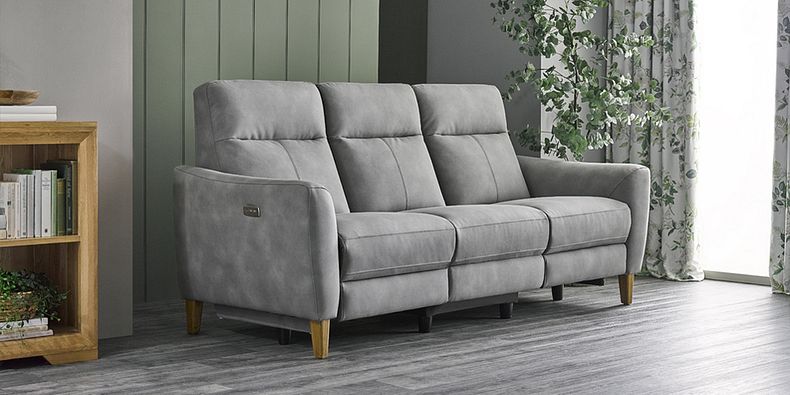 Grey Recliner Sofas
Available From £1,050
Lifetime frame guarantee

Fabric or leather upholstery

Recline at the touch of a button

USB ports - charge while you relax

Lifetime frame guarantee

Fabric or leather upholstery

Recline at the touch of a button

USB ports - charge while you relax
Our grey electric recliner sofas are the perfect addition to any living space. Ideal for lounging and letting the world go by, these sofas are built with purpose, giving you modern colour and style without compromising on classic comfort.
With an electric recliner, you can add softness and comfort to even the smallest of spaces. Add scented candles and a warm mug of hot chocolate to make your seat on this sofa your new favourite spot.
Greys for days
Whoever said colour was the new neutral was seriously mistaken. Our grey leather recliner sofas are available in every shade of grey, from darker charcoals to stunning silvers, so you can be sure you'll find your perfect match.
To add depth to a space, pair our dark leathers with rich and colourful tones. For a beachy feel, team lighter greys with pastel pinks and dusty blues. Whatever your preference, there's a grey reclining sofa to complement your chosen style.
Made to fit you like a glove
Constructed from the most up-to-date technology, our grey recliners are made to provide you with the highest level of comfort and satisfaction. With flexible foam cushioning and luxury leather upholstery, you can relax and recline into absolute bliss.
Whether you're unwinding after work or setting up for a long night in front of the TV, these reclining sofas offer your body the fullest support, so you can sink into the best seat in the house at just the touch of a button.
Covered in either fabric or leather - these electric recliner sofas will have you drifting off to the land of nod in no time.
Finished with style, delivered with love
Our electric recliner sofas are made with you and your space in mind. That's why they come in a variety of sizes to suit your individual needs.
Our 2-seater grey recliner sofas offer the perfect cosy seat for you to curl up and get comfortable. If you prefer to take up space or need the extra room for family, then one of our 3-seater grey electric recliner sofas could be the perfect option for you.
If you're working with difficult layouts, a grey corner recliner sofa might just do the trick. Our corner recliners are ideal for squeezing into smaller spaces, or for filling your living space with room for up to five of your nearest and dearest. They're also fully modular, giving you the opportunity to rearrange them as you please in an L-shape that fills even the most awkward of corners.