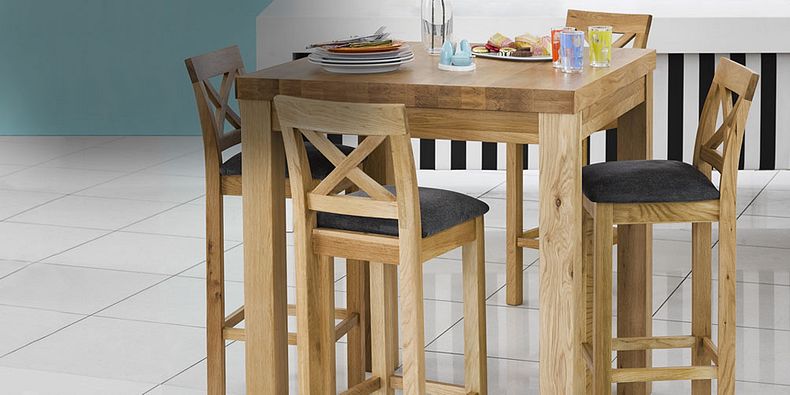 Buy any dining table and get half price chairs*
Bar table sets
If your day starts well, it'll continue well; and we're always told the importance of a good breakfast. If you have a pleasant place to lay out that all-important first meal of the day, you're more likely to make a bit of extra time to get off to a good start. Our sets of breakfast bar table and stools are the ideal starting point for any day.
Cute and compact for a sunny spot in the kitchen, our breakfast bar tables help make the most of available space. They're made to the same quality as our large pieces of furniture, from 100% solid oak. Choose from a square or rectangular shape – with a natural or rustic finish – to get just the right look for your kitchen.
Our breakfast bar stools and bar chairs are all made from solid oak, and are available in natural or rustic finish. You can choose from five different colours and design of seat pad cover. The stools tuck neatly under the breakfast table when not being used, and the tall just chairs display their pretty cross back design when the seat's tucked under. Both sets are compact and attractive, so it's up to you whether you sit more comfortably on a stool or chair.
No matter what size or style, all our furniture is made from solid hardwood, all through. Painted hardwood, natural oak, rustic oak and mango, all our bar table sets are made to our high quality, available to you at a great price by buying the breakfast table and bar stools together. Browse online or in-store, and see the range of tables and chairs we've got on offer. We've got every style covered.