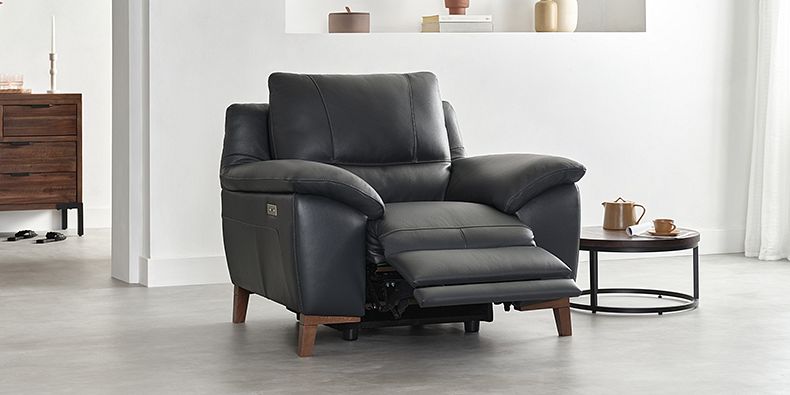 Black Leather Recliner Chairs
Available From £1,050
Lifetime frame guarantee

Leather upholstery

Recline at the touch of a button

USB ports – charge while you relax

Lifetime frame guarantee

Leather upholstery

Recline at the touch of a button

USB ports – charge while you relax
The epitome of relaxation, the black leather electric recliner chair is the place to be in your home. Whether your office space is calling for a new reading nook, or the corner of your living room looks that little bit too empty, there's a leather reclining chair waiting to be the last piece of your puzzle.
Made with your comfort and satisfaction at the heart of their design, our electric reclining armchairs are both functional and stylish, adding that extra bit of character to any room.
Reclining, made easy
The days of pulling levers are long forgotten. With our top-of-the-line recliner technology, just a touch of a single button can have you lying back, with no pulling or shoving required.
Half armchair icon, half trending innovation, each piece in this black electric reclining chair range is made to give your hardworking body the support it deserves. Flexible foam and luxury cushioning allow you to feel light and airy, while our advanced springs provide long-lasting structure.
Black is back
Did it ever really leave? Choosing a black leather reclining armchair means you can be sure that it will never go out of style. Easy to match to the decor of your chosen room, black is the shade of versatility, and is perfect for hiding stains and spillages of an active social life.
The wipe-clean nature of leather makes it the ideal choice for a family home, or the perfect spot to unwind with a glass of red wine without worrying about clumsiness. The lavish detailing of these black leather recliners combines a bold touch of luxury with the height of comfort and style, resulting in an armchair that is never just an armchair, but the best seat in the house.
Iconic styling
The black leather electric recliner is celebrated for marrying classic comfort with contemporary lines and composition. For a nod to the armchair's origins, go for a boxier design with larger cushions and wide armrests. Position by a lit fireplace and pretend your iPad is a newspaper to experience the armchair in all it's traditional glory.
To achieve a more modernised look, pair a more streamlined shape with monochromatic furnishings (like these black or grey leather footstools) and minimalistic decor. Our black leather electric recliners deliver on trends without compromising on the comfort they're known for, striking a very happy balance between classic and contemporary - and are matched with these black leather sofas, if you're looking to replace a whole suite.
Whatever your requirements, a leather electric recliner is an adaptable, complementary, and on-the-whole iconic addition to the home and as it ages it just looks better and better.