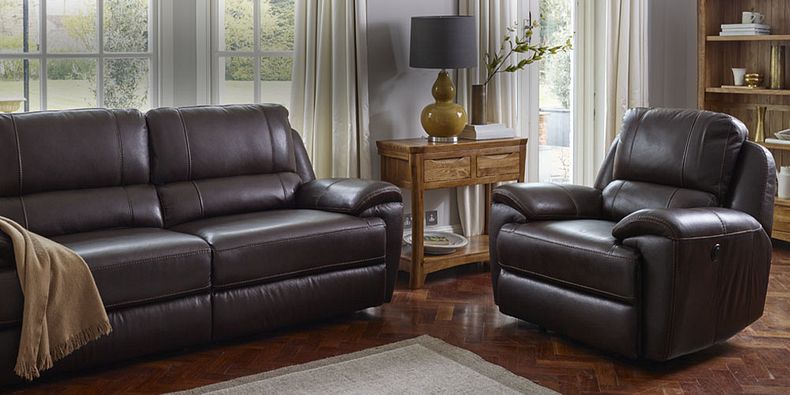 Brown Leather Recliner Chairs
Available From £1,050
Lifetime frame guarantee

Leather upholstery

Recline at the touch of a button

USB ports – charge while you relax

Lifetime frame guarantee

Leather upholstery

Recline at the touch of a button

USB ports – charge while you relax
We spend most of our time at home seated, watching TV, eating, napping or talking to friends and family. This makes it vital to get comfortable seating that provides enough support for an extended period of time.
Luckily for you, we carry an extensive range of brown leather recliner chairs that allow you to lounge comfortably, thanks to their electric recline feature. Designed with quality hardwood and upholstery, these brown recliner chairs ensure you can put your feet up and relax as you eat your lunch or take an afternoon nap. Pair this look with a throw blanket and some brightly coloured throw pillows to create contrast.
A distinct modern flair
Leather is a sophisticated material that's sure to give a very flush feel and look to your space. So, if you prefer a modern or contemporary look, a leather recliner chair is the perfect choice for you. You can choose either dark brown leather to add a rustic touch to your living area or light brown leather for a cleaner and minimalistic look. Our brown leather recliner chairs also work well in mid-century modern spaces.
A wide range of styles available
We know that no two homes can share the same decor taste and style. This is why we carry a wide range of brown leather recliner chairs, but if leather isn't your style we also have brown fabric electric recliner chairs.
Whether you want to create an ideal place to read in your office with a corner-style recliner chair or make a relaxation area in your living room with a heated massage recliner chair, you're sure to find the right style for your home.
Made to last
Upgrade your seating and living room experience with our brown electric recliner chairs. Built on a solid hardwood frame and wrapped in 100% premium quality leather with a foam filling that gives you the right amount of support, these chairs feature an electric recliner functionality that's easy to use and can recline to different positions.
For instance, if you want to take a nap, it can fully recline back, allowing you to sleep comfortably. Their ergonomic design is sure to provide a cosy feel while you enjoy your favourite TV show.
Browse the range today and find the perfect brown recliner chair for your home.