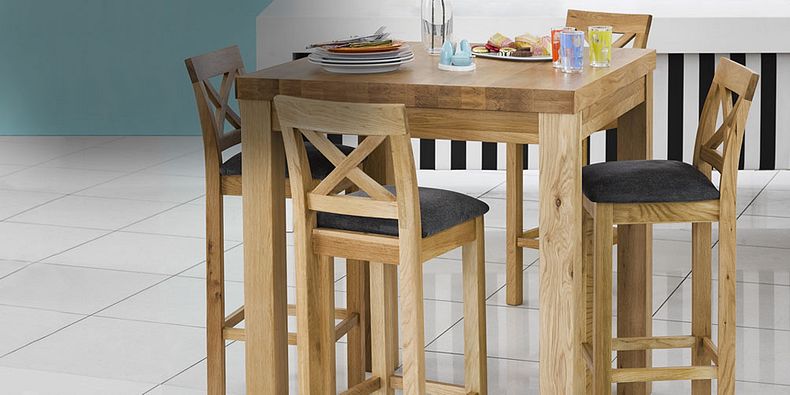 Breakfast Bar Stools
Real wood chairs and stools, bar none
Our breakfast bar stools are designed to complement your breakfast bar, so you have a cosy place to settle in with the morning paper or relax over an afternoon cuppa. Available in a backless design, find the perfect stools that will tuck neatly beneath your breakfast bar.
You can choose from a selection of different fabrics used across the cushions, to match the wider design of your kitchen. From subtle, contemporary designs to more traditional breakfast bar chairs, you're sure to find a design that suits your home.
Solid hardwood is used throughout the entire frame, promising a strong and reliable foundation that will stand the test of time. Explore matching breakfast bar tables or shop breakfast bar table sets and check out the full range available at Oak Furnitureland.
Plain or patterned: Choosing a breakfast bar chair
Our breakfast bar stools come in a variety of colours and finishes, so you can find the perfect match for your kitchen or dining room. For a contemporary space, consider adding grey or charcoal backless stools to your layout, which will bring a subtle, minimalistic appeal.
If you have a traditional theme in your kitchen, add charm and character with a checked cross back stool, which has an irresistible, country-cottage feel to it. Alternatively, you can't go wrong with a subtle beige design, which will blend easily into any space.
Delivered to your room of choice
We offer delivery to your room of choice, and we'll contact you on the delivery day so you know exactly when to expect your breakfast bar stool or other furniture to arrive. Find out more about delivery with Oak Furnitureland and explore our furniture financing options today.