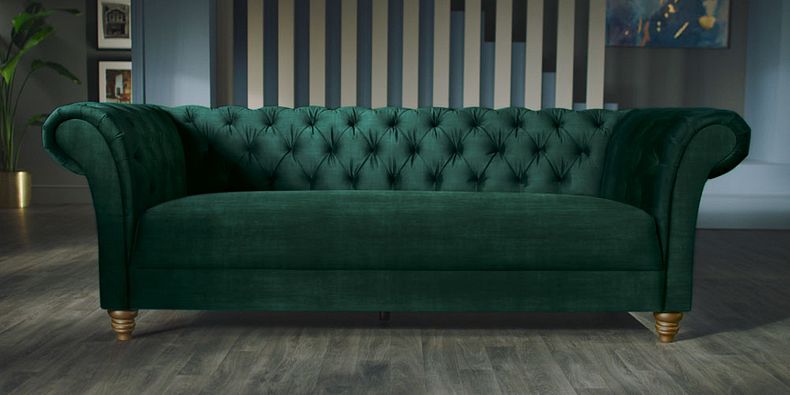 All Sofas
Available From £550
Amazing choice of fabrics

All-over leather upholstery

Lifetime frame guarantee

Scatter cushions come free

Amazing choice of fabrics

All-over leather upholstery

Lifetime frame guarantee

Scatter cushions come free
Our stylish sofa sets, available in both fabric and leather options, are all made from high-quality upholstery fabrics that exceed UK standards. Our leather collections are crafted with 100% real leather; we never use inferior materials or fake alternatives.
There's a reason why we have such great customer feedback on our couches; they're built with the utmost care. We only sell sofas we'd be happy to have in our own homes. Plus, we've worked hard to solve the most common sofa problems, helping ours to last for years.
Quality is in our DNA – that's how we craft our exclusive sofas with the greatest attention to detail. From solid hardwood incorporated into the frames, with durable screwed, glued and pinned joints, to high-quality serpentine springs with silencing connections, we make sure our couches not only look stylish but stand the test of time, too.
Design tips
When planning for a new sofa, don't forget to measure your room, doorways, stairs, or even your building's lift, compared to the size of your new purchase. If you're buying a sofa bed, remember to check the measurement of the pull-out bed too.
Sofas need to be measured by height, depth and length. Although traditional furniture tends to be standardised, there are often exceptions, especially in contemporary design. However, you can expect your sofa to measure somewhere around:
Loveseat: (W) 130cm x (H) 98cm x (D) 95cm
Average 2 seater size: (W) 175cm x (H) 98cm x (D) 95cm
Average 3 seater size: (W) 210cm x (H) 98cm x (D) 95cm
Average 4 seater size: (W) 240cm x (H) 98cm x (D) 95cm
These average couch sizes do not take footstools, recliners, chaise loungers or sofa beds into consideration, so these are design aspects you must take into account when choosing the right sofa for your home. For additional information, our article about which size sofa is right for you should be helpful.
Is your living room on the smaller side? Try mixing up your look with small sofas, or incorporate armchairs, accent-chairs, and loveseats into your arrangement to create more places to relax. Smaller sofas are also ideal as a bedroom sofa or as a complement to large sofas in spacious living rooms.
We also offer a wide range of sofa beds, recliners, and corner sofas. Browse our stylish collections today, or check out our sofa guide for tips on how to choose the perfect settee. We've broken down everything you need to know about sofa size, materials, quality, construction and care.
More sofa ideas
Our Inspiration Station has quite a few living room and sofa ideas. Whether you're looking to be inspired with modern sofas, to learn how to effortlessly mix fabric and leather sofas or how to choose the perfect armchair for your home, you're guaranteed to be inspired.