What size should a coffee table be?
Inspiration Station - Style and Storage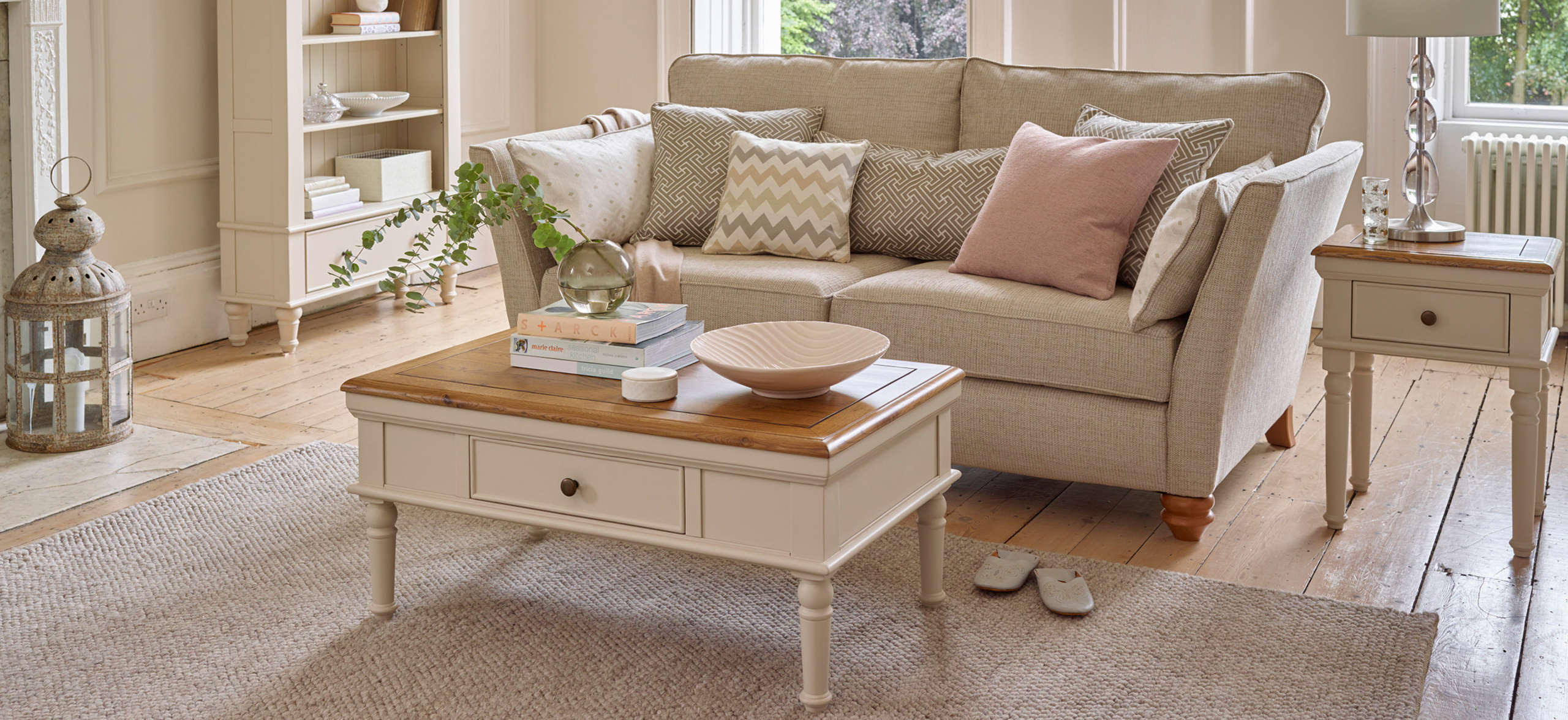 There are many things to consider when it comes to picking out a coffee table for your home. We've created a handy guide to help you choose the right size and style of coffee table to meet your needs.
What is the average size of a coffee table?
While coffee table sizes differ from brand to brand, standard coffee table dimensions tend to follow similar width and height ranges. The heights typically range from 16-18", or 40-46cm, while the average width falls between 18-24", or 46-61cm.
Where can I find Oak Furnitureland coffee table dimensions?
Detailed measurements are listed under the Specifications section of each product description. Every product also features an image illustrating the height, width and depth measurements.
What are the key things to consider when choosing the size?
Burleigh coffee table | Burleigh console table | Bramble sofa
To narrow down your search, it helps to weigh up your specific requirements. If you need a coffee table with storage space for remotes and game consoles, you'll want to opt for a larger piece with ample drawers and shelving.
If you're looking for furniture to double up as a space to place drinks and snacks when entertaining, search for one of our tables with larger tops.
Or do you simply need somewhere to rest your coffee or glass of wine while unwinding? Then consider something smaller that won't dominate your space.
Next, it's time to measure up. Two of the most important factors to consider when choosing your coffee table are the space around it and the proportions of the piece compared with your existing furniture.
How much space do you need around the coffee table?
The width you choose ultimately depends on the available space, and its proximity to other pieces of furniture, such as your sofas or tv unit.
Where should you put your coffee table?
Hove coffee table | Hove side table | Hove console table | Hove display cabinet| Brighton sofa in Sea Spray fabric
With the above proportions in mind, it's worth thinking about how you'll work your coffee table with your existing furniture. We recommend mapping out the space on the floor using tape or cardboard so you can make sure your desired placement leaves the 24" (61cm) walkway required.
Should a coffee table be the same height as a sofa?
When choosing your coffee table height, scaling the furniture to your sofa is crucial. You should be looking at a coffee table that sits between 1 or 2" (2.5-5cm) below the seat of the sofa. Avoid choosing anything that sits more than 4" (10cm) lower or higher than this as it will look odd and be impractical when trying to drink your coffee!
How should you choose the shape of your coffee table?
Detroit nest of tables | Samson sofa
This primarily comes down to your taste. Circular coffee tables are a great option for L-shaped sectionals, chaises or U-shaped sofas. They're easy to manoeuvre and the rounded edges make them practical for families with small children.
Square and rectangular shapes are good options when it comes to coffee tables. They can easily create a sense of symmetry with sofas, or a beautiful contrast with any less-defined counterparts, making them perfect for any scheme. Choose from traditional styles and more contemporary silhouettes, such as those with metal accents.
What's the best size of coffee table for a modular sofa?
No matter the style of your sofa, your coffee table should be at least half the length of your sofa. With modular sofas, think about how they will be configured. Measure up against the longest side of the sofa, and think about the shape that would best fit in this spot.
What about with an L-shaped sofa?
The same premise applies here with sizing, as there's nothing worse than a clunky coffee table that's too long for the space. When working with an L-shaped couch, or a sofa with an integrated chaise, tuck the table into the corner of the L for a tidy and cohesive look. The length of your coffee table should still be at least half that of the longest side of your sofa, and make sure that the width isn't greater than the shortest side.
Is there an ideal pairing with a loveseat?
With a loveseat, you'll want to take its smaller dimensions into consideration, so make sure you choose a coffee table that isn't too large or it'll look out of proportion.
What are the best coffee tables for small living rooms?
Romsey nest of tables | Romsey display cabinet | Morgan sofa
When working with a smaller space, it can be difficult to know just how to squeeze in a coffee table. Opt for something with less visual weight, for example with limited storage but slim legs, to create the illusion of space underneath. If space is extremely limited, why not opt for a nest of tables that can double up as a coffee table and be stacked together and pushed to one side when not in use?
How to pair a rug with your coffee table
There are several options when it comes to optimal rug sizes. The biggest mistake to avoid is choosing a rug that's too small for your space. Your rug should at least stretch past the four corners of your coffee table and ideally, to avoid making a rug island, it should blanket the floor under all of the furniture in the vicinity. To create the illusion of space, find a piece extending at least 6" (15cm) beyond the front legs of your sofas and chairs.
You should now be ready to choose the perfect coffee table for your home! Discover more living room ideas or head straight to our coffee table ranges to browse all our styles.
---
More Inspiration
---
Your #OakFurnitureLand Style