How to care for your new furniture
Creating a home you love is a special process. Your home should be your personal haven, with a feeling of comfort and happiness in every room. It's about designing a space and choosing furniture and decorations that will bring a smile to your face year after year.
And investing in high quality, beautifully crafted furniture is the first step in that process. All of our pieces - from the hardworking coffee table to the cosy king-size mattress - are made to last a lifetime. And, with a simple care and maintenance routine, you can keep your home looking beautiful for years to come for a space you'll truly love.
We've spoken to the experts to find out their top furniture care tips, the best products to use to keep your Oak Furniture Land pieces looking great, and advice and hints on maintaining your cabinet furniture, sofas, fabric and leather seats, mattresses, and more.
Furniture Care: The Basics
Keeping your furniture in good condition comes down to two main things: keeping it clean and keeping it nourished. Because we use high quality, natural materials in our products, such as leather and solid hardwood, these things need to be treated with a bit more attention than a cheap plastic piece from a bit box store. But don't worry - it's not complicated!
In fact, we've put together a few handy kits, full of everything you need to care for your furniture. These are:
While our kits can add that extra layer of protection, there are little steps you can take to ensure your furniture looks great day after day.
Place your new furniture away from areas of direct sunlight to help prevent fading
Treat your furniture with furniture wax or wood polish on delivery, and then once a season to protect and nourish the wood
Keep furniture away from heating or air conditioning units to prevent drying or creaking of the finish
Blot up spills immediately with a soft, slightly damp cloth which helps to prevent stains or discolouring of the wood
Avoid household cleaning products, solvents, or cleaners not intended for hardwood, fabric, or leather, as these are liable to damage the finish

Taking care of solid hardwood
You may have guessed it from our name, but here at Oak Furniture Land, we're big fans of solid hardwood. The beautiful finish and traditional charm that high quality timbers can lend to a home is unrivalled, and we're truly committed to bringing only the best furniture into your space.
The appeal of hardwood is that each piece is both durable and unique. Our natural and rustic oak finishes, for example, show off the character of the wood, including the knots, whorls, filling, burl patterns, and antiquing that is signature to real timbers. Our painted ranges feature both smooth and shabby-chic finishes, and we even have more exotic stained and mango wood ranges which showcase the natural beauty of hardwood.
Additionally, hardwood furniture is much easier to take care of than cheaper "budget" alternatives, such as veneers or MDF pieces. These have a tendency to chip, peel, or warp, meaning expensive repairs or unattractive looking pieces. But because our furniture is made from solid timbers, your regular furniture waxing routine is all you need to nourish the wood and protect it from everyday life, creating a long-lasting protective seal.
Don't forget about the finishing touches too! By adding protective felt pads to the feet and bases of your new furniture, you can keep your floors scratch-free, and make it easier to redecorate your home by creating a softer surface. We have both multi-packs and large felt floor pads available, so you can cut them down exactly to the size you need.
How to use furniture wax
Furniture wax is an important part of the care process, as it helps to nourish and moisturise the wood. When timber is freshly cut, more than half its weight is water. If too much moisture remains in the wood, it can warp; too little moisture causes wood to crack. We carefully kiln-dry our timbers to the perfect humidity levels that allow them to naturally adjust in your home, and the wax let's them retain these ideal levels over time.
Regular use of furniture wax nourishes the individual wood fibres, and also creates a protective seal. We recommend polishing your product when it first arrives in your home, and then again at three-month intervals to keep the wood looking its best.
Using furniture wax is incredibly simple. To apply the wax polish:
Ensure the piece is clean, dry, and free from loose particles of dirt and other solids
If you are using our popular furniture wax, use a soft clean cloth, brush, or sponge to apply sparingly in small areas, following the wood grain

To obtain a uniform colour, blend the wax evenly over the whole surface by exerting a slight degree of pressure
Remove excess wax as you move along the piece, again, following the grain

For those who prefer liquid polish, apply it to a clean cloth or sponge and gently wipe over the entire surface of the piece

Use a circular motion and even pressure
For areas of light scratching or marks, press slightly hard to allow the polish to soak in

Allow the wax to dry for approximately 3 minutes, or until the polish achieves a hazy finish
Buff to shine with a second clean, dry cloth
The process can be repeated if you desire extra sheen to the piece
Caring for your new mattress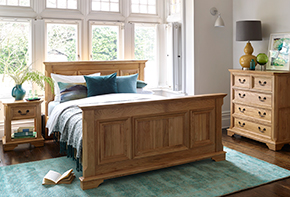 Not only do we offer a great range of stylish and modern bedroom furniture, at Oak Furniture Land we also have a fantastic selection of high quality mattresses, too! Made in the UK, our mattresses are designed to give you your best night's sleep yet. They're also incredibly simple to take care of.
We have designed our entire collection of mattresses - from single beds to super king-size mattresses - to be no flip. You never have to go through the tough process of turning over your bed to keep it comfortable! No-flip mattresses also mean that we can add extra layers of comfort on top, such as extra foam cushioning or cosy pillow tops, helping you drift off to sleep in no time.
Many of our mattresses also don't require regular turning either so you don't need to worry about rotating a large mattress. But if you do prefer to rotate yours for even wear, a monthly schedule will help it last even longer. Our mattresses are designed to feel great for up to 10 years!
Wondering how to clean your mattress? Regular vacuuming helps to displace any loose particles that may accumulate in the threads, and can help to aerate the mattress for a fresh feeling. Additionally, our fabric care kit is perfect for cleaning up after life's little accidents. A washable protective mattress cover is always a great addition to any home, keeping your new mattress clean and preventing staining. Learn more about our mattresses here!
Sofa Care Guide
We've designed our sofas with the same care and attention as we do our cabinet furniture, so you know your new purchase is built to last. We incorporate real hardwood into the sofa frame to prevent bending, sagging, or creaking over time, and use only the best cushion fillings, including pocket springs, cosy foam and fibre, our exclusive dual-foam filling, and more. Plus, we only use 100% real leather and the high quality upholstery fabrics for stylish good looks that will last for years to come.
You can learn lots more about our great sofa offering here, but when it comes to caring for your new fabric sofa, we have a few handy tips:
Vacuum the cushions to keep them looking fresh and crumb free. You can also clean seat backs and scatters too!
We recommend keeping your sofa out of direct sunlight to help prevent any fading which may occur
Preserve the flammability protection of your sofa and avoid laundering your cushions. If you need to clean them, our fabric care kit or Furniture Guard cover is the perfect solution
Denim or dark dyed clothes may stain lighter fabrics, so if in doubt, add a throw to keep your seats stain free
Regularly plump and rotate your sofa cushions to preserve that fresh-off-the-shop-floor look
If the fabric snags or tears, don't tug the loose thread! Just trim it close and tuck the loose ends underneath for a neat look
If you've bought one of our stylish leather sofas, we have a special guide below!

Looking after leather
We only use 100% real leather in our sofas and dining chairs to create the highest possible pieces of furniture. Leather is a fantastic natural material, with unique characteristics. It ages over time, softening and stretching to a beautiful patina, taking on the personality of your home. And it's surprisingly easy to take care of!
Check out our sofa guide for more details, or follow these simple everyday steps on how to clean your leather sofa:
Dust or wipe off any debris on your sofa with a cloth: the quicker you can wipe away any spills, the better!
Avoid any harsh chemicals that may damage the leather
Keep your sofa or leather dining chair away from direct sources of heat, usually at least a 30-40cm clearance should suit
Use the leather protection cream in our leather care kit to keep the upholstery nourished. This will add to the comfort and prevent cracking
Avoid placing your leather sofa next to a window. Direct sunlight can discolour the leather and lead to uneven wear patterns
Extra protection with Furniture Guard
As you can see, caring for your new furniture from Oak Furniture Land is simple, but if you're looking for something extra, don't forget to add our Furniture Guard protection plan to your order today. This fantastic five-year coverage protects your new furniture from stains, accidental damage, and structural damage, with no excess charged. Learn more today.