PRODUCT FEATURES
100% oak
Classic carpentry joints
Solidly made
Warm tactile finish
PRODUCT FEATURES
100% oak
Classic carpentry joints
Solidly made
Warm tactile finish
Availability
In Stock

Delivered in 7-14 days
Room of Choice - £49.99
Delivered to your room of choice by our two-person team, with the option of 3 fixed delivery dates, this service is good for larger furniture items.
Flexible - £69.99
Enjoy Room of Choice Delivery benefits with a wider choice of delivery dates, that can be changed free of charge, up to 3 days before it's due to arrive.
Premium - £99.99
Ideal for larger items like wardrobes, or if you've ordered more than one product, as your furniture is fully assembled for you and all of the packaging taken away. It includes all the benefits of Flexible Delivery too.
For more information on our delivery services and returns, please visit our Delivery and our Returns Policy page.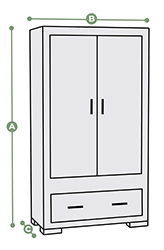 Dimension
CM
Inches

A

Height
193
75.98

B

Width
97.5
38.19

C

Depth
65
25.59
Packaged Dimensions
H154 x W73 x D106cm (allow up to 5cm in variation)
| | |
| --- | --- |
| Product Code | PQT018 |
| Product Title | Parquet Brushed and Glazed Oak Double Wardrobe |
| Packaged dimensions | H154 x W73 x D106cm (allow up to 5cm in variation) |
| Weight | 118kg |
| Number of parts | 1 |
| Material | 100% Solid Oak |
| Finish | Brushed & Glazed Solid Oak |
When choosing a new wardrobe, it's important to make sure that it will both complement your style and fit in your home.
Our wardrobes are made from exceptionally high-quality materials and are therefore heavy, so please be aware that our delivery teams cannot lift them above waist height.
There are a few things to consider when ensuring your new wardrobe will fit your home. How big are your doorways? Are there stairs? Then think about the chosen room. Is there restricted access? Is there a radiator or a windowsill?
Look closely at the Dimensions and Assembly & Packaging sections on this page for both packaged and unpackaged measurements. Check them, then measure up.
Our quick assembly wardrobes are only available with Premium Delivery, but we recommend this service for all our wardrobes so that all you need to do on delivery day is be at home, easy!
Download our Will It Fit PDF, and follow our guide to ensure a smooth delivery.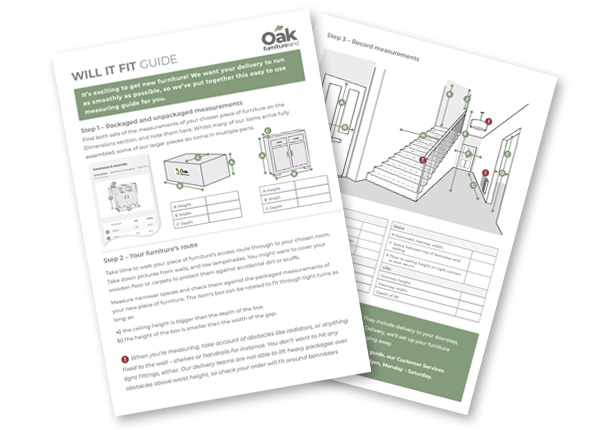 Product Details

Made from solid oak – including backs and bases – the Parquet double wardrobe features a design based on a classic wood block pattern. The decorative style, brushed and glazed finish, and mid-century modern style – slim oak legs and bronze coloured metal handles – work well together. It's designed with sturdy oak hanging rail and a solid drawer with dovetail joints. This is furniture made to look good, every day.

It is important to note that our wardrobes are not flat packed and, as they are such high-quality and we pad each one with plenty of protective materials, they are large and heavy when out for delivery. To accommodate this, we recommend you carefully measure each area of your home that your new wardrobe will need to be carried through and placed in before ordering, then choose our Premium Delivery option. See the Dimensions & Assembly tab below for both packaged and unpackaged measurements.

People also searched for

Wardrobes | Double Wardrobes | Triple Wardrobes | Painted Wardrobes

This item arrives almost fully assembled. The top section needs to be attached to the base unit.

Finance Options

Interest-free credit

Pay Monthly*

0.0% APR

Finance Example

Minimum spend £1,999.00
Purchase amount: £1,999.00
Spread over 18 instalments
Cost per month: £111.06
Total amount of credit: £1,999.00
Total charge for credit: £0.00
Total repayable: £1,999.00
Fixed rate of interest per annum: 0%
Representative APR: 0%

Interest-bearing credit

Pay Monthly†

14.9% APR

Finance Example

Minimum spend £500.00
Purchase amount: £1,000.00
Spread over 48 instalments
Cost per month: £27.31
Total amount of credit: £1,000.00
Total charge for credit: £310.88
Total repayable: £1,310.88
Fixed rate of interest per annum: 7.77%
Representative APR: 14.9%

Example shown for 18 months interest-free credit with 6 and 12 month terms also available for orders over £1,999, 20 months is available on orders over £2,499, 24 months with orders over £2,999, 30 months for orders over £3,499, and 36 months available for orders over £3,999.

Please note, not all products offered by our finance lenders are regulated by the FCA. Our 6 and 12 month interest-free credit options aren't regulated, however our 18, 20, 24, 30 and 36 month options are all regulated by the FCA.

For more information on the options available to you please visit our Finance Options Page.

Delivery and returns

Room of Choice
Flexible
Premium
Order value £699.00 or under
£29.99
£49.99
£99.99
Order value over £699.00
£49.99
£69.99
2 person OFL delivery service

L

L

L

Courtesy call 30 mins before delivery

L

L

L

Delivered to a room of your choice

L

L

L

L

L

Choice of any delivery date

L

L

Change your delivery date

L

L

Items assembled on delivery

L

All packaging removed

L

Please note that 7 day delivery is subject to stock availability and delivery postcode. Quick assembly wardrobes are only available for Premium Delivery. Due to their size, our sofas and wardrobes are excluded from doorstep delivery.

Please see our

full terms and conditions

relating to our delivery options.

---