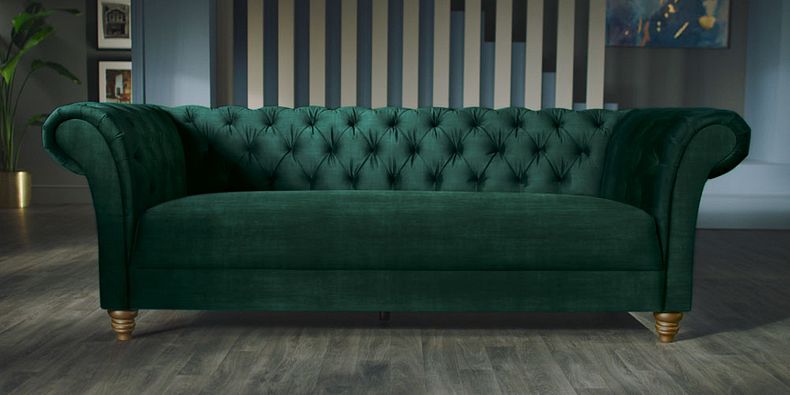 Red Sofas
Available From £550
Amazing choice of fabrics

All-over leather upholstery

Lifetime frame guarantee

Scatter cushions come free

Amazing choice of fabrics

All-over leather upholstery

Lifetime frame guarantee

Scatter cushions come free
For those who want their interiors to make a daring impact, make a splash with a red sofa. Striking and zestful, red sofa sets have a flair for the dramatic. Their boldness creates a beautiful focal point and they are versatile, easing into design schemes that boast luxury or have a more boho edge.
If you've fallen in love with the romance of red sofas but aren't quite sure what's currently on the market, you've come to the right place. Read on for our guide to embracing a snappy red sofa in your home.
What should I look for in a red sofa?
A red couch is always a good idea, as long as it's on-trend, comfortable and built-to-last. All of our red sofas - be they contemporary couches or stylish settees - are conceived with quality and comfort at the forefront of their design. Whether fabric or leather, all of our red sofas are made for real homes and all the rough and tumble that comes with them.
Every red sofa has solid hardwood built into the frames, as well as elements like durable joints and high-quality serpentine springs that ensure your investment is long-lasting and prepared for the family environment. Plus, our red sofas offer extreme levels of comfort thanks to their super soft pillows and gorgeous upholstery that goes above and beyond industry standards.
What material is best for a red sofa?
The material you choose for your red sofa is all down to personal taste and requirements. You may love the soft, supple feel of fabric and think it creates a homely atmosphere. Alternatively, busy family homes face a lot of action and often benefit from the durability of leather, which is also the ultra-sleek option. Either way, red furniture is very much in style.
Red leather sofas
A red leather couch is the classic choice. Leather is undeniably luxurious; the texture and rich hue adds both warmth and depth to your living room. Red leather has a burnished shine that is incredibly eye-catching, while remaining welcoming.
As mentioned, the resilience of leather is a major appeal of the material, but it still needs tender loving care to be kept in tip top condition. Look after your red leather sofa with one of our leather care kits, which will keep your beloved seating at the heart of your home for many years to come.
Red fabric sofas
On the other hand, red fabric sofas are a snazzy option, bringing a quirky edge and splash of personality into your home. When painted red, the look and feel of fabric is a lot more casual. Plump pillows beg you to cosy up; upgrade your relaxation zone with a scattering of printed cushions that'll also be appealing to the eye.
Just like leather, fabric also needs looking after - especially as it's not as resistant to life's leaks and spills. With any red fabric sofa, an accompanying fabric care kit is an absolute must-have to keep the upholstery looking as dazzling as when it arrived.
Can't decide whether you want to opt for a red leather or fabric sofa? See our guide to mixing and matching different materials in your living room seating arrangement.
What size red sofa should I get?
Red two seater sofas
Designed as a companion in a larger red sofa set or to stand-out on its own in a smaller space, our red two seater sofas are built with all the same quality and comfort as the rest of our furniture. These come in a more compact shape and size, which is incredibly practical, whatever your needs. Ideal for stretching out on your own or for enjoying movie night with your partner, you'll find a myriad of red two seater sofas in both leather and fabric upholsteries.
Red three seater sofas
A red three seater sofa is a must-have for living spaces with the luxury of a bit more space. They provide enough room for your kids to play as well as an incredibly spacious spot to enjoy glasses of wine after they've gone to bed.
Red sofa beds
Perfect for a small home that is always open to guests or for an extra room that moonlights as a storage space or home office, red sofa beds are an incredibly functional option. We know furniture needs to be as multipurpose as your home is, so many of our best-selling sofa designs also come in a sofa bed option. Ideal for creating extra sleeping space, they're incredibly easy to use - just remove the cushions and pull out the frame: underneath you'll find a high-quality mattress.
What colours go with red sofas?
Red sofas are great fun to style. They are very much on-trend and, due to their bold hue, look best with neutral walls and floors - think whites, very delicate creams, and light greys. This extends into your choice of curtains, too - whatever colours you select to surround the sofa should generally highlight the focal point.
Dark red sofas
Being close in shade to a lot of brown leather ranges means that dark red leather sofas work well with Mediterranean-inspired design schemes that incorporate honey-dewed rustic wood furniture. Industrial interiors that favour hardwood pieces made from worn oak and exposed metal also make red leather an adaptable choice.
Bright red sofas
This particular shade of upholstery is a look-at-me option, but there are ways you can take it even more over-the-top. Red fabric sofas still manage to be a stunning focal point in a small, busy room - perhaps even one that dips into a cluttercore aesthetic. Use wacky picture frames, blossoming greenery and unusual artefacts arranged on sunny natural oak furniture to create this effect.