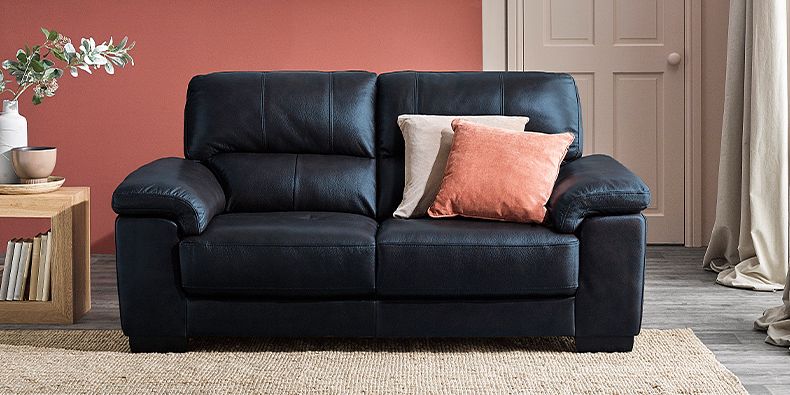 Blue Leather Sofas
Available From £1,150
Quality leather, all over

Lifetime frame guarantee

Solid wood frames

Recliner options for extra comfort

Quality leather, all over

Lifetime frame guarantee

Solid wood frames

Recliner options for extra comfort
Send a shock of cool blue through your home with one of our stylish and edgy blue leather sofas. A striking choice for your living room, blue leather packs a real punch, making a statement in eclectic or ultra-modern interior design schemes.
Blue is very much in-vogue right now and incorporating this versatile colour into the heart of your lounge space will bring it up-to-date with the latest trends. The fashion-forward family will adore the durability of the leather, too; spills are easily wiped away and the quality leather is ready to endure anything that life throws at it. If you pair your new sofa with one of our leather care kits, you'll never have to worry about the material dulling or weakening.
Whether your sofa is just for you or is a seat for generations to enjoy, blue leather will effortlessly mould into any colour scheme or complicated floor plan. Here's everything you need to know about incorporating blue leather into your living room.
What should I look for in a blue leather sofa?
Of course, style is what initially draws anyone to a sofa, but substance is an equally important factor. Have quality and comfort also been considered as valuable design aspects? You want a lasting sofa that will be the centerpiece of all living room activity for years to come.
That's why all our blue leather sofas are built with a hardwood frame, so they're naturally strong, sturdy and built to last. The leather we use to cover these frames is top quality, with a soft bounce and a steadfast endurance for the rigours of day-to-day life.
What size blue leather sofa should I get?
Now that you've been swayed by the convincing powers of blue leather, next you need to decide what size sofa is best for your space. Knowing what size sofa is right for you can make or break your decision; your room size and layout needs to be thoughtfully considered. Too small and your sofa looks stagnant and unwelcoming, too big and it can swallow up your whole room. Taking measurements beforehand is vital before you even begin to browse.
Blue leather corner sofas
Whether you need your sofa to bridge the gap between two angled walls or you have a huge space that needs to ebb and flow a little better, blue leather L-shaped sofas are always built for form and function. They can help divide up rooms that need a little structure and will always provide a spot for unrestrained relaxation, begging you to recline over their practical left- or right-handed body.
Blue leather sectional sofas
If you need a sofa to be flexible around your needs, a blue leather modular sofa is truly the smart choice. We understand that your sofa needs to be as unique as your home, so we offer you the opportunity to build your sofa in modular parts, allowing you to configure it into a shape that suits your space. You can even add more sections later down the line, meaning it's always the flexible option.
Blue leather sofa sets
Whether you're looking to make a splendid statement with just a single blue leather sofa or integrate a few different options for a coordinated look, there are plenty of different ways this stunning material can make your home stand out from the rest.
Blue leather two seater sofa
Cosy and compact, a blue leather two seater sofa is incredibly welcoming. These snug spots can act as the best seat in the house in a small living room, a useful extra seating option when paired with a larger sofa or even slotted into the bedroom or office. Wherever it goes, a blue leather two seater sofa will catch the eye and beg to be sat on.
Blue leather three seater sofa
Choosing the right three seater sofa can be a tricky task, but you're always a winner with blue leather. Plush places to rest, blue leather three seater sofas beg you to sit back and sink in. With all this extra room, it'll be your new favourite spot to catch up with friends over tea or binge watch Netflix on a rainy Sunday.
What colours are available for blue leather sofas?
From powder blue, to classy navy, to inky blue-black, there are plenty of different hues you can dip into within the blue leather spectrum.
Dark blue leather sofas
A blue leather sofa in a dark shade - think navy blue or midnight blue - screams sophistication. Whether you take these glossy hues down a minimalist route with neutral floors and walls or add pops of colour with sunny yellow soft furnishings, your sofa will remain modern. Ensure that whatever design school you're inspired by - be it industrial or contemporary - you provide enough balance between light and dark to make the sofa shine.
Light blue leather sofas
Sky blues will soften your design scheme and echo Scandi interiors. Lean into this inspiration and accentuate with chunky wool throws and warm wooden furniture. Lighter blues look even more impressive when layered with a range of other blues, gradually getting darker and lighter as the eye moves across the room, subtly incorporating whites, greys and blacks also.
For more on how to choose a sofa, please see our Sofa Guide for a step-by-step breakdown. Otherwise, shop our full range of sofas today.