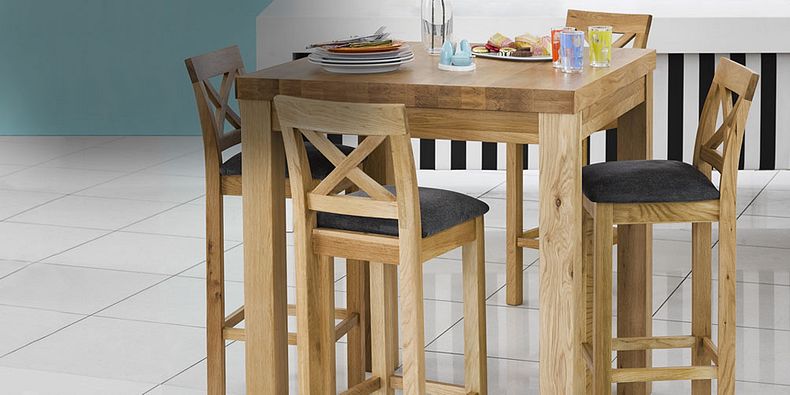 Buy any dining table and get half price chairs*
Oak breakfast bar tables
Perfect for seating two people (or a cosy four!), a bar table promises to bring style and functionality to your home. Available in heights of either 3ft or 3ft3", in square or rectangular designs, you can incorporate one as a freestanding island into your kitchen or dining room, ideal for enjoying your coffee in the morning and prepping dinner in the evening!
Built using 100% solid oak, our breakfast bar tables promise to bring lasting quality to your home. The chunky surface and thick, square legs ensure strength and durability, while the beautiful wood grain has a warm and inviting appeal.
Choose between a sunny natural oak finish or rustic oak for a darker, richer hue, to suit the wider décor in your home. Our breakfast tables are available in square and rectangular shapes, to suit the layout and style of your kitchen or dining room. The best option for you will depend on where the breakfast bar will sit in your home, and how you want to use it every day.
A breakfast bar table can serve as both a stylish dining area and an island in a large kitchen, thanks to the freestanding design and convenient height. Rectangular breakfast bars can be a great way to divide an open-plan kitchen from the rest of the room, creating a visual barrier while providing a comfortable place to sit and enjoy a bowl of cereal with the morning paper.
Smaller kitchens may benefit from a square bar table tucked neatly in the corner, which can be a great place for sharing a cuppa with a loved one, as well as a convenient place to style a large kitchen appliance, such as a mixer or coffee machine.
Turn your breakfast bar table into your own little retreat by decorating the area around it. If it's flush against the wall, hang a large piece of artwork or an oversized clock beside it, for a trendy, café-inspired vibe. Colour block your kitchen by sectioning your bar table off with paint or wall tiles in a contrasting colour, for a truly exclusive feel.
If your breakfast table is located in the middle of your kitchen, consider installing a spotlight or statement fixture over top. Not only will it add contemporary style, but it'll add to the atmosphere of your space for those afternoon homework sessions or end-of-night glasses of wine.