How to make a large living room cosy
Inspiration Station - Living Room Ideas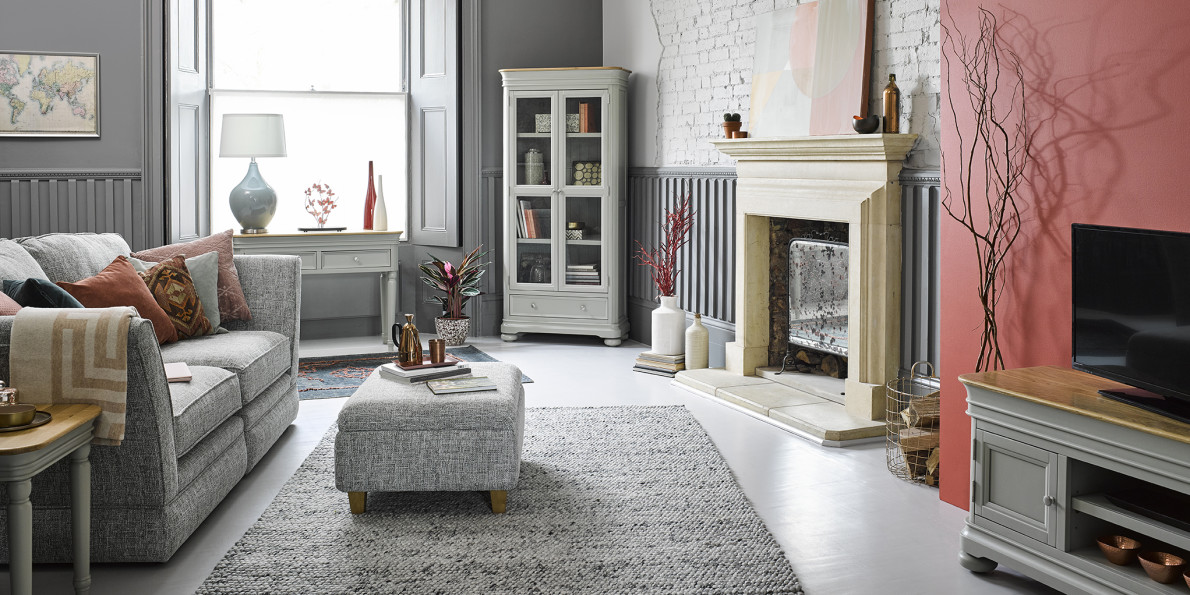 Having a large living room is an amazing opportunity to play around with space and fill with beautiful furniture and accessories. If however, your living room is feeling a bit bare and cold, there are plenty of ways to make your space feel more warm and inviting.
Here are some of the easiest ways to dial up the cosiness factor.
How to make a large living room cosy
The secret to making a large sitting room cosy is using a clever combination of textures, colours and furniture! Our favourite big living room ideas are:
1. Use large rugs
Large living room rugs are the perfect way to add warmth and create a cosy feel. They soften the space, and even retain heat too!
You can use multiple medium sized rugs to break up the space into smaller areas, like a reading nook, or use a large rug to fill the room and centre it in the seating area.
2. Add oversized mirrors
Use a large living room mirror to help bounce light around your room, and fill space on large walls.
Which mirror to choose depends on your own personal style, but going for ones with more visual interest, texture or funky design will create focal points that will help break up long bare walls.
3. Go dramatic with curtains
Doubling up on your living room window treatments can completely transform a space! With a large room, layer voile panels with heavier, textured curtains, to help add warmth and cosiness. Or you could use a blind to deflect bright sunlight and add wool or velvet curtains on top. The important thing is to play around with what works best for your decor.
Venetian blinds or shutters can look fantastic in a large living room with big windows, and will add cosiness if you go for a warm colour or wood tone.
4. Layer your lighting
Using table and floor lamps for low level, atmospheric lighting is an easy way to add a cosy vibe. Just make sure you choose bulbs that have a warm light to them instead of a harsh daylight tone!
You can also get wall sconces or fairy lights and use these as an extra accessory to lighten up a large lounge.
5. Stick to warm or bold colour palettes to add depth and vibrancy
Bold colours or neutral shades can work well in a large space but you'll want to choose colours with warm undertones to create a space that feels restful and welcoming.
When you're deciding on what living room furniture to use, consider sticking to warm wood tones, or go for softly coloured painted furniture, as both of these will help add a cosy feel to the space.
Ready to make your living room feel cosy as possible? Check out our range of living room furniture now.
How do I make my living room cosy on a budget?

Highgate coffee table | Highgate side table | Hampstead Sofa
Our tips above are all big changes, but there are still things you can do to make a large living room more cosy without blowing your budget. Here are some good places to start:
1. The magic of metallics
Look for ways to bring some sparkle into your living room, especially with warm gold and brass tones. Think about introducing metallic photo frames, a sparkly vase or a mirrored tray filled with pretty trinkets on your coffee table.
These elements will add a fun, reflective touch to the space in the day and twinkle beautifully when the evenings draw in.

Brooklyn TV Unit | Brooklyn Coffee Table (@kas_interiors)
2. Go foraging for inspiration
Bring the outside in with lots of household plants, placed on shelves or even hanging from the ceiling with macrame holders! This way you'll break up all the empty space and add a natural cosiness to your room.

Hercules large sideboard (@shell_williams71)
3. Add atmosphere with candles

Kemble nest of tables (@firstclasscockapoos)
Candles can help transform the mood of any room with their pops of colour, enticing fragrance and soft glow. A great way to incorporate candles is to utilise different size and width candles to create depth and dimension.
4. Bring out the blankets
There's nothing more cosy and snug than being in bed! Blankets are an amazing way to emulate that tucked-in feeling. Pick up some fleecy, woolly or furry blankets and drape them over your sofas and chairs to encourage visitors to settle down and get comfy.
If you're wondering how to style these elements in your own living room, check out our living room style guide here.
How to place furniture in a large living room

Brooklyn TV unit (@style_the_hawthorns)
With more space comes more choice, which can sometimes be overwhelming. Knowing where to place furniture in a large living room is about deciding how you're going to use each piece of furniture or segment of the space and setting up your room accordingly.
How do you set up a large living room?
A great technique for setting up a large space is to work in pairs - such as two matching sofas, or two identical chairs or lamps. Especially when arranged symmetrically this is great for filling a large space in an appealing way.
If you have high ceilings, you could incorporate some taller furniture into your large living room design layout. This could include sofas with high backs, tall display cabinets and impressive bookcases.

Evie swivel chair (@mo_morshuis)
Creating a focal point in a large lounge
In a large living room, you can create different zones to help break up the space. For instance, you could have a zone for watching TV, another for relaxing in front of the fire and chatting, and a smaller nook where someone can cosy up with a book.
In smaller living rooms people aim to have one focal point, which is often the TV or fireplace. But if you have several zones, it makes sense to create a focal point in each one. This could be a large statement sofa, a roaring fireplace surrounded by logs, or a welcoming chair nestled among several bookcases.
Parquet TV cabinet | Parquet Small Bookcase (@casaoldcorn)
Sofa ideas for a large living room
What's a sure fire way to make a home cosy and welcoming? A big plump sofa and plenty of cushions! In a large living room, you'll have space for at least one large sofa. You could even opt for several sofas arranged together, or choose a large L-shaped style sofa.
Think about how many people you want to seat, and whether you want everyone to sit together, or to be able to face each other while chatting.
Keep things fresh in your living room by changing your sofa cushion covers to reflect the current season. Cushions with pale pastel colours are perfect in spring, while warmer tones and metallics look superb in the autumn.
While most people push their sofas against a wall, in a large living room this can leave you with a vast empty space in the middle of your room. Instead, try pulling your sofas into the room and have two sofas facing each other with a coffee table in the middle.
For comprehensive advice on positioning your living room furniture, check out our living room measurement guide.
How to decorate a large living room

Canterbury coffee table | Canterbury tv unit | Canterbury nest of tables
As well as your soft furnishings and furniture, the choices you make for your walls and floors will also play a huge role in the look of your living room.
A large lounge has lots of wall space, so don't be afraid to fill it up! Alongside mirrors, you can use wall art to decorate those empty spaces and add a personal touch. Using several pieces by the same artist will help pull a room together, or go for a large, impressive piece of art that matches your room decor colours.
If you want to really separate different zones, try a room divider. This could be a contemporary lounge screen or a tall bookcase, which will partition each area and provide privacy.
Paint colour ideas for a large living room

Detroit coffee table | Detroit nest of tables | Detroit TV stand | Detroit tall bookcase
In a large room, you can be bold with your pattern or colour choices - mustard shades, dark blues, greens and greys look impressive and add grandeur. For a contemporary look, paint the wood trimmings, walls and skirting boards the same colour as your wall.
What do you do with a large empty space in your living room?
Parquet small bookcase (@cartrehif6)
If you have finished decorating your lounge and still have a large empty space, here are some of the most effective and easy ways to fill it:
Introduce some more storage, with a bookcase, cabinet or console table
Add a single statement chair and a coffee table
Try a large indoor plant, which will introduce a natural and welcoming vibe
Create a new zone, such as a reading area
If you make a new zone, try adding a large floor lamp
Use the space to showcase art, either on the wall or a sculptural piece
Opt for a large pouffe or footstool which can tuck into an empty corner
For more on how to decorate your large living room, check out our style guides and decorating ideas.
---
Living Room Ideas
---
Your #OakFurnitureLand Style