How to choose your perfect footstool
Inspiration Station - Living Room Ideas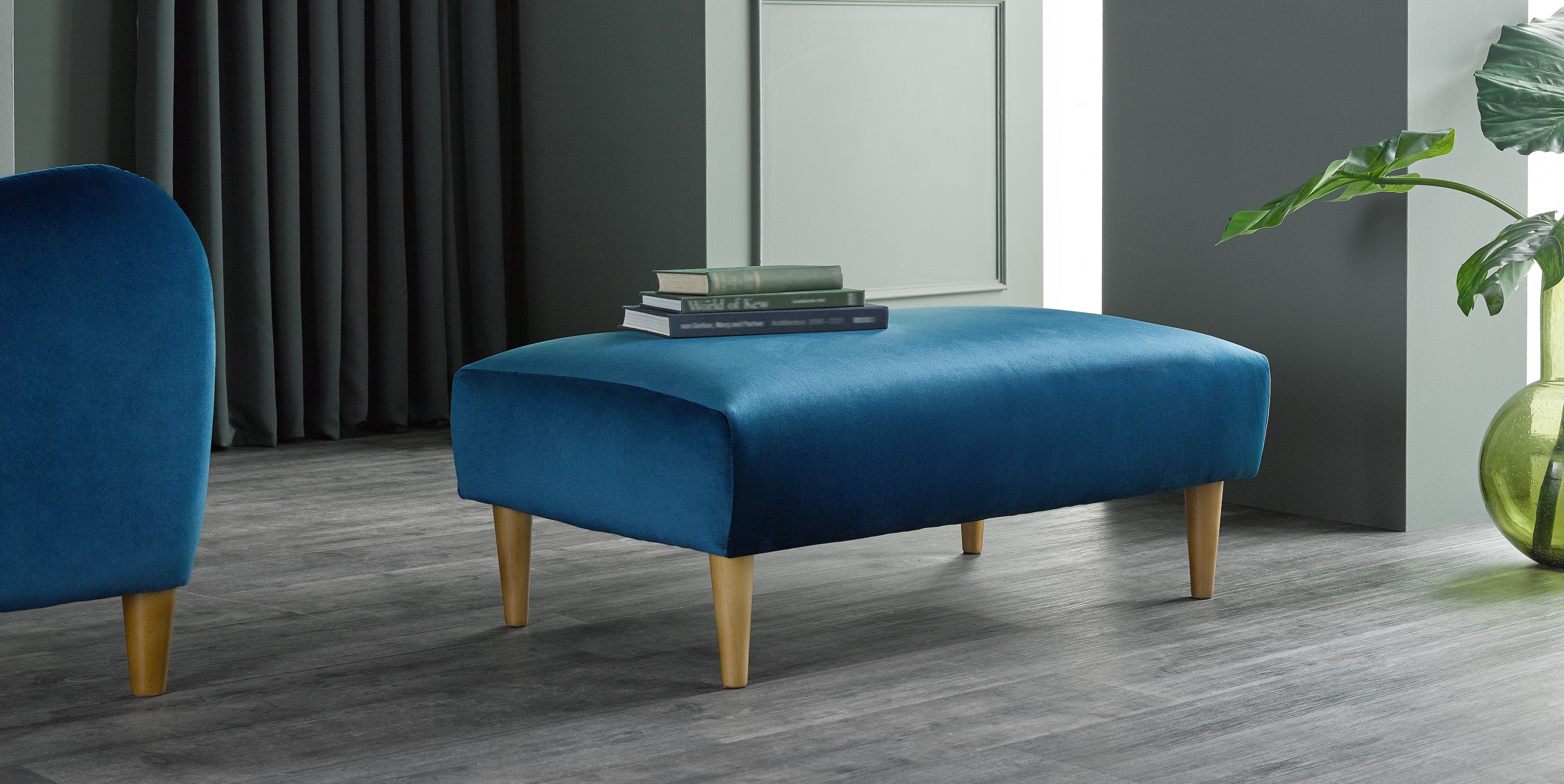 Footstools can make an incredible centrepiece and can quickly become the most hard-working piece of furniture in your living room. It can be somewhere to rest your feet while you relax, a perfect place for extra storage, or the finishing touch to complete your perfect decor.
If you're overwhelmed by choice and struggling to choose your perfect footstool, read on for our top tips on how to get the right footstool for you.
Opal footstool
What can you do with a footstool?
The best place to start when choosing a footstool is thinking about what the primary use will be. If you can identify what you'll use it for most, that will help you narrow down which style is best for you.
Nebraska footstool
Footstools can be perfect for:
Storage - if you need somewhere to keep toys, magazines or throws out of sight but still accessible, a footstool with built in storage could be perfect.

Pet bed - If your furry friend rules your abode, a durable fabric will be a must if your footstool will become a paw-fect pet bed.

Extra seating - If you're short on space and seating, a footstool can be an extra informal seating option for family, friends or little ones.

Side table or coffee table - A footstool can be a great alternative to a coffee table with a little bit of decorative styling. Use a few firm display books or a large tray to create a flat surface and then add your favourite accessories for a stylish focal point.
Once you've decided on where and how you want to use a footstool, you can decide what colour, material and height you need it to be.
Carter footstool
What height should a footstool be?
We've found that the ideal height for a footstool is between 30cm and 77cm. The exact height will depend on how you'd like to use it and the style of sofa you have in your home.
If you're looking to rest your feet on your footstool and perhaps use it as an extra chair, we'd recommend aiming for a lower height. Between 30cm and 45cm works well. Try sitting on your sofa and use a stool or dining chair to test out different heights to determine the perfect dimensions that you need. If you're looking to use a footstool more as a coffee table, a taller height may be better for you.
Boulevard footstool
If you're looking to maximise the storage inside your new footstool, aim for a taller option, which will give you more space to keep everything neatly hidden away. Style wise, Ottomans are often a popular choice for living room storage.
Should your ottoman be the same height as your couch? It depends! If you're not planning to rest your feet on it then it can be any height, but if you are, try to keep it a similar height or slightly lower than your sofa.
Opal footstool
Should I choose a fabric or leather footstool?
Now you've chosen your size, let's think about finishes. Will you opt for a fabric or leather footstool? There are benefits to both options, so what's best for you will depend on your personal style and what you want to use the footstool for. Here are some things to consider when making your decision.
Leather footstools are stylish and hard-wearing, and will tie in with most decor, so they are a great option if you've got young kids or pets. They tend to be more durable than fabric and can be easy to clean.
Hastings footstool
On the other hand, fabric footstools come in a wide range of stylish patterns and colours, so they can be a perfect way to add class and interest to your living room. Check out our fabric footstools to find the perfect colour and pattern for your space!
Should a footstool match the sofa?
Your footstool can be an exact match for your sofa, or it can be totally different. There is no right or wrong. The best thing to do when deciding, is to think about the style of your living room and the look you are trying to achieve and find a colour, pattern or accent that will help keep the overall look of your space cohesive.
If you want a functional footstool that blends in with your decor, then look for a fabric and colour that matches your sofa. It will still be stylish and incredibly useful, and won't detract from the rest of your lounge.
Fern footstool
If you want your new footstool to make a statement then you could consider a colour or design that's different from your sofa, or match an exciting pattern that's in your cushions with the fabric of your footstool.
If you're a fan of mixing and matching styles, take a look at our guide to mixing and matching sofas and chairs.
Jensen Sofa and Jensen coral footstool
Ready to find the perfect footstool for your home? Browse our wide range of footstools here.
How to dress a footstool
By now you've hopefully decided what you will use your footstool for, but have you thought about how you might style it? This can help you narrow down your choices.

@mamaandpea | Gainsborough footstool
How do you decorate a footstool?
Your footstool can be used in the same way you'd use a small coffee table. The key is to not overfill it, but to aim for a stylish arrangement of things you love to look at. You don't want it to become a dumping ground for clutter!
A small footstool will look stylish with a throw or blanket draped across it. Look for one that complements the colour, texture and pattern of your new footstool. You could also include a tray for holding drinks.
Claremont storage footstool
How to style a large footstool
A larger footstool will give you more room to play with when it comes to decorating and styling. A classic option is a large tray, which you can use to rest drinks and decorative trinkets on.
Depending on your decor, consider an elegant mirrored tray, a wooden style, a patterned design, or a simple block colour.
Dexter footstool
Alongside your tray add a few coffee table books. You could also introduce a candle, a small vase or a basket to hold smaller items like remote controls. Using items of differing heights will give your footstool instant style.
Dried flowers can be particularly striking on a stylish large footstool. Artificial blooms are a fantastic option as they look gorgeous and mean you can avoid risking any spillages!
Houston footstool
Just remember, larger footstools normally weigh more, so if they are loaded with heavy items they will be harder to move around the room. If you plan to move it frequently, then you may prefer to choose lighter decorative items and maybe even a smaller footstool.
If you're looking for more help with styling your living room furniture, check out our living room ideas and guides. If not, head straight over to our footstool ranges to find your perfect option!
---
Sofa Ideas
---
Your #OakFurnitureLand Style