How do I choose a dressing table?
Inspiration station - Bedroom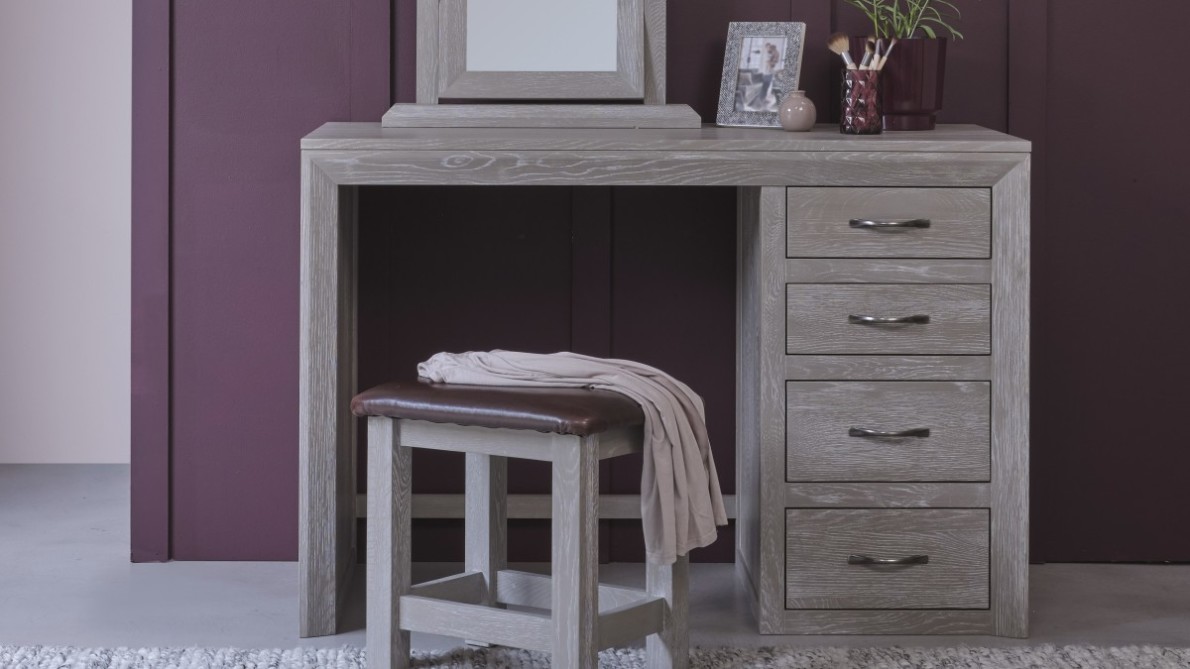 A dressing table is the perfect place for morning transformations, a home to store your favourite items and a personal space for some me time. But for you to get the most out of your dressing table, you need to choose the right style and size for you and home.
Here are six key things to think about:
Decide on a dressing table design and features you need
Choose between a painted or wood tone
Adapt to your space
Mirror, mirror on the wall…
Do you need storage?
Double up as a desk
We'll go through each of these in detail to help you decide, or if you just want to have a browse for inspiration, you can check out our range of dressing tables here.
1. Dressing table design
When deciding what dressing table you need, think about what features are most important. Do you need plenty of storage? Does it need to double up as a workspace? Once you've decided on what you need, you can think about what style would suit your space.
Everyone has their own personal style, so it's important to stick to a design style that suits you. Think about the decor you're already using or aiming for within your bedroom and what design styles will go well with it.
If you're confused about what style you like, here's what to look for:
Mid-century modern: A dressing table inspired by mid-century modern designs will typically have clean lines and smooth curves. Often they are made of high-quality wood and have slightly splayed legs and simple drawers. These styles work well with simple wooden mirrors.

Traditional: A traditional dressing table will typically be slightly chunkier, and often incorporates several drawers, either on the table area or as part of the legs. They can either be a classic wooden finish or painted in neutral colours. These often look great with matching mirrors.

Contemporary: A contemporary dressing table will have smooth lines and a simple design. You'll often find these have drawers under the table area, and they come in an array of colours, including wood, mirrored and painted styles. These look superb with a large round mirror.
2. Painted or oak dressing table?
When choosing whether to buy a painted or an oak dressing table, think about the colours and tones you already have in your room. If you've got quite a few wood tones going on already, a painted dressing table may be a better choice.
When you have whittled down your list of potential dressing tables, consider how each will look alongside your existing furniture and decor. If you're stumped on whether or not your desired style will suit the space, why not make a moodboard with your existing furniture?
Need some guidance on what dressing table styles will or won't work? Here's a quick run down:
Oak dressing table: These will suit almost any style of room. A solid oak dressing table is built to last and the oak will bring a beautiful warm tone, which can either compliment or contrast warm and cold palettes.

Light oak dressing table: These look superb in light, bright spaces. The lighter tone of a light oak dressing table means it has a distinctly modern feel. This style would work great in a neutral colour scheme, matching well with other light tones.

White dressing table: The ultimate people-pleaser! White dressing tables are a very classic design and will suit virtually any room, especially ones with lots of colour and pattern.

Black dressing table: A contemporary black dressing table is a wonderful statement piece and oozes style. Black dressing tables are particularly great for cold colour palettes.

Industrial dressing table: If you're obsessed with the cool industrial style, don't be afraid to keep that style going in your dressing table too! Look out for iron legs and square wooden shapes.

Blue dressing table: Whether you want to inject some colour into your room, or already have a bright blue interior, a blue dressing table is a fun and quirky choice.

Grey dressing table: A grey dressing table set will seamlessly blend into nearly any room. If you want to stick to a muted palette then definitely consider a light grey dressing table set.
3. Where to put the dressing table in your bedroom
So, it sounds simple - the space you have available will determine what size dressing table to buy - but you also need to think about the flow of the room, and how much of your space you want to take up with furniture. Would you like your dressing table up against your wardrobe, or some space around it?
If you plan to use your dressing table to do your hair or makeup, then you need to think about light sources, so you can always see what you're doing! Try putting your dressing table under or near a window to take advantage of the natural light.
If you're wondering which direction to face, then try bringing a chair and handheld mirror into your bedroom. Sit in different areas and look into your mirror until you find an area that provides good, even light, and get a dressing table that will fit that space.
When thinking about light, it's recommended to place your dressing table facing south, as that's what gets direct sun during the day. However, we'd actually advise against this for a dressing table for two reasons: firstly, you'll probably use it mostly in the mornings and evenings, and secondly, if you're storing makeup and beauty products on your dressing table, the direct sunlight won't be good for them!
Be aware of other heat sources too, as you may want to avoid putting your dressing table right next to a radiator. You also need to consider where your plug sockets are located, especially if you plan to plug in hair straighteners, a hairdryer or a lamp.
Next, think about the space you'll need around the table. Will you have enough space to fit in a dressing table stool or chair and move around it comfortably? Placing your dressing table in an alcove can be a good use of space and keep it tucked out of the way.
Consider the dressing table height too. As a rough guide, the standard height of a dressing table is normally around 70cm to 85cm. And how wide is a dressing table? This can really depend on the style! A classically designed dressing table will be between 100cm and 120cm wide, but make sure to check the measurements of any you're interested in to make sure they fit in the space.
Now you know where to put your dressing table, find out the perfect way to organise it here.
4. Do you need a dressing table mirror?
If you plan to do your hair and makeup at your dressing table then a mirror is a must. Most dressing table mirrors sit on top of the table area and can be static or tilted. Of course, the easiest way to ensure your dressing table and mirror match is to choose a style of dressing table that includes a mirror!
If you don't like this style, don't worry - mirrors can also be hung on the wall above the dressing table. You could make a real statement with a large or ornate wall mirror, which would also work to reflect light back into the room.
5. Will you need a dressing table with storage?
Do you have a bulging makeup bag, or shelves heaving with nail varnishes, hair products and jewellery? Then a dressing table with storage might be a necessity!
A vanity table with storage will help you keep everything in order, making it quicker and easier to get ready. Look for a makeup desk with drawers, and you can easily add drawer dividers or little containers to help you find everything.
If you have plenty of space then a large dressing table with drawers will contain even the biggest beauty stash. You will always have a place for hair clips, eye shadow and makeup brushes, so they're a great way to organise your space.
In terms of dressing table storage ideas, think about using clear plastic containers to neatly store items. Try organising products by type, making sure anything you use on a daily basis is the most accessible.
6. Will you use your dressing table as a desk?
If you're only working with a small space, then a desk dressing table combo could be the perfect solution. This just means you choose a style that can double up as a desk and dressing table.
Storage will also be important, enabling you to keep both your working and beauty items neatly stored away, so definitely look for a dressing table with lots of drawers or storage options.
Think about dressing table chairs and stools too - if you're using it as both a dressing table and desk, you're going to need a super comfy place to sit for a long time!
Hopefully you're now totally ready to find the perfect dressing table for you. If you want to start looking, head over to our dressing table selection!
---
More Inspiration
---
Your #OakFurnitureLand Style